Remember how last year around this time I hit a car that jumped out in front of me? And my car was considered "totaled?" But I took the money and ran (was other driver's fault) and then two months later I backed into another car? Because I slammed on reverse instead of forward?
Those were the days…
And now, we add yet another car accident to the list :( Making it the 3rd in 12 months, ugh… At least my ratio of fault to no-fault is getting better! (1 for 3!)
Here's how this latest smashing went down:
I hear what sounds like an explosion and jump out of the bathtub (that's right, I'm inside my house!)
I immediately run after my cat thinking she's – yet again – done something she shouldn't have
I don't see anything wrong with our house, and go back up to finish bath time with Lil' Penny (you thought I was naked and running around the house as so, didn't you? ;))
3 seconds later I get frantic loud knocks on my door as if there's a fire
There is no fire, but I again go downstairs again and see my neighbor at my door
"These drunks just hit your car! They were swerving all over!"
I run outside and indeed see pieces everywhere, along with half the community gawking
I'm shocked and kinda just stare at my poor baby, wondering what the heck was going on…
A lady 50 yards from me yells at me and asks if I'm the owner of it, and I say yes.
She then says she's super sorry and that her husband is calling the police
This same husband jumps out of the car and hops into *another* that pulls up behind it. (WTF?)
I run up to the window to catch him, and quickly realize I'm confronting one crazy tattoo'd mother f'er. One you'd be scared to run into in a dark alley (or a light one for that matter!)
I collect my thoughts and calmly ask what the deal was
Mr. Tattoos mumbles about how much it sucks my car was hit (no $hit), and apologies saying they had gotten cut off, and now he needs to go home real quick to blah blah blah blah… None of it made any sense…
He takes off, and a different neighbor comes over and says he had overheard the husband (Mr. Tattoos) saying to his wife how he couldn't get in trouble with the law again, and that he had to go
At this point I'm really confused. One person says they were drunk and swerving all over, and the other says they got cut off and totally leaves the scene of the crime… I decide that all that REALLY matters is that a) I get as much info as I possibly can from this (more sane) driver of the car – the guys' wife – so insurance is squared away, and b) I don't get myself shot and/or beat up. All while waiting for the cops to finally make an arrival (it ends up taking 45 mins).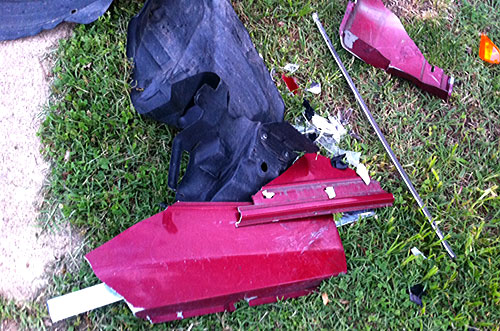 I then realized that if Mr. Tattoos was in charge of the calling of the police, but at the same time he was trying to escape them, then it was highly unlikely he'd have placed the call to begin with. So…
I call up the police myself just in case, and turns out Tattoos indeed took care of it. The coppers were just all on calls so we were told to wait and be patient (easy for them to say!)
Luckily the car that hit me was pretty undriveable afterwards, so I knew it – and the wife – weren't going anywhere soon… The main thing keeping me sane.
Finally I see the police lights in the distance, only to watch it pass us and go down the wrong street.
"HEY!!! HEYYYYYY!!! I scream while running channeling my inner track star and chasing it down
Finally when I do, I get a "sigh…." followed by a "…they said it was on THIS street's address?"
"Umm… well, it is not. It's over here (I point far away to my beat up car)"
Mr. Copper reluctantly turns the car around, and off we go to start the report (YES!)
He asks for my side of the story (easy peasy – didn't see 'nothing, I was inside!)
And then asks for hers ("Yeah… I actually don't know what happened, sorry.")
"Don't know what happened???" I thought to myself… "You got cut off didn't you?? Or were you drunk, maybe?? How could you not know what happened?"
Mr. Copper calmly asked again, saying her name as if they had known each other (they did! Wasn't the first time w/ the law!), and eventually came down to the conclusion that they were bickering and must have lost control of the wheel at the time… I see.
Another 20 mins shuffling id cards and registrations, and we finally had our police report
When, true to his word, Mr. Tattoos shows up again (gulp)
So, being the gentleman I am (and half scared out of my mind still), I give the lady driver a hug and say it'll all be okay and we'll let the insurance company handle it (HER insurance), and then I make sure to let Tattoos know that it's "all good" with a manly head nod and shake of the hand.
Where he offers up another, "Sucks about your car, man" and we go about our merry way…
So. That's the long-winded version of what happened to my Poor Caddy this week. Funny how life always throws stuff at you when you least expect it, eh? And, from what I gather from her insurance so far (it's all going through a-okay, knock on wood!), it looks like yet again my car will be considered "totaled" since it'll cost more to repair than it's worth :( Which means that I'll have to decide whether to take the money and run, or give it up once and for all and take a larger sum in its place.
Sucks about my car, indeed…
Still, it could have been a lot worse. Like, me being INSIDE of the car when it happened, or God forbid my KIDS! So I'm definitely counting my lucky stars, even if I am perturbed… This thing isn't easily replaceable (custom exhaust, low miles, great mechanical condition), but it's much more so than my family. Who knows what would have happened if they drove down the street at a different time of day?
Anywho, I'll let you know what the final damage is…. Maybe I'll get lucky and walk away with my car PLUS $1,170 again? That would be nice! :)
In Other Money News (Literally)…

Here are some of my favorite posts from the 3rd best site in the entire world, Coin Thrill. AKA my coin collecting blog ;) If you're a fellow collector, or have questions about any of your coins or paper money, shoot me a note and let's connect!
Interviews I've Done Recently (If Interested…)
Courtesy of the #1 site in the entire world ;)
My Favorite Reads From The Month:
Brought to you this time by the
2nd best
site on this planet,
Rockstar Finance
:) If you're still not signed up to get the alerts, you can easily do so
here
! Every morning I email out the 3 best articles on money I come across that day – you learn a lot and meet some pretty killer bloggers too, it's dope.
Other Random Notes…
Remember that magical gnome that appeared in my yard? Which was left by either a prankster friend of mine or a psycho internet stalker? I finally found the culprit: A friend of mine (whew!)
Here's a fun calculator on whether you have what it takes to be rich ;)
This is a cool product about to come out –> Ringly.com (esp if you're a girl)
This is a bad ass way to teach you about not texting and driving! –> VW Theater Ad
A fun site I just came across: ADrinkWith.com – You'll like this site if you like pop culture (they pretty much sit down with all kinds of celebrities, artists, athletes, and wannabe celebrities, and then they interview them over, wait for it… a drink ;)) I don't see they scored an interview with my Bachelorette friend, Chrystie Vachon, yet though like I did – woop woop!
And one more cool site: HumansofNewYork.com – From their about page: "I started collecting quotes and short stories from the people I met, and began including these snippets alongside the photographs. Taken together, these portraits and captions became the subject of a vibrant blog. With nearly four million followers on social media, HONY now provides a worldwide audience with daily glimpses into the lives of strangers in New York City. (Hat tip: FitnPoor.com)
And lastly, this ;)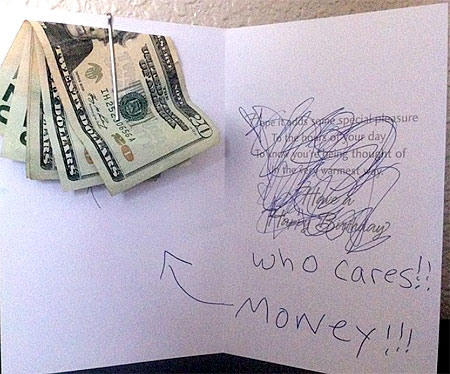 Happy random day Friday the 13th! (Ack!)
——
PS: Seriously, how unlucky is my car?
(Visited 8 times, 1 visits today)
Get blog posts automatically emailed to you!