(That's what they all say right?  We ALL have the cutest babies ever made! Haha….)
Seriously though, what a ride so far…. two+ weeks come and gone and I now have a brand new human being to take care of forever and ever (and ever)!  And I now know why they make them so adorable too – cuz they cry all over the place and constantly need your attention! Haha… but I wouldn't change it for the world :)  I'm loving every single second I spend with the little booger and I swear he's already grown about double in size.
Here were all the stats for those baby lovers out there:
Weight: 7 lbs 5 oz
Height: 21 inches
Mohawk: n/a
Number of days late: 8
Hours in labor: 27!
It was a wild experience to say the least :) I literally went to bed at 2 a.m. the night before it all started – thinking I'd get some work done "just in case" – and 15 minutes later the contractions started getting stronger and stronger and the whole adventure began from that point forward.  So not only was I delirious from the start due to the lack of sleep already, but my endorphins were incredibly high too which was super good considering I had no idea what we were about to get ourselves into!  9+ months of waiting around and then BAM!  Here comes the baby!!! It's so funny…
Well, funny to me at least – 27 hours in labor wasn't so fun for the Mrs ;)  Although I must admit she handled it all rather impressively. Especially towards the last rounds of pushing where she actually cracked a joke and had all the nurses laughing! Haha… I'd tell you what it was, but to be honest my eyes were too fixated on Baby $'s head half way popping out of his home! Not to get too graphic up in here, but it's truly amazing to see how they can come out of such small areas :) I watched the entire thing from start to finish (despite the crazy amount of blood everywhere, *shiver*), and the second I saw his light brown hair on his head I had tears streaming down my face in complete awe.  It was at that moment when it all sunk in and I couldn't believe our dreams had come true!
WE WERE HAVING A BABY!!!
Man… I'm tearing up just thinking about it again :)  But it's so true – that moment when you first see your child is incredible, just like everyone always says but you never understand until you actually go through the entire thing.  I told my wife 2 minutes later that I want to hurry up and get another one and she just about divorced me, haha… probably too soon ;)
Here's a handful of events that has happened in the weeks since:
He lost a little weight in the beginning, but fully regained it later when mom's milk came in (TMI?)
We got him circumcised, and almost had a heart attack when we came home to a diaper full of blood! (all, of course, was fine in the end – his little member just got stuck to the diaper :()
Days later he had a shirt full of blood and we AGAIN almost had a heart attack (the leftover umbilical cord scraped the baby's belly, and all was fine there too – it's always something!)
Days after that it started smelling really bad and I freaked out and took him back (yet again) to the doctors. Who joked that I better not be in there because of his umbilical cord again, but of course I was cuz I could have sworn he got a flesh eating bacteria!  (he did not, and again was a-okay)
The wife and I tried to go on a date one night but it went horribly wrong when we got stuck inside a store due to massive thunder storms and Mrs. BudgetsAreSexy kept worrying that something was gonna happen to our baby and/or house! ;)  Which is a shame cuz out of allll the places to be stuck for a half  hour, an ice cream store is the place to be!  Normally pretty romantic, haha…
All that to say that we pretty much freaked out every other day ;)  And celebrated weird milestones like his first poop and his fake smile, haha… we're doing much better now though since we've had his 2 week checkup and everything seems to be going pretty well… I guess all new parents goes through this terrifying initiation?
Crap, hold on a sec I hear him crying….. [45 mins later] Okay, back :)  The bad thing about working from home?  You're kinda sorta still on call! Haha… we'll see how long that lasts, though…
Let's move on to some of the financial aspects of it all now, that's enough of the crazy baby stories. Here are a few tidbits:
We've spent over $25 on Vaseline which was weird, but also kinda important w/ circumcision stuff
We had to pick up a handful more of onesies and blankets cuz apparently 10 of each wasn't enough! Haha… MAN they need to get changed all the time! :)
We've gotten a lot of free food from people which is awesome cuz we could barely tell up from down most times at night! (And days, for that matter)
We've started getting bills in the mail now, and so far the totals are hovering around $8,000!  And we expect there will be many more to come once they all get through the pipeline and hit our insurance/etc (LUCKILY we don't have to pay that full $8k or whatever the grand total will be in the end, but still – pretty pricey!  Reminds me of a tweet someone sent me the other day, "You have to pay for babies in the US??" Yup!  No universal healthcare here, I'm afraid…)
And I'll of course be updating our baby money tracker over time too, which will have a humongo jump this month and next I'm sure – esp if I end up opening up that 529 I'm thinking about still (I'm actually starting to question it, but we'll leave that for another day's post…).
If you can believe it, I also got into a bunch of other things too over vacation paternity leave.  Apparently I'm a LOT more productive when given windows of opportunities ;):
I cleaned out 75% of my basement making it as clutter-free as it's ever been!
My mom and I built an entire garden from scratch (pics and costs coming soon!)
I scored all kinds of deals at thrift stores and estate sales
I sold one of my online properties for a good chunk of change! (Details coming soon on that too)
I watched about 100 hours of late night Pawn Stars and American Pickers while comforting baby… Learning all about the Civil War and other times of past with all their valuable antiques ;)
And I pretty much lived as close of a "retirement" life as I probably will whenever that day comes around. A little work action to keep the brain pumping, and a whole bunch of family and adventure time w/ the rest of the hours… Was a nice taste of the good life for sure :) Minus the lack of sleep.
And now, life gets back on track and we start a new "normal!" Lots to look forward to and learn still, but all good things to be excited about. It's nice having our priorities be a beautiful little boy these days than a beautiful little dollar, haha… though of course money will always be a passion :)
And, like always, I'll be back to blog about it all again tomorrow! Hope everyone's well and staying motivated – Big Money and Baby Money loves you dearly!

PS: We've decided to keep Baby $'s name anonymous just like his daddy's, so feel free to call him whatever you want ;)  We'll be sticking to Baby $ here on the blog though unless it starts getting confusing… which it may just get.
PPS: Remember when I JUST blogged about us getting pregnant??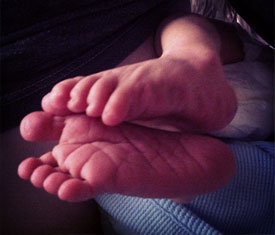 (Visited 39 times, 1 visits today)
Get blog posts automatically emailed to you!