[Hey guys! Please welcome 5 AM Joel back to the site today as he starts transitioning into his new role here while I go the opposite way at the end of the month… Really really enjoyed this post of his, and hoping you do too! See ya back on Monday!]

*******
Check out that old name tag up above…
Yep, I used to work at McDonald's. Started back in 1999 when I was 14 years old and worked there for almost 5 years while attending high school!
I remember …
They made me work the weekend graveyard shift, 11 p.m. to 6 a.m.

I was labelled a "pretty boy," working the front counter with the girls instead of flipping burgers with the boys out back.

People made fun of my uniform and my ears stuck out of my visor like an alien. 

My pay was only $5.25 an hour (and my parents made me give away 10% of it to charity).

I swept, mopped, scrubbed toilets, picked up trash in the parking lot, cleaned fry vats, etc.

I missed many parties and hangouts with my friends and schoolmates.
But here's what I gained …
By the time I finished high school, I'd saved enough money to buy my first investment property with my parents.

Thank you, McDonald's!

I have an amazing work ethic that makes me stand out.

Thank you, McDonald's!

Name-calling doesn't affect me whatsoever (well, tbh it hurts my feelings a little, but I'm way tougher than I used to be!).

Thank you, McDonald's!

My ego is small; no job is too crappy, smelly, or beneath me. I'll shovel elephant poop if it stands between me and success.

Thank you, McDonald's!

I appreciate every single free second I have in life.

Thank you, McDonald's!
I keep all my old name tags and badges as reminders of times that helped build who I am today. Here's another crappy job I had …
Australia Post!: Working harder, not smarter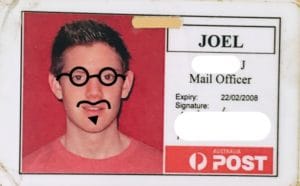 When I was 20, I decided that working full-time wasn't good enough. I wanted more money! So, I picked up an after-hours job sorting mail at the Australia Post factory downtown. I worked 9-5 at my regular day job, then 7-midnight at the post office. 13-hour days, 5 days a week.
I remember …
I rode my motorbike across town, in the rain many days, freezing cold and shaking by the time I arrived. My hands were so frozen sometimes I'd have trouble holding and sorting the letters.

My co-workers teased me because I was the only one who didn't do drugs. Some of them were ex-felons, and I went to work sometimes scared that I would get beat up because I didn't fit in.

The management was quite horrible. One boss in particular had it in for me, and publicly berated me regularly.
But here's what I gained …
In the 6 months I worked there, I banked a cool $10k, after tax. This money eventually funded my move to the USA.

Thank you, AUS Post!

Trading my time for money, I realized, ultimately wasn't worth it. I never worked night shifts again and learned the difference between working smarter vs harder.

Thank you, AUS Post!

I learned how to navigate and survive under bad management. It's all about taking the high road.

Thank you, AUS Post!

I developed my strengths in remembering numbers, sequences, and attention to detail.

Thank you, AUS Post!
More crappy jobs, and more awesome life lessons learned …
One summer I worked as a server at Outback Steakhouse. I was fresh off the boat from Australia, with a thick Aussie accent. I learned I could make more money telling jokes and spending quality time with one table than I could scattering my time across multiple tables. I'm better with quality work vs. quantity work.
At Abercrombie & Fitch, my job was just to stand around and smile at tourists. (I was the only model hired for my accent, not my looks!) As fun as that sounds, it was the most boring job I've ever had, and I only lasted 3-4 shifts there. I learned that my brain has a "use it or lose it" clause. Another good life lesson I learned: You become the people you hang around. Watch out!
Most of my career has been in sales roles: phone sales, field sales, customer service, and consulting. I've been hung up on, yelled at, laughed at, rejected, and failed at more sales presentations than I can remember. But all of these hard times are matched equally with times I received praise, solved client problems, saved people money and time, and added value to lives. My biggest takeaway from sales is: The more value you provide others, the more you will get paid in life.
More to come in the future!
As much as I'd like to think all my hard work in life is done, I'm still learning. Every day, no matter what I'm doing, a challenge pops up out of nowhere. Sometimes they are fun to solve and other times they absolutely suck.
But on the other side of crappy jobs and tasks is invaluable lessons.
Do you agree?  What crappy jobs did you have in high school? (Or do you have a crappy job now!?) What did you learn?
(Visited 32 times, 1 visits today)
Get blog posts automatically emailed to you!