First, let's get to the important part….
Look what I came across on my morning walk yesterday!!!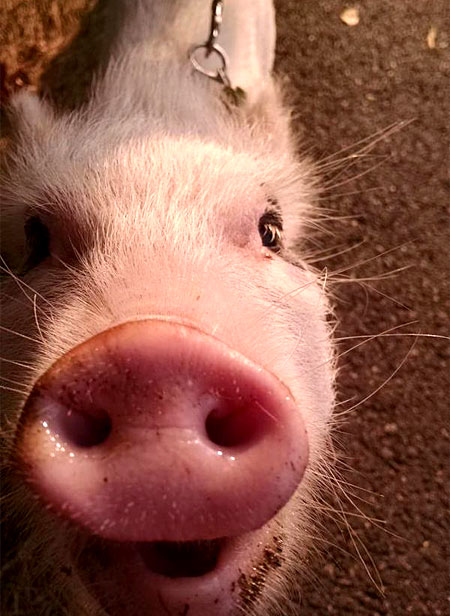 A PIG! On a  leash! As in someone's PET! Hahahahha… The best find yet on my walks, even beating out that $20 bill from three weeks ago (woop!). And apparently this guy here knows how to open the refrigerator and pee in a litter box as well. In fact, according to its owner they're "the 4th smartest animal in the world," beating out cats and dogs but a little behind elephants, dolphins, and chimps.
I didn't believe her, so I googled and came across this gem: 5 Reasons Pigs are More Awesome Than You by The Oatmeal. And then to make sure THAT was legit (cuz, let's face it, it's hard to take a comic seriously as hilarious as it was!) and sure enough the facts were backed up. Incredible.
Here are what these 5 things are:
Pigs know their name after only a few weeks being born
They can eat anything – meat, tree bark, dead armadillos, rotting buffalo, 7-11 burritos
They scream at 115 decibels (a jet engine fyi is around 113 decibels)
They can run a 7 minute mile
And lastly, a pig's orgasm lasts 30 minutes!
And lastly, a pig's orgasm lasts 30 minutes! (It deserved to be repeated :))
Unfortunately, I didn't get a chance to squeeze in all my financial questions while gawking at this guy (how much does it cost to feed him?? What about those vet visits you've been doing? You said you bought him from a breeder – what did that run you? Did you get a guarantee that he won't grow to 400 pounds??? (A problem apparently with pet pigs – ending up with a behemoth because you didn't do your research!)
I tried to google all this stuff too, but kept coming across graphs like these:
So basically never search online unless you want your heart broken :( Though obviously we all eat sausage and bacon and ham and who knows what else because they're so delicious, yum yum!! (*Runs to the bathroom to cry*)
In other news, today marks month #1 of The Benjamin Franklin schedule! (how do you segue that?)
25 work days in a row waking up at 5 a.m. and zeroing in on that "powerful goodness" as he liked to say. And as random/surprising as this has all been (I'm typically a night person), I have to say the habit is here to stay. I can't tell you how much waking up early has SLOWED DOWN my life and helped me focus/appreciate the days more. Turns out that Benny Franklin was pretty smart!
(And no – he really didn't say that my blog "won't put you to sleep" like I so cleverly put as my site's tagline… You'd be amazed how many people have believed it to be so! :))
If you missed the beginning of this experiment, you can learn more about it here as well as what I learned after week #1, but in a nut shell this is what my latest "scheme" looks like:
And here's everything I've learned since, including the nuggets after week #1 and the newest ones:
The stillness of the morning is so beautiful
Time slows down and helps you appreciate life more
It's nice to be able to set your own tone for the day!
It feels like a secret club
Your stress gets cut down
You seem to be able to soak up/learn stuff better
It's nice having 100% YOU time
You're able to work much more efficiently
*NEW* I realized I have *vivid* dreams every single night now! VS maybe once a week prior.
*NEW* I've been much more motivated to organize and de-clutter my stuff
*NEW* Taking a nap or exercise (or both) in the late afternoons help power back my energy IMMENSELY. Something I've only implemented in the past two weeks (and so far only 50% successful), but which really amps up my day when accomplished.
*NEW* I've been reconnecting with lost friendships over the years now that I seem to be finding my priorities again! Something most workaholics/adults can probably relate to :( I helped organize an old college meetup, made time for a happy with local friends, and I'm currently in the process of texting/calling those I haven't chatted with in years. I feel like such a better human, haha…
So the surprises keep on coming :) And now that it's been a while I'm finding it much easier to go to bed early/wake up as well. Though I am still working on replacing quality time with the wife now that our nights have shortened, as well as other areas that still need tweaking.
The only part this schedule has NOT affected is my finances. Which at first was a let down as I wanted to be able to scheme and strategize on making more/cutting expenses, but since I'm so immersed in $$$ the rest of the ENTIRE day awake – hah! – it's been kind of a nice safe haven from it all. And has actually made the times I do think/read/share about it much more fun.
Lastly, the Zero Waste Journey has begun!
Okay, so I'm FAR from the amazingness that is Bea Johnson, but I have started implementing baby steps to help me become more conscious of my waste so I can live more minimally as well as save the planet in the process. And then of course all the while saving money which is the biggest icing on the cake if you ask me – hah.
Though so far all I've done is spend more :)
#1. Pile of microfiber towels ($14.99) – Picked up these Zwipes Microfiber Cleaning Cloths to replace paper towels! So far the hardest habit to break…
#2. Glass jugs vs plastic jugs of milk ($4.00/ half gallon) – This one was quite the shocker going from $4 a gallon to $8 a gallon (!!!), not including the $2.00/bottle deposit, but I must admit I'm pretty impressed/surprised at myself for trying this out. Not only are we no longer bringing home handfuls of plastic jugs any more (#2 of the 5 R's Rule!), but I *swear* this organic milk tastes better too. Though one of my friends thinks it's a trick as really cold milk always tastes better than normal cold milk – something these glass jars definitely help with.
I also feel like it's healthier for you too, but then again maybe that's also in my head? I'll still need to research that (I have a feeling it'll be a rabbit hole of conspiracy theories and marketing gimmicks), but regardless I'm having fun testing it all out and feel like I've been transported back into the 50's :) Now only if the prices could revert too!
#3. Kitchen compost can ($27.50) – Got this Epica Stainless Steel Compost Bin off Amazon to start composting!! I put it under our sink to capture all the food waste throughout the week, and then once full I trot it over to our newly-assembled compost tumbler outside to start the composting process.
That's right – I'm now a composter out of thin air too – hah! Again, something I've never considered/cared about in my 30+ years on this Earth yet all of a sudden I'm seeing the light… Which again is all due to B. Franklin and its opening up of my brain cells.
#4. Compost bin liners ($16.99). I'm debating whether this is necessary or not (damn you Amazon Recommendations), but figured I'd start with them and see how it goes… I ended up going with a 3-pack of BioBags which are "Food Waste Certified Compostable."
#5. Composting Tumbler ($79.20). I researched all around and then read some blogs on composting, and finally reached the verdict that this YIMBY IM4000 Dual Chamber Tumbling Composter fit my lifestyle/house arrangement the best (and then waited for a $20 off sale on Amazon – W00T). I love that it has two chambers to compost in – one for fresh stuff, one for marinating – and I like that it's not only movable, but that you need to go out and use your muscles to rotate it every few days too.
But the best part about this so far? My 3 year old knew exactly what I was setting up!! Incidentally his current favorite cartoon (Caillou) just did a whole episode on composting, and now he's so excited to watch "the magic trick" of turning trash into dirt. Which I still don't get how Mother Nature makes it so, but regardless it's been a pleasure setting stuff up and getting started.
UPDATE: I'm currently reading Bea's book on zero waste stuff, and is where I'm getting all these ideas from (like the glass jars for milk). Here's a link to it if anyone wants to check it out :) Zero Waste Home: The Ultimate Guide to Simplifying Your Life by Reducing Your Waste
And that's been my life lately – how about you? :) I know I just threw a bunch of random stuff your way, but hopefully you've gleaned a few nuggets off it and your wheels are turning to try out something new too. You've got 3 totally awesome avenues!
Getting a pet pig
Waking up an hour (or three) earlier
Trying composting/minimizing your waste at home!
Sadly any three would probably be more interesting for your friends to talk about this weekend than proper $$$ management :( But the beauty is each one opens up a door to sneak it in! And if all else fails, you can always go with #8 from my list of money-free weekend activities – hah.
Happy savings/piggy dreams.
(Visited 65 times, 1 visits today)
Get blog posts automatically emailed to you!