Hey guys!
I rarely ask for anything on this site, but I'm compelled to do it today as I just found out a friend of mine has been suffering in silence and I feel like I have to use this platform to help. Even though she'd probably kill me right now knowing I'm about to share this with the world!
I don't know how many of you remember Agatha K from FinCon and blogging circles, but I was just thinking about her the other day and decided to check out her site when I noticed everything had been deleted off it… I then moved to her social media channels and saw those had been erased too!
A bit freaked out I Googled her and sadly came across her current state of affairs – which is not good. Per this Go Fund Me page I learned she's suffering pretty horribly from something called "Complex Regional Pain Syndrome" (CRPS), otherwise known as "The Suicide Disease" because apparently people find it too hard to live with (!!!).
Never heard of this in my life, but it sounds terrifying:
This condition gives me severe, burning full body nerve pain that comes on in response to an injury, but it doesn't go away on its own…

The burning pain started in my arms after the injury and then spread to my legs and feet. I've tried countless medical treatments and undergone many tests. Unfortunately, the majority of them made my condition worse. Nothing has provided any lasting pain relief.

Worst of all, I received a steroid injection in my neck that landed me in the ER. What was supposed to help me actually spread the burning pain to my whole body. I felt like my entire body was on fire and even two bags of morphine at the ER did not take all of the pain away. After three trips to the ER in only two months and countless doctor visits, I had no answers for why I was in living hell.

It left me unable to walk or even sit. I became bed bound because even the slightest movement would flare my pain to a level 10 out of 10. From my bed, all I dreamed about was getting my life back. But I asked myself if my life in this condition was even worth living?
The saddest part is that she is one of the NICEST and HAPPIEST people on the planet! And I've never seen her down or upset about basically anything, so to see her in such pain like this is just devastating…
Doctors don't even know exactly why this happens to people?!
Fortunately it looks like she's finally found a place who knows how to treat it better and is slowly on her way to somewhat of a recovery (hopefully!), but in the wake of it all she's racked up some medical bills along with her sister taking a leave of absence to help care for her full-time… (another beautiful person!)
This clip here on her progress made me smile and cry at the same time… But – baby steps!!
(Finally able to WEAR SHOES!! After months of not being able to!! SHOES!)
So incredibly freaky…
But can you see those rays of hope in her eyes?? A glimpse of what she's normally like in life!! :)
At any rate I won't try to depress you anymore here, but if you feel compelled to help her – whether in donating a few dollars or spreading the word of CRPS so others are more aware of it – I'd GREATLY appreciate it and here's how you can do so:
And then if you prefer to give a TAX DEDUCTIBLE donation instead, you can do that by donating through the Burning Limb Foundation where all funds go towards her care. Use this link here, choose "Specific Recipient" and then "Honor" at the bottom, and then type in her name: "Agatha Kulesza"
No worries at all if you don't want to give or anything, but if you can THANK YOU SO MUCH!! I can't even imagine what this would do to my life or any of my family members', and I swear you'd be friends with Agatha if you ever met her in real life :) She used to carry around this ceramic wolf at FinCon dubbed "The Money Wolf" and it always cracked us all up just 'cuz it was so freakin' ridiculous…
But these are the people that bring color to our world!! So thank you for reading and getting to know her a little!!

And if you're a religious person, I'm sure any extra prayers you can send over would help uplift her spirits too :)
Thank you, everyone.
Back to our regular financial prattling on Monday 👍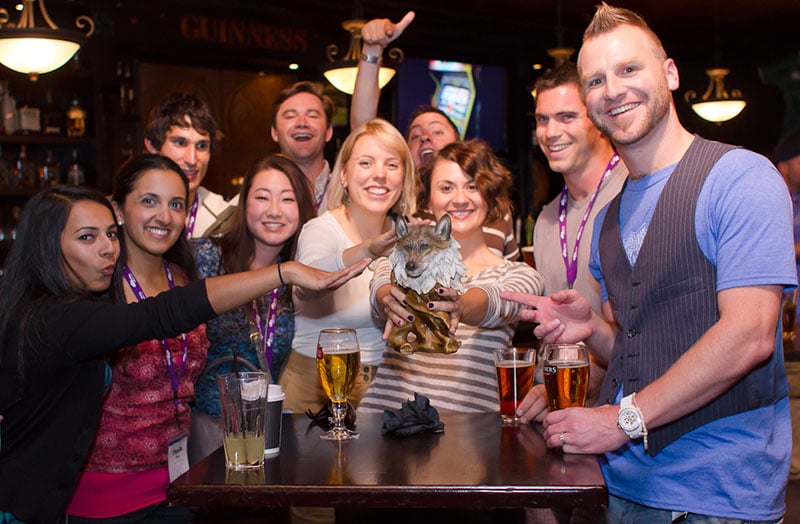 [Paula Pant, Stephanie Halligan, Eric Rosenberg, Agatha K, The Money Wolf, J. Money + others,
FinCon, 2012]
PS: A fun talk she did once on socializing with people outside of the blogger world: Agatha Kulesza – Get a Freaking Life via Ignite (in which you have 5 minutes to tell a story using 20 slides that auto-advance every 15 seconds)
***UPDATE*** Guys!! You've given over $600 $1,800 $3,100 so far – thank you so much! Cannot WAIT for her to log in and see the explosion of love going on! Thank you for going above and beyond for her!
***UPDATE II*** From Agatha! "Thank you to all of you and J for your donations and support. In late January, I felt so exhausted by therapy that I did not know how I would continue. Then all of a sudden I see a flood of donations and support in my fundraisers. It gave me such an incredible boost. I cannot thank you all enough! This week in therapy was more physically demanding than any other and my nervous system is able to handle it, which is wonderful news. I am doing everything I can in therapy to get to a full recovery <3"
(Visited 12 times, 1 visits today)
Get blog posts automatically emailed to you!