As I sit here staring at my son's dead bug collection (that's right, dead bug collection – thanks a lot grandma!!), I can't help but think of all the other activities we do that give my son endless joy on the cheap. I've come to the conclusion that it's often the simpler things in life that excites him vs any fancy pants toys or games he receives. Which of course makes us penny-pinchers love it even more ;)
So today I thought I'd share with you a handful of fun, creative, things we do as a family outside of the normal activities you do w/ kids (like going to the pool, kids events, coins shows, painting stuff, sidewalk chalkin', etc etc). All great stuff too, but we already know about those.
Here's a list of *other* ways to creatively entertain your kids for nothing… And if you don't have any kids of your own, substitute in your significant other or dog instead. I bet it works just the same ;)
1. Throwing pennies into fountains
Whenever we're bored at home or looking to get outdoors, one of the first places we hit is our local water fountain downtown. The types that shoot water way up high and people tend to throw coins into – not the fountains from junior high (though kids love those too! Despite them shooting up their noses whenever they try and drink from them by themselves, haha…).
I don't know when we started doing this, but giving Little Penny a bag of… err… pennies always brings joy to his little eyes and he wobbles right over to the fountain and starts throwing them in. It's one of the best ways to entertain him! And literally costs only a few pennies! :)
Good for significant others? Sure!
Good for dogs? No. They don't have opposable thumbs.
2. Going to the free aquarium/zoo/dog center [AKA PetSmart]
I've talked about how to get goldfish for pretty much free (you buy the "feeder fish" at pet stores for only 2-26 cents instead of 2-26 dollars and rescue them from meat eaters like piranhas!), but another benefit of heading out to PetSmart and the likes are the free animal visitations you get too :)
We literally take our boy there at least once a week, and he oohs and aahs all around the fish tanks and straight up to the rats, guinea pigs, birds, snakes, parrots, chinchillas (how cool are those?) and then right over to the cats and dogs always looking for adoption. It's literally like taking your kid to the zoo in the middle of running errands – it's brilliant (thank you very much).
Good for significant others? Definitely! Who doesn't love animals?
Good for dogs? Double definitely! Especially in the fish and cat sections ;)
3. Collecting dead bugs
We won't dwell on this one because of the obvious, but it *is* something most kids are certainly fascinated by. It may be disgusting and you'll want to keep the container out of site, but it does make for great teaching moments, and since you're picking them up post-mortem there's never any hurting of our insect friends in the process (so back off PETA. Or whoever's in charge of insect endangerment…).
My mother was "kind" enough to send our son one of these bug containers as a gift, and I must admit it's kind of interesting to see what you find laying around your house that you normally overlook. I recommend everyone washing their hands a solid 7-8 times after playing this game, however, or even better – using gloves ;)
Good for significant others? Ummm… NO.
Good for dogs? Oh hell yeah. Though the only "collecting" they'll be doing is in their belly! (Zing!)
4. Hanging out at dog parks
Forget regular parks (although equally entertaining and free), head to the nearest dog park and surround your kids w/ loveable playful fur balls all around! It's like heaven for kids and dog lovers, and there's all sorts of sizes and shapes and breeds running around – kids are wow'd by them.
You do have to make sure your eyes are constantly on them (both the kids, and the dogs) because not all mix well together, but for the most it makes for an entertaining hour or so and typically the dog owners will let you pet and throw some balls around in the process too. Though you can also just stand outside the fences and peer in as if at a zoo and just watch and point from there too – that's what we had to do initially until Penny was comfortable enough to go closer.
Good for significant others? Sure! If they love dogs!
Good for dogs? I think you know the answer to this one ;)
5. Walking somewhere to get apple juice
Now not all kids might enjoy a nice cold glass of apple juice, but swap in their own juice of choice and tell them you're going out side to get some, and they'll follow along eagerly excited for their prize at the end of the journey. And if they've been a lazy bones lately, make sure to take the long way around the block to get in that exercise ;)
Lil' Penny and I like to go to our local diner down the street and sit at the bar to down his juice while dad reads the paper… It's all so very cute as he sits in my lap and we have some father-son bonding time :)
[PS: This requires living in a walkable distance to a store or restaurant, or even a friend's house, where you can of course retrieve said prize for your precious one accompanying you on a walk that morning. Or day, or night – juice doesn't discriminate.]
Good for significant others? No doubt! How romantic are walks?
Good for dogs? Grab the leash!
6. Mailing something together
Similar to the apple juice activity, kids love to walk to an old school mailbox and mail stuff out too – even if it's all your annoying bills. I don't know what those mailboxes give off to draw those rascals to them, but I take full advantage every time and use this as a reward for something I want our boy to do earlier that day ;) "If you can clean that up for me now, we're gonna go outside and mail something next!" – Works like a charm every time.
And the bonus? You can even have him/her write out or paint a picture for grandma or someone and then actually have something legit for them to mail out too! Haha… Not just as a ploy to have 'em help you out with a chore you need to take care of ;)
Good for significant others? Probably too boring…
Good for dogs? I don't think I've met a dog who hates the mailbox :)
7. Sticker Game!!
I left one of my favorites for last – picking up a pack of stickers for like a dollar or two and then having him paste every single one of them somewhere :) This can take anywhere from 15 minutes to 15 hours and is sometimes hilarious – as this picture proves: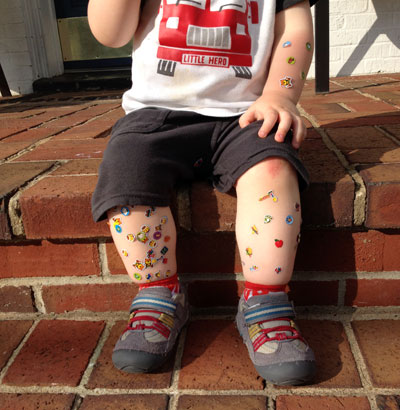 Good for significant others? Maybe if they're "naughty" stickers ;)
Good for dogs? Most definitely NOT. I haven't tried it, but I reckon it would be a huge pain in the ass trying to unstick them all from their dog hair! And painful!!
*BONUS* Taking a trip to the local fire station!
This is something we have yet to try, but every time a firetruck drives my my kid jumps up and down and points as if spotting a unicorn. He gets SO freaking excited about them that I just know he'd get a kick out of walking around an entire station full of them. And from what I hear, as long as it's not busy you can just stroll right in anytime and say hello. I'll report back my findings later this month when we try it :)
Good for significant others? Sure! Most adults would love to pretend to be firemen/women for a little bit. Especially the kinky ones ;)
Good for dogs? Maybe? Will there be 101 Dalmations there to hang out with?
So there you have it. Our 7 8 favorite (cheap) ways to entertain a kid… All the regular activities are fine too, but every now and then you have to spice it up a bit and have a little extra fun w/ them.  And true to thought, most of them are significant other/dog friendly too! Wammo!
Happy bug collecting…
——–
PS: Don't forget about all the free "toys" kids would rather play with too! It's amazing how far tissue boxes and remote controls will get you… All perfect gifts for the upcoming holidays ;)
(Visited 12 times, 1 visits today)
Get blog posts automatically emailed to you!