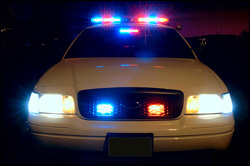 So I've been listening to a lot of talk radio in the mornings lately, and today a strange financial situation came up and I thought it would be cool to see how you all interpret it.
The callers to the show seemed to be pretty 50/50, but to ME there was really just ONE clear side (you'll see what that is in a bit). But as many of you know, I can get persuaded pretty easily when I'm outside my level of expertise ;) So check it out and then let me know what YOU think about it.
The "Situation" (GTL, baby!)
The situation is pretty common I think – Neighbor A picks up Neighbor B's kid to help drive all the kids to school, or to some event, and Neighbor A tells everyone in the car to buckle up. All fine and dandy so far. BUT, Neighbor A decides to make an illegal U-turn or some other minor infraction w/ the law (can't remember what, exactly, sorry) and gets pulled over by the PO-lice. And, well, as it turns out Neighbor B's kid happens to be the ONLY one in the car w/out her seat belt on! This makes Mr. PO-lice pretty upset and encourages him to slap a $200 dollar ticket on Neighbor A's lap. Ouch.
Now, I wouldn't have thought too much about the responsibility part of it all here – I woulda just continued on in a super pissed off state of mind – but apparently Driver/Neighbor A decides that it wasn't HER fault at all that her friend's kid wasn't wearing her seat belt. In fact, she believes this so strongly that she wants this kid's mother (Neighbor B) to split the cost with her! And therein lies the situation.
My Take
The short version: Is that woman for real?
The longer version: Is that woman for real? There is no way I'd ask for my neighbor to front half of that bill. If I did something ILLEGAL and thus got pulled over because of it, it is totally MY fault regardless if little miss sunshine listened to my instructions or not. The whole A caused B to happen effect. Without A, you don't get your B – pretty simple.
Now, the reason I ask for your all's input here is because I have yet to produce any of those rug rats myself. I'm sure as hell practicing (hah!) but seeing as how I haven't raised any kids yet, I may be missing out on a few of the ingredients to this argument. As some of the callers mentioned on the show, if that child was "raised right" they'd never have gotten the ticket to begin with. Apparently this seat belt etiquette is pretty important with kids ;)
So, what do you think about it all? Does Neighbor B need to shell out her half of the $200 to make things right? Or is this just as ridiculous as Philly trading McNabb to the Redskins? (Which btw, I am NOT complaining about – I can't tell you how excited I am as a Redskins fan!!!)
(Visited 4 times, 1 visits today)
Get blog posts automatically emailed to you!