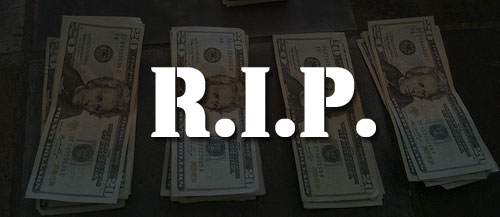 Yeah, as suspected we won't be seeing any of that money I'm afraid. Turns out the company went bust and all the money in their accounts magically disappeared around the same time we won the suit (imagine that?). Not that there was much in there anyways from what my sources say, but when the court order takes 6 WEEKS to push through, it's not like you're doing anyone favors by giving the accused PLENTY OF TIME to move it all out and away from you. Freakin' crazy man…
So it just goes to show that even when you WIN sometimes, you're still never guaranteed your payouts. Which luckily we all kinda knew in our heads anyways throughout this whole process, so it's not like it's too much of a surprise for any of us.
But you know what? I still felt DAMN GOOD to stick it to them!! The $100 I put into fighting the case (and the joy of standing my ground on the court stand – something I've always wanted to try one day! Haha…) was well worth the time and effort put into it all. I may not have come away w/ my $6,000 owed to me ($3k from my last paycheck, and $3k for all the fines for illegally not paying me) but at least it's down there in the record books and I can now move forward knowing it's all over.
And honestly, I got away with a LOT less hurt than some of my older colleagues that stuck around after I got laid off. I was fortunate enough to only lose ONE paycheck, but some of the rest that continued on were out 2-4 MONTHS worth! Can you imagine that $hit?? We're talking thousands and thousands of dollars there – One exec is out over $75k herself (when commissions and fines were all calculated in). That's just insane balls. But even crazier that you would stick AROUND that long after all the nonsense that had been going down. I put up with a lot at that place, but I've never gone 3 weeks w/out getting paid — I think that was my limit. But then again when you're dealing with sociopaths (and I don't use that term lightly), it's pretty easy to be convinced everything's going to be fine after a while. I was tricked for a while too! ;)
So anyways, that's the update on that guy. Almost 10 months on the dot when this nonsense first started, and here we are with a win under our belt but a loss in our pockets. I don't think there's anything else we could have done to affect the outcome though, so at least that's comforting. Just goes to show life's not fair sometimes. And even the simplest things, like getting your paycheck, are never guaranteed. Not to scare you or anything :) Just remember to always keep your eyes open as you never know what those loony companies are up to… even the good ones can turn on their people.
—————-
FYI: The company I worked for was a startup – which is always way more unstable than "normal" jobs. Not to say the larger guys are way more better or anything, but just that there are a lot more risks (and rewards!) with smaller off the ground companies. At least the big ones usually follow the law ;)
(Photo by vxla – design by J$)
(Visited 7 times, 1 visits today)
Get blog posts automatically emailed to you!