As you look around to determine how successful and fulfilled your life really is, you may become distracted in adding up all of the things you have – a new car in the driveway, a big TV in the home theater and a modern house on a beautiful street. However simply adding up the things you have, will not give you an accurate view of your actual net worth.
So what is the difference between what you have and what you're worth – and why does it matter? Find out now about how important it really use to know your net worth now, and how it changes month-to-month because when you know exactly what you're worth you will also understand the importance of the true meaning of wealth.
What Is Net Worth?
Knowing your net worth can give you a good indication of your financial situation, taking you away from the focused financial spreadsheets you manage and use to pay your monthly bills, and showing you the difference between your assets and your possessions. Your net worth is:
Your assets minus your liabilities. Calculating your net worth gives you a clear idea of what you are really worth because it forces you to calculate the value of your assets in the current market if you were to liquidate them. Of course you can't look at what you are worth without considering your expenses and calculating your net worth takes into account all of your debt levels, your mortgages and other loans.
A tool to see whether you are truly wealthy. A yearly income with a lot of zeros after it and a big house do not make you wealthy if that big house and everything in it, and your lifestyle are not paid off. This is where we saw so many families struck down by the effects of the global financial crisis, because they appeared wealthy and appeared to have an opulent lifestyle when really that lifestyle was only just being funded week to week with their income and when that income is gone the lifestyle is gone too. Therefore your net worth can give you an idea of what your life is like as it is and show you exactly what you are doing and would need to do to maintain that lifestyle and all of the expensive things in it.
How to Calculate Your Net Worth
So now that you understand a bit more about what net worth is and why it is so important to know what you are really worth, you are probably curious about how to calculate your own net worth. Follow these simple steps, and find out more about the easy-to-use the Free Net Worth Calculator WordPress Plug-In to find out what you are truly worth:
Gather together information about your assets. Your assets include the balances you have in savings and transaction accounts, the amount you have in your retirement fund, the value of your house, the value of your car or cars, and the value of anything else which can be liquidated.
Gathered together information about your liabilities. Your liabilities are any mortgages you have on your house, your car loan, your credit cards, student loans and any loans you have taken from your retirement fund.
Your assets minus your liabilities equal your net worth. Now subtract the total of your liabilities from the total of your assets and you will be looking at your total net worth. You may want to check your calculation is again, however it is entirely likely that you will end up with a negative net worth. This simply means you are in debt as many people are, but just because you're not alone in having a negative net worth doesn't mean you can't do something about it to turn your worth into a positive.
Monitor your net worth monthly. When you are faced with a negative net worth, or even if your net worth isn't negative it can still be confronting to see your value in front of you in black-and-white. At the same time it can be difficult to feel as though you are making progress towards increasing your net worth when the figures of your mortgage for example seem so great. Instead monitoring your net worth regularly can show you where your assets are increasing and your liabilities are decreasing, and give you a solid platform to know that you are genuinely increasing your net worth each month.
Track your net worth with the Free Net Worth Calculator Plug-In. If you are a blogger on WordPress, The Net Worth Calculator PlugIn can be downloaded and installed in just minutes, and gives you a clear and easy way to monitor your progress towards increasing your net worth.You simply need to enter your assets and liabilities, and update them regularly and the Net Worth Calculator Plug-In will track your progress in graphs and tables which you can post to your blog to monitor your journey. You can choose to hide the values or calculations of certain assets or liabilities if you choose but you will retain complete control over your financial import in the back-end program.
Knowing your net worth in the long term. Monitoring your progress month-to-month using the Net Worth Plug-In can make it easy to see, track and control your assets and liabilities. However tracking your net worth is not something which can be done for six months and then put on the shelf with all your other gadgets. Knowing your net worth for the long-term can help you avoid nasty surprises down the track, if your circumstances change. For example house prices in your area may drop significantly with the new industrial development nearby, or the value of your managed fund may decrease as the property market slows overall. If you were to lose your job or be unable to work, and you thought you knew what your net worth was and that it could carry you through some tough times, you don't want to find that in lapsing your net worth tracking circumstances have changed.
It can be easy to get swept up in filling your life with things which make you feel wealthy and successful. However it is important to balance the feeling of wealth with the true meaning of wealth so take the time to take a look at your true assets and your liabilities to confirm your net worth.
——————————
Alban is a personal finance writer. He writes on various finance topics and helps people to compare credit cards and savings accounts online.
(Visited 9 times, 1 visits today)
**********
PS:
If you're just getting started in your journey, here are a few good resources to help track your money. Doesn't matter which route you go, just that it ends up sticking!
If you're not a spreadsheet guy like me and prefer something more automated (which is fine, whatever gets you to take action!), you can try your hand with a free Personal Capital account instead.
Personal Capital is a cool tool that connects with your bank & investment accounts to give you an automated way to track your net worth. You'll get a crystal clear picture of how your spending and investments affect your financial goals (early retirement?), and it's super easy to use.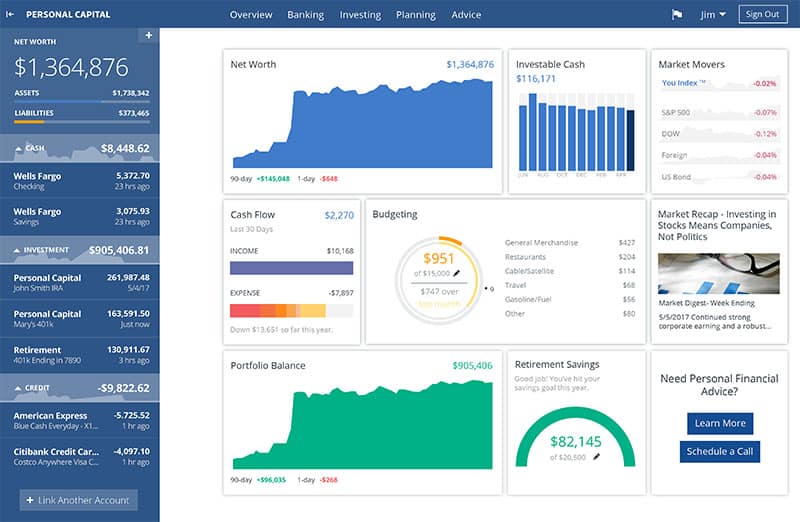 It only takes a couple minutes to set up and you can grab your free account here. They also do a lot of other cool stuff as well which my early retired friend Justin covers in our full review of Personal Capital - check it out here: Why I Use Personal Capital Almost Every Single Day.
(There's also Mint.com too btw which is also free and automated, but its more focused on day-to-day budgeting rather than long-term net worth building)
Get blog posts automatically emailed to you!