Was talking to my sister about how I still rock my cracked phone and broken laptop every day, and she hit me back with some of the stuff she hasn't gotten around to replacing either.
Like:
underwear (most of hers has holes!)
pillowcases (they're all fraying)
broken mugs… (she re-uses them for paintbrush holders, which is actually pretty clever!)
I find that in most cases I'm perfectly fine riding stuff out until the day they die (I wear holey underwear too! And rarely replace my cars until they putter out…), but the other month I thought maybe it's better to start acting more like an "adult" and create a back up plan in case either of those important items up there crash and burn and completely collapse my life.
(Or at least this blog, since without a phone or laptop you'd be reading a blank page right now! :))
So I reached out to an old friend in the phone biz who hooked me up with an Android phone she didn't need anymore (thanks Cherie!), and then shortly after I went out and picked up a brand new Macbook Air I've always been curious about and thought would make for a great upgrade when needed…
But then here's where the crazy thing happened…
Instead of feeling more at peace with having a game plan now, I actually started feeling *worse* about it all!

First, because both items are still sitting in their boxes collecting dust and not helping a single soul (the worst as a practicing minimalist!), and secondly, by the time I actually need to use either of these it's very possible they'll long be outdated! Or at least not up to modern technology's standards. Not that that's the worst thing in the world as *any* phone or computer is better than having nothing at all when you need one, but I wonder if I jumped the gun too fast here and should have waited a little longer…
(It also feels bad keeping money stashed in a place never being used (laptop), but then again maybe that's what it feels like to others who put it in savings/retirement to be used for a "rainy day" later? ;) This is just a different kind of unpleasant planning?)
Fortunately I have no concerns with saving money for later, but it does seem like I'm not so great at keeping backup *stuff* for when those fateful days come….
And now watch – tomorrow BOTH my phone and my computer will die on the spot, which in a weird way I'm kinda hoping for?!! Haha…. Does that make me a whack-job??
At any rate, thought it was interesting how jacked up our brains can be at times, and wondered if any of y'all have ever experienced such malfunctioned planning too…
At least now you'll know if there's ever a blank page here it won't be due to a lack of publishing tools. It'll mean I'm either dead or kidnapped – that's all! ;)
Here's a pic of my cracked phone btw… I can still see 70% of the screen!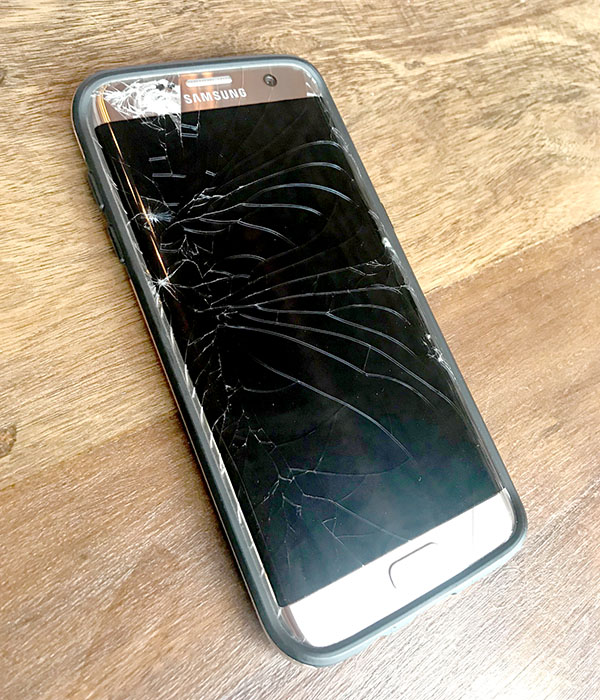 Tips/thoughts/advice? This ever happen to you?

******
That pic up top is totally random, but somehow it's *exactly* how I feel about all this, haha… Thanks Ryan McGuire!
(Visited 19 times, 1 visits today)
Get blog posts automatically emailed to you!