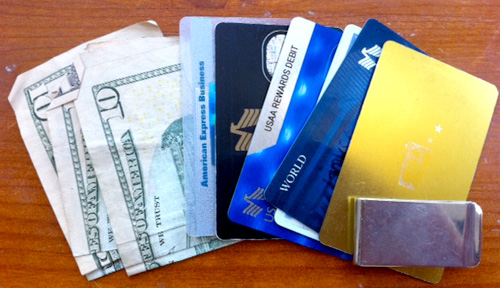 It's been a loooong time since you last peered into my wallet (errr, money clip), so I thought it would be fun to divulge all the secrets yet again ;)  I'm one of those people who REALLY enjoys being all voyeuristic w/ this stuff (just like you, right?) so the more people who participate, the more fun we get to have!
And then when you're done, be sure to check out my my interview going on over at John's blog, Free Money Wisdom.  He asked this question at the very end, among a lot of other great ones re: blogging, and it reminded me I wanted to blog about this again.  So thanks homie!
Okay, so here's what's in MY money clip… get sexcited!!
Driver's license –You *always* need to carry identification on you, no matter what!  It's super important for many reasons, but mainly safety.
$31 in cash – (3 tens and 1 one) Cash is VERY important to me – I can't tell you how many times I need a dollar or two really badly, and having some on me saved the day.  Yeah I still use credit cards for 99% of my purchases, but I'm a firm believer that having cash on you at all times is important.  Don't be one of those people who are always asking a friend for a few bucks!  Or "forgetting their wallet" making you have to pay for things (the downside of always having cash on you, haha…)
USAA World MasterCard #1. – For all my "personal" stuff. Clothes, trinkets, candy, pretty much anything non-related to household items or our "family" stuff.
USAA World MasterCard#2 – For our "house" stuff. Anything home or family related like our cable bill, groceries, pet stuff, dates, etc. I don't use this one as much since a lot of our bills are automated online, but Mrs. BudgetsAreSexy does a lot. Especially when food shopping (and I love her for it!)
USAA Personal debit card – Really annoying to hang on to, and I sometimes take it out every few weeks, but this is my one and only way of getting cash.  I hit up the ATM once a month and snag $200 (so I can be sure to *always* have cash on me!) but then after that it just sits in there 'till the next month… and takes up what little space I have in that money clip! ;)
Amex – This is for all my business expenses.  Which I use fairly often, especially with Love Drop since we fly somewhere every single month.
Starbucks gold card – Personalized and everything! Haha… yeah… umm…. no excuses here ;) But you DO get a lot of crazy ass discounts with this card!  And I have a stack of 15+ FREE coffees sitting on my desk because we used to use it so much :)  Now it rarely comes out, mainly cuz I work at home .
Your turn!  What does YOUR wallet (or purse) say about you?  Are you a cash monger or credit card lover?  Or a healthy mix of both?  I think it's hella interesting seeing what people carry around with them every day, it says a lot about 'em just like their shoes!  (but we'll save that one for another day – I know some of y'all spend a pretty penny on those bad boys ;)).
Can't wait to see whatcha got! Happy Friday!!
(Visited 36 times, 1 visits today)
Get blog posts automatically emailed to you!