Happy New Year's Eve!!

Anyone partying it up a la 1999 tonight? I was pulling an all-nighter with my college friends back then, which is a far cry from what we'll be doing tonight – SLEEPING IN ALL NIGHT after a cup or two of hot cocoa with our kids, depending on how wild we want to get ;)
Before we get to all that excitement though, thought it would be fun to review all our purchases from the year and see which ones stand out the most – whether for the better or the worse. I know some people like to rate all their transactions according to their values (which I love in theory, I just don't have the patience for it!) so this is kinda like my cheat sheet version of that, mixed with pictures :)
Here were some of my most memorable purchases from the year – how about you?
#1. Most surprising purchase — My longboard!!
Picked it up on a whim over the summer at a yard sale, and turned out to be the best $10 spent all year :) Not only does it ride MUCH faster and smoother than a typical skateboard does, but it also only requires 1/5th of the energy to get it into motion! So now I can keep up with my kids a lot easier, while looking at least half-way cool in the process, haha…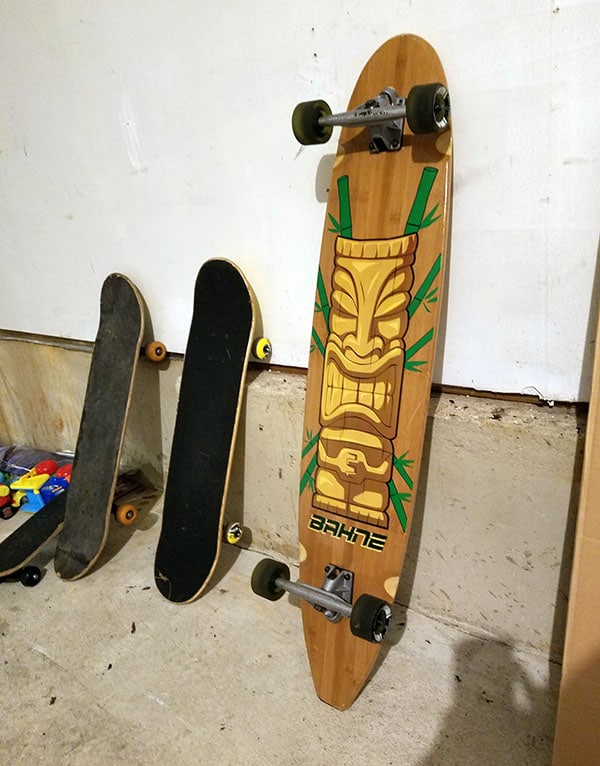 #2. Most comfortable purchase — skinny jeans!
Another huge surprise! Not only for how well they fit, but also for the fact I actually tried them on at the store, haha… But at a whopping $4.99 from Goodwill, it was worth the gamble and been enjoying wearing them ever since :)
#3. Most *expensive* purchase — Our new house ($337,000)
Not my favorite purchase of the year, but every time I start hyperventilating I just look over at my kids and wife (and now dog!) playing so peacefully and I'm reminded all over again why we chose this route. And deep down I know it's financially better for us in the long run too since we've finally settled down in our "forever" town, so it's basically just letting *time* calm my fears until I'm finally at peace with everything.
This is what our family looks like though at least once a week ;)
#4. Most loving "purchase" this year — Our 11-month-old puppy!
I know I already shared this nugget, but had to do it again as that's what I'm learning Dog Owners do ;) And plus, look how cute she is???! How could you not want to see that face any chance you get?? Haha… But I promise this won't turn into a doggy blog anytime soon, though I have been asked multiple times to share my thoughts on *pet insurance* once I've gathered them… Which I haven't dove into yet, and would love to get your advice on as well? Anyone currently signed up to it or have in the past?! Has it been worth it?
Here's our new baby – finally a girl!!
(Apparently this makes us "foster failures" I've heard, haha… I guess lots of people have trouble giving back their foster dogs when time's up! :)
#5. Most frustrating purchase of the year — Our couch from Ashley HomeStore
I won't repeat the story here and get my blood boiling again, but alas we finally got everything delivered, and as you can see in that pic above it now includes the ottoman ;) Which really has come into use, so it was well worth the fight! (Though I'll never shop there again)
#6. Most enlightening purchase(s) of the year — Tickets to all local area museums and attractions!
After living on and off in our town over the years, I finally made a commitment to visit all the area attractions in order to culturefy myself more ;) And it's been one of my favorite experiences in recent years! I was hitting 1-2 new places *a week* at the start of the mission, and now that we've been at it for a while I've run out of places and now try to drive somewhere new once every other week or so. But wow was I learning a lot in those first few weeks! Highly recommend trying it if you've been a stranger in your home town too…
#7. Our smartest purchase of the year (tied for the 10th year running) — hiring an accountant ;)
This can be filed under "boring" ways to use your money, but boy does it pay dividends year in and year out – even if you're a money blogger! I'll never regret paying the $300 or $400 it costs every year to be able to pick up the phone and ask our accountant whatever questions we have. Which in recent times have been many with all the big changes going on in our lives (home buying, blog selling, states moving, etc etc). And then of course just having someone organize – and file! – everything appropriately is a life saver in its own! Always one of the best decisions of the year, hands down.
#8. *BONUS* Our *almost* purchase of the year: that 2008 Mercedes ML-320!
It's been a few months now since the decision to pass and I don't regret it an ounce, but every now and then I like to envision what life would be like in an alternative universe as I roll down the streets in it, windows down and wind blowing through my hair ;) Could have been fun times! So long as it stood the test of time! (For anyone new to the story, it had 140,000 miles on it but on the flip side cost only $5,000 and was well pampered from a family member. We got close to getting it!)
Next week we're re-starting our minivan search with the goal of picking one up once and for all by the end of the month. It'll be a Honda Odyssey or Toyota Sienna – whichever one we can find the best deal on! Wish us luck!
What were some of your most memorable or almost memorable purchases of 2019? :) Any one really surprise you?!
(Visited 25 times, 1 visits today)
Get blog posts automatically emailed to you!