Short answer: Sure, whatever you want belongs in it ;)
I get quite a few questions on whether ____ belongs in your net worth or not, and I thought I'd share with you all what I usually respond back since I don't believe I've ever blogged about this before (yayyyy something new & shiny!). Here's one of those sample questions I recently got:
"Give or take a couple hundred bucks, I figured out that my baseball collection is worth every bit of $3,000. Would it be a good idea to include that and my car in my "net worth," or should I just leave that out?"
Now, I know what you're thinking – "WTF?  No way!  Who cares about your stupid baseball cards?" and you'd be right.  But you'd also be wrong ;) At least according to the book of J. Money.
The whole point of tracking your net worth is to show (yourself) what your current financial position is. Your life's accumulation of "stuff," if you will. All your money, your homes, your cars, your DEBTS, your mortgages, your credit cards – the grand total of all Assets minus Liabilities.  Although we all tend to just plop in the BIG guys into our spreadsheets, it doesn't mean all our other belongings are worth squat.  Right?
Think about it.  If you were to go through every room of your house and start unloading stuff – the couches, tvs, tables, furniture, stereos, etc – you'd have a decent amount of money in your hands, no?  So why not factor all this in when taking that big snapshot of what you're worth?
Some people do.  But the majority of us don't (at least the ones who talk about it here on all our finance blogs).  I offer two reasons why that may be:
Because it seems silly.
Because it's a bitch to track ;)
Do you know how long it takes us to track the simple stuff in our lives already?  The fact that we sit down and do it every single month is pretty shocking enough (I'll pretend I can't hear your thoughts Mr./Mrs. non-tracker).  It's way too overwhelming to track our entire lives.  That, and the odds that you'd ever have to sell it all is very VERY slim.  So I don't see the point, personally.
But that doesn't mean it's the right way to do things. I'd actually argue that those who DO track everything has a much better picture of what their net worth truly is.  If you can account for every last item in your house, and decently valuate them (which is very hard to do, btw – most people think their stuff is totally worth way more than it is), you'd have a much clearer understanding of your property's value.  Aka your Assets column.  Same goes with your Liabilities, only those are usually easier to list (but don't forget about all the money you own Uncle Joe or Sister Sue for that plane ticket you borrowed money for!).
What I'm trying to say is that the more you know about your situation, the better. If you don't think your pile of baseball cards are worth anything, then don't account for 'em.  And if you wanna add in your new 60 inch flat screen valued at $4,000, great! Just remember to apply the debt to the other column while you're at it ;)
It really comes down to what YOU think is worth tracking.  Ask yourself what you're trying to get out of this whole process, and stick to that. At the end of the day, you're the only one who's gonna care about this ultimate number.
(Visited 37 times, 1 visits today)
**********
PS:
If you're just getting started in your journey, here are a few good resources to help track your money. Doesn't matter which route you go, just that it ends up sticking!
If you're not a spreadsheet guy like me and prefer something more automated (which is fine, whatever gets you to take action!), you can try your hand with a free Personal Capital account instead.
Personal Capital is a cool tool that connects with your bank & investment accounts to give you an automated way to track your net worth. You'll get a crystal clear picture of how your spending and investments affect your financial goals (early retirement?), and it's super easy to use.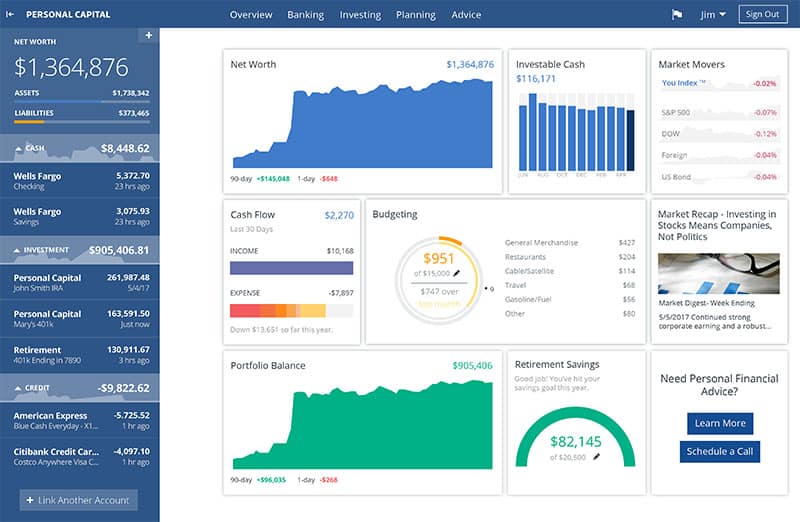 It only takes a couple minutes to set up and you can grab your free account here. They also do a lot of other cool stuff as well which my early retired friend Justin covers in our full review of Personal Capital - check it out here: Why I Use Personal Capital Almost Every Single Day.
(There's also Mint.com too btw which is also free and automated, but its more focused on day-to-day budgeting rather than long-term net worth building)
Get blog posts automatically emailed to you!