Today marks the first day of The Weekly Declutter Challenge!
Every week we're sorting through one box or tote or container, until our storage room is completely free of junk and organized. And we're starting with the biggest beast of them all – our file cabinet!
Gonna feel so good throwing away and shredding stuff! Wanna join me?? :))
We've actually had a great system implemented over the past couple of years with my ghetto style desk contraption (see below), however everything pre-2014 has been haphazardly crammed into the "archives" cabinet dating all the way back to the 2004/2005 era. I'm literally going to have to go through them an hour or two a night until we're fully sorted, ugh.
BUT – over the weekend I got a nice head start just to see what we're dealing with, and I'm proud to say I've already knocked out 4 entire folders worth, uh thank you.
Only 34 more to go now! Haha… Half of which are exploding at the brim!
But while it is pretty boring, I must say I've gotten a kick going down memory lane and really can't believe some of the stuff I found… And to think I was a financial blogger the entire time too – hah!
Here are some of the nuggets after clearing a "utilities" folders, "mortgage" folder, "pet" folder, and one of what looks like half a dozen "home stuff" folders from every place we've lived* in the past decade and a half… Which is at least 5 or 6 places that I can think of off the top of my head!
I'm sure glad I'm not me anymore…
AT&T cell phone bill from October of 2010: $240.70 — I'd like to say this was a fluke, but after sorting through dozens of other bills I had kept, unfortunately that was not the case. They ranged from $155.00-$250.00 a month, and what was crazier was that I was okay with it!! (We've since switched to Republic Wireless saving us over $100/mo and haven't looked back)
Comcast bill from April, 2012: $221.31 — Same thing here – not a fluke, though most bills hovered in the $180.00 range at least. I can't even tell you how many years we were okay with this either – it must have been a good 12 or 13?? Talk about being Triple PLAYED! (Bah-dum-ching). We now pay $60.00/mo for internet only + $15'ish for Netflix/Hulu.
Saving account statement from December, 2008: $-3.00 — That's right, a negative number! Because apparently I didn't catch on that there were monthly "inactivity" fees, nor that it would be smart to close down an account I stopped using forever ago… I've since become pretty anal about collecting bank accounts and now run my banking through only one kick-ass place – USAA.
A pile of old store credit cards…. I can only hope I was trying to build up my credit back then as I remember learning about that hack right around this time (having as much open credit as possible but not using any of it so your debt-to-credit ratio was really high!), but regardless I only stick to the bare minimum now and literally just have one card for personal use and one card for business use. The simpler the system the better I seem to be. (Though on the down side, I also don't earn a ton of rewards or miles like some of y'all card hackers get!)
A letter from our mortgage company saying our HELOC was frozen — Another hack I was experimenting with back in the day was paying down a chunk of my HELOC to save interest, and then pulling the $$ back at the end of the month to pay all my bills with. I thought it was genius after reading about it on a number of finance blogs, only to then get hit w/ a frozen account when everything crashed which tied up a month's worth of cash along with some of my emergency fund :( It's not surprising how dumb it was looking back, but boy was that a wake up call when it hit! Made me realize just how much I didn't know about the world or real estate/finances in general.
Cat bills from January, 2010 through December, 2011:

$417.55

,

$392.50

,

$477.71

, and

$673.65

—  Out of all our bills these were the ones less in our control, but I was actually proud of myself for taking care of my pets for once and doing the best we could until the very end of our poor cat's life :( That's the only reason the bills stopped coming, really, except for the last one for $205 to have him cremated and put in a pretty box… I was okay with paying it at the time, but now kinda wondering about that, haha… Anyone else have their pets on their mantle? :)
So yeah – we were paying close to $400/mo for cable and cell phones back then, and then apparently opening up a ton of bank accounts as well as store credit cards… what a hot mess.
I also came across a couple of interesting mailers from back in the housing crisis days too… Both from Chase Bank where we used to have our first mortgage at: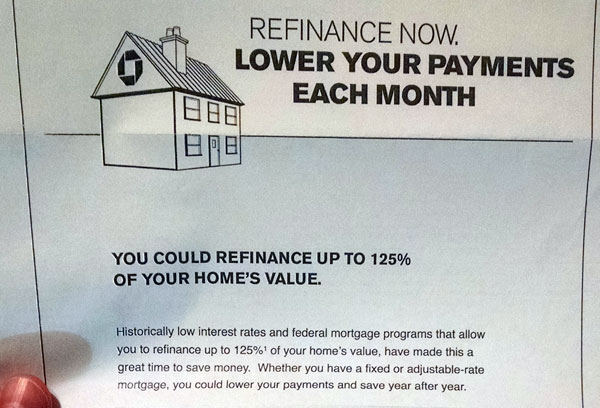 This looks crazy cuz who'd want to refinance 125% of their loans?, but remember this was back when gobs of people were underwater and couldn't refinance to terms they could actually afford. I was one of them, at least in the underwater department (fortunately I could afford my payments!), but I remember how awesome it was to finally be able to refinance where as previous rules didn't allow… Was such a wild time back then!
This one was cool to see too, which reminded people there were other ways to help pay off your loans faster than just the standard monthly route. All the banks were naming it something and rolling it out as a service to customers (usually for free, though some were charging!!!) but all it came down to really was just mailing in half of your payment every two weeks instead of the full one once a month. Over time this sent in more checks since there are extra weeks over the year vs only 4 per month, and I know tons of people still use this trick today. Might be worth a shot if you haven't considered already?
And then there was this clever offer from GMAC Mortgage circa 2007:
(They've since gone out of business rebranded as Ally Bank after filing bankruptcy)
All of this has reminded me of a few good things so far…
#1. No need to keep every last piece of paper! As you can see, I used to save everything. With things going digital now, I'm finding less and less a need to hold onto stuff anymore outside of things like taxes and business docs. It's a little nerve wracking shredding some of this old stuff because you're always wondering if the next day you'll need something!, but considering I haven't pulled anything out of that cabinet for the past 5 or 6 years so far I'm thinking the odds are pretty favorable :) And if we sort it right, there will never be a need to spend an entire week on it ever again – woo!
RE: Receipts — I will say that I am still stubbornly keeping all of our printed receipts though. I always find a need to go back and find one every few months so I'll probably continue doing so even though I do wish I could kick this habit too. Fortunately though I have a much better system going on here, and they're all cleverly disguised into a pretty drawer unit :)
(Once a drawer is filled up, I move it to the next one below and then shred the one at the bottom which gets moved back up to the top to fill its place. Works like a charm!)
#2. Always be aware of what you're spending, and why. It took me years to finally realize it wasn't cool to spend over $400 for stuff I could get much, much, less, but I was too lazy and care fee to care. It wasn't until doing the Challenge Everything mission the other year that I shook myself awake and actually spent the handful of minutes to research! You won't always get lucky and find massive savings lurking below, but setting up a calendar item to remind yourself to check in every now and then never steers you wrong. And the beautiful thing is that it hardly affects your lifestyle! You're just tweaking it!
#3. Managing your money doesn't have to be complicated! Sure, you can score some interest here and there and find some quick hacks to improve your finances, but by and large the money game is pretty straight forward: spend less than you make and bank the rest. If you literally just did that you'd be better off than 95% of your peers. (And if you want to up it a notch even further – then just widen that gap between spending and earning which will give you even more to stash away! That's the bulk of everything you need to do!)
#4. Nothing's ever permanent – you're always going through a certain phase in life. I wanted to strangle my cat for the year of costs he brought, but it was only temporary just like our credit card debt back in the day or our mortgage bills that I thought we'd never get rid of. Even now, taking on a car loan for the first time in a decade, I'm reminded of how easy we can get back into a phase again. Things come and go for better or worse, and the more we can except that the better control we'll feel. Even if it's something outside of our control!
So yeah – it's been a helluva start to the decluttering so far :) And I hope you'll join me in getting rid of some junk too! One box a week and we'll be clutter free in no time…
Happy Monday!
———-
*Finding all my old addresses gave me an idea for a new tab to start tracking in the ol' spreadsheet – an "everywhere we've lived" one! I'm not sure when it would ever come in handy outside of a background check, but for whatever reason it excites me to no end, haha… Am I all alone in that?
(Visited 10 times, 1 visits today)
Get blog posts automatically emailed to you!