What up, what up! Welcome to the debut of our new series on the site we like to call "Wallet Crashing." Where I go around and take a peek at the contents of people's wallets, purses and murses, and then report back all the findings to you fine folks. Equipped with pictures and all or of course it never really happened!
Just one more thing keep all you voyeurs coming back to this site time and time again… Daddy knows what you like deep down inside, no need to be ashamed – you're in good company here ;)
And to start the series off right, I of course snagged the one, the only, Mr. J. Money Bearded Man himself!! Ooooooh.. Ahhhhh…. The crowd goes wild!!! (I bet you didn't know I've been growing a beard for the past 2 months did ya?? DID YA???) Today won't be the first time he showed y'all the inside of his pants money clip, but times sure do change and you've always gotta make sure you've got your system down pat. There's nothing worse than a sloppy pile in your pockets, I'll tell you what…
So without further ado, I present: the insides of J. Money's money clip!
1. Three $1 bills — No, I'm not preparing for the strip club anytime soon ($3.00 won't get you very far there anyways, from what I'm told?), I just happened to have gone through my usual $200 in cash I take out every month for *extra* expenditures. And I blew my last $10.00 bill at the auctions this week picking up my new, and not-so-shiny, 1868 three-cent piece! A $18.00 score at almost half the price – I was pretty satisfied with myself… And was totally all Auction Kings up in there – raising my card at the last second before the dang fast-talker kept trying to sell it to the other bidder going against me. Never mess with a sexy budgeter! ;)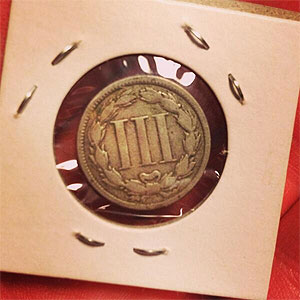 2. A Virginia Drivers License — Because, well, I now live in the great state Commonwealth of Virginia. Where I hear it's named after taking all the "wealth" from the "commoners!" Haha… but so far I've been able to keep most of mine from the state ;) (Also – you should ALWAYS carry ID on you no matter where you're going, or what you're doing… You never know when you'll need it! (And that also goes with cash too, btw. Forgot to mention that up there at #1)
3. My "Gold" Starbucks Rewards card — Which really I don't know why I carry around anymore since I only go there like once a month these days… I used to go every single work day back in my startup days since we got unlimited coffee and snacks for free there, and because we went all the time, Starbucks gave us even more killer perks like more free stuff and discounts off, haha… Being the smarty pants I am, of course, I volunteered to put the card in my name as to one day take this with me in the unlikely event our company ever shut down ;) Which, not surprisingly, happened a couple of years later (wha wha). On a side note, you may be happy to know that if any of you still have those "free drink cards" they used to give out on your birthday and for swiping that card oh so often, they still accept them even though it's been literally YEARS since they've expired. I just tried it last week :)
4. Credit Card #1: USAA World Mastercard  — My one and only "personal" card where all our expenses go every single month (even our rent – can you believe that??). And which we pay off at the end of every single month too. We can all agree these tools aren't the best for everyone out there – esp those without any self-control/love for money – but for those of us who can manage them well, those credit cards sure do come with a lot of perks! And I'm all about using someone else's money to (legally) bring in even more of my own every month :) Between cash-back rewards and the simplicity of budgeting , it sure makes a sweet life even sweeter
5. Credit Card #2: American Express "BLUE" card — My one and only "business" card I have for all my online and blogtastic expenses… Which is like $100-$300 a mo, all depending on how many domains I've been suckered into buying from the biggest sucker of all time  – myself. (I have a problem, what can I say?). This card SHOULD be a USAA card too btw to continue with my "all accounts under one roof" policy. But sadly they haven't gotten around to offering such love to the small business folks out there… So for now I make due w/ the Amex. Which really isn't that bad to be honest. They're the rock stars who solved my $75.00 United Airways Fiasco of 2011, if you recall that nightmare. So I really don't have anything back to say about them, they're pretty decent.
6. USAA Debit Card — Our one and only debit card for any expenses we ever need. Which, because of our credit card, we only ever use to take cash out of ATMS once a month. Which kills me cuz it takes up more room in my clip and we hardly ever use it! And before you say to just take it out and the put back in when you ARE going to need it, it never works that way. I end up forgetting to grab it 99% of the time thinking it's still on me, and then I get pissed at myself when I'm standing in front of the ATM without it, ugh…
7. Random note I found on the ground — No joke, I found this note yesterday on one of my walks… It's not as good as finding money, but it definitely made me smile:) For those who can't make it out, it says: "The number 1 thing people post on Facebook is about food. What is the number 2 thing they post? A = Workout". Gotta get this over to the folks at Found Mag.
And that's it! Only 7 items – not to shabby, right? And three of 'em I can get rid of if challenged to a minimalism duel at some point down the line ;) But for now, the 7 it is. The exact same number as our last money clip pop-in two years ago, though slightly different.
(We used to have personal accounts and cards set up for both the wife and I for our "do whatever" funds back in the day, but eventually we just merged everything to keep things nice and simple going forward… we still have our "own" money to do as we please, but it turns out we rarely need it now since we KNOW we can do it whenever, if that makes sense? Kinda like how we used to sneak beer into our mouths any chance we could growing up, but once we hit 21 and it became OK to do, we're no longer in a rush to do it anymore … Well, after that 21st year bday bash, of course ;))
So that's that.
What do YOU guys have in your wallets, purses, murses, or money clips right this second? No cheating!!! Take a look or snap a pic, and then jot it all down in the comments below. And if you're a fellow blogger yourself reading this, feel free to copy my idea here and share your goodies with all your voyeuristic readers too ;) We can never have too much wallet spying, if you ask me…
Stay tuned for our next adventure in Wallet Crashing… If anyone has contact info for either Mike Tyson or Allen Iverson, I'd love to have 'em. I hear their wallets look quite differently than they used to…
———-
PS: I'll also take Warren Buffett's, Dave Ramsey's, or any other celebrities you may know ;)
(Visited 16 times, 1 visits today)
Get blog posts automatically emailed to you!