Hey guys! Been watching a TON of great movies recently, and thought we'd reminisce a bit on all those AWESOME money movies out there :)  I could only come up with a good 5-6 myself, so mad thanks to my VIP crew and twitter followers for the reminders.  My goldfish-memory just ain't the same anymore…
Then check out the end for a surprise giveaway! But no cheating. You've got to see what I missed first before you can finalize your answer ;) Enjoy!
Top 10 Best Financial Movies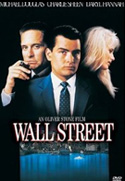 1. Wall Street
"In this riveting, behind-the-scenes look at big business in the 1980's, an ambitious young broker (Charlie Sheen) is lured into the illegal, lucrative world of corporate espionage when he is seduced by the power, status and financial wizardry of Wall Street legend Gordon Gekko (Michael Douglas). But he soon discovers that the pursuit of overnight riches comes at a price that's too high to pay."- Amazon
(Wall Street)
2. Glengarry GlenRoss
"Times are tough in a New York real-estate office; the salesmen are given a strong incentive to succeed in a sales contest. First prize is a Cadillac Eldorado, second prize is a set of steak knives, third prize is the sack! There is no room for losers in this dramatically masculine world; only "closers" will get the good sales leads. There is a lot of pressure to succeed, so a robbery is committed which has unforeseen consequences for all the characters." – IMBD (Gengarry GlenRoss)
3. Trading Places
"Mortimer and Randolph Duke are commodity brokers who enjoy a little wager now and then. For the latest bet, Randolph believes they can take a common criminal and make him a successful businessman in the company. The criminal, Billy Ray, is to be given the job and home of Louis, who in turn is set up for crimes he didn't commit, to see if he resorts to crime once he's lost his rich environment and friends."- IMBD
(Trading Places)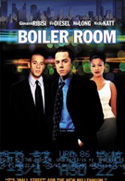 4. Boiler Room
"Seth Davis (Giovanni Ribisi) is a 19-year-old college dropout who strives for approval from his father, a judge who is horrified that his son operates a 24-hour illicit casino. When an old friend visits the casino with a fellow broker, Davis is impressed by their wads of money and yellow Ferrari, and decides to join the firm… But the dream fades when Davis discovers the scam that is making all of the brokers wealthy…"
– Amazon (Boiler Room)
5. Brewster's Millions
"Richard Pryor is Montgomery Brewster, a minor league baseball pitcher who discovers he has to blow $30 million on 30 days as a condition to inherit a much greater fortune. Here's the catch: He will forfeit everything if he reveals to a soul the real reason he seems to be throwing away all that cash. With the help of his pal Spike (John Candy), they set off on a frantic spending spree." – Amazon
(Brewster's Millions)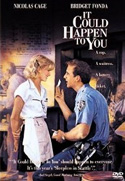 6. It Could Happen To You
"Charlie and Muriel Lang have led simple lives – until they win $4 million on the lottery! There is a problem, however. Prior to winning, Charlie had eaten at a cafe and hadn't been able to tip the waitress. He had promised her, jokingly, that if he won the lottery he'd give her half of it. This is why his wife, Muriel decides to leave him. She doesn't want the waitress to get a cent of their money…"- IMBD
(It Could Happen To You)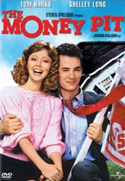 7. The Money Pit
"Walter Fielding and Anna Crowley have to start looking for a new house- but there's not much they can afford! This soon changes when they meet a lonely old con-artist who sells them a beautiful mansion at a ridiculously low price. Only there's a catch. The second Walter and Anna move in to the house it falls apart, starting from the stairway, to the bath falling through the roof to eventually the chimney falling into the house!" – IMBD (The Money Pit)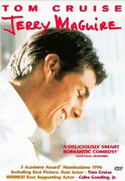 8. Jerry Maguire
"Jerry Maguire used to be a typical sports agent: willing to do just about anything he could to get the biggest possible contracts for his clients. Then, one day, he suddenly has second thoughts about what he's really doing. When he voices these doubts, he ends up losing his job and all of his clients, save Rod Tidwell, an egomaniacal football player. Can Jerry resurrect his career while still staying true to himself?" – Amazon (Jerry Maguire)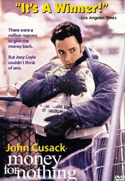 9. Money For Nothing
"After finding a bagful of unmarked $100 bills, unemployed dockworker Joey Coyle had a million reasons to give the money back, but he couldn't think of one! And when he decides to keep it, oh what a price he pays! The lucky discovery launches a buying spree and a series of uproarious events leading to Joey's outrageous attempt at sneaking out of the country past the media, the mob, and the cops." – Amazon (Money For Nothing)
10. Office Space
"Unable to endure another mind-numbing day at Initech Corporation, cubicle slave Peter Gibbons (Ron Livingston) gets fired up and decides to get fired. Armed with a leisurely new attitude and a sexy new girlfriend, he soon masters the art of neglecting his work, which quickly propels him into the ranks of upper management! Now the stage is set for Peter to carry out a high-tech embezzling scheme…" – Amazon (Office Space)
Honorable Mentions:
– Family Man
– The Secret of My Success
– Indecent Proposal
And now the Ultimate DVD Giveaway!
We're giving away TWO Wall Street DVD packs courtesy of my good friends at Go Baking Rates! A site created to improve the way people connect to the banks and financial institutions they use every day.
These movies include Wall Street, Boiler Room, and Glengarry GlenRoss. All you have to do to enter is tell us which is YOUR favorite financial movie! That's it! Just do one of the following:
Drop a comment with your fave $ movie below
Or tweet it around (ex. "My fave money move is Boiler Room! Which is yours? (http://tinyurl.com/24r3p7a via @BudgetsAreSexy)") Just be sure to let me know you tweeted it though so I can count you in :)
I'll leave this open for a week, and then announce the winners next Tuesday, September 14th after hitting up good ol' Random.org.  Good luck everyone!  ALWAYS BE CLOSING!!!
———-
*GIVEAWAY OVER* Are you ready to see who won?!  Here we go!….. The TWO lucky winners who will each get their own set of DVD packs (Wall Street, Boiler Room, and Glengarry GlenRoss) are…..LYNDA and BOBBY! Congrats guys, will email you shortly. Stay tune for more giveaways later all!
(Visited 53 times, 1 visits today)
Get blog posts automatically emailed to you!