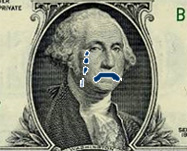 I swear, just when you think you've heard it all… Remember that chick I was telling you about 2 weeks ago who filed for bankruptcy for a 2nd time in a row, then foreclosed on her house, and THEN went out and blew $250 all in the same night?
Well, she's at it again.  Her and her drug-dealing husband and baby.  (the husband deals the drugs, not the baby – but again, WTF are they thinking?)
I just got off the phone with the friend who's relaying all this to me, and these dufuses just put down a contract on another house!!! Within a few weeks of the latest bankruptcy! And get this – they're buying a Foreclosure! hahahahahahhaahahah….
Seriously, I've got to be missing something here.  I mean, first off what bank would grant her a loan for this? And if she's funding it herself, how is this $ not tied up in the bankruptcies and/or foreclosure?  Either I'm getting jacked up information, or this country really IS the land of the free ;)
If we were running our own reality show, this would be the time for a Financial Intervention, baby!
We'd stake you out, get the camera crews ready, and then BAM!  Sneak up on ya and get your mind right.  With all the advertising our show would bring in we'd even help 'em pay off all their debts!  Maybe like a "for every month you budget, we pay off $XX for you until you're all squared away" or something. I doubt they'd listen to random strangers without getting something in return.  But really, as long as we could get them to TAKE ACTION and start doing good again I'd be all for it.
Is there already a Financial Intervention? I know there's  The Bank of Mom & Dad and 'Till Debt Do Us Part (hah!), but I can't say I recall a financial version of Extreme Makeover Home Edition… someone needs to get on that ASAP.  And then pay me for this probably-not-original idea ;)
(Visited 12 times, 1 visits today)
Get blog posts automatically emailed to you!