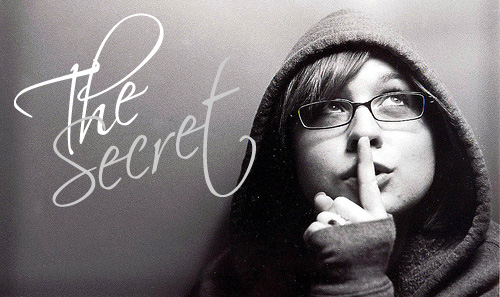 I think you're going to love me or hate me after this one, but I just can't help it :) "The Secret" is driving me crazy!!! And that's saying a lot coming from me – the king of being positive and you-can-do-anything-if-you-put-your-mind-to-it mentality.
And it's true, you can do anything, but you have to do a little more than just *thinking* about it to make stuff happen. Which seems to be the gist of this Secret book/dvd/phenomenon by Rhonda Byrne (with huge help from Oprah).
I know I'm a good 4 years late on this whole thing, but it keeps on popping up due to my lovely wife writing an entire 30-page essay on it for one of her classes ;) It's amazing how many debt and wealth references are mentioned in it too! Here's one of my favorites (and by "favorites" I mean "paragraphs that make me want to vomit"):
"The only reason any person does not have enough money is because they are blocking money from coming to them with their thoughts. Every negative thought, feeling, or emotion is blocking your good from coming to you, and that includes money. It is not that the money is being kept from you by the Universe, because all the money you require exists right now in the invisible. If you do not have enough, it is because you are stopping the flow of money coming to you, and you are doing that with your thoughts."
I don't know about you, but I can tell you that I work my a$$ off to stay out of debt and build up my net worth – It's not because of any hardcore thinking or "un-blocking" of any sort. The same goes with staying fit or keeping up this blog. It's physically impossible for these posts to be written without me actually DOING something about it. If it were as easy as sending happy thoughts all over the place there'd be no need for work! Right?
And I think that's my main problem with The Secret – not because it seems cult-ish to me, or because it borders on an "I'm owed everything" – type outlook, but that it provokes laziness and strips people of their responsibility to make difficult choices and act accordingly. We all have to work to pay our bills and save money, we can't just leave it to the Universe. Do you know how many times I've tried winning the lottery? :)
Positive thinking is a WONDERFUL thing to embrace, but just like hope and desire and luck, it's not the total package. To get the full effect out of life you need to mash all these energies together! And contrary to what any book or movie will tell you, it's not always going to be easy. Am I totally off here?
———–
PS: I'm not trying to discourage anyone from reading or liking (or even following) this book, I just wanted to share my own opinion on the matter. If The Secret, or anything else, is working for you – great! Keep doing your thing :) I encourage you to share your thoughts with us.
(Photo by Katie Tegtmeyer)
(Visited 8 times, 1 visits today)
Get blog posts automatically emailed to you!