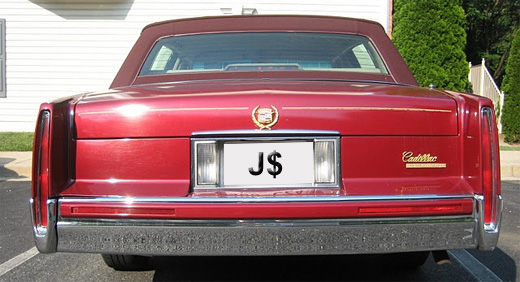 Remember the other month when I thought I was gonna have to retire my Caddy? Because I failed emissions and some jerk store told me it was going to cost $3,000 to fix?  Well yeah, they were wrong.
Which brings us to today's topic:  MAKE SURE TO GET 2nd OPINIONS! Especially when you have no idea about whatever it is that's broken.
And when it comes to car stuff, I'll be the first to admit I SUCK at it.  I'm pretty much like the opposite of a guy in this department.  Things start squeaking and I freak out.  Not because I think it'll explode or anything like that (it can't explode, right?), but I'm just always afraid something huge is broken and it'll cost me like $5,000 to fix :( So what usually happens is I keep on driving and ignoring the problems until I'm physically unable to do so any more – AKA the car STOPS. Haha… Or in this case I fail emissions, and am forced to rectify it.
But anyways, after being told that it was gonna cost me $3,000 at one shop to fix 100% (there was like 3 things wrong according to them), I finally owned up and decided to call around just to be sure. It was super annoying and I honestly *hate* doing it with a passion, but there was no way I was going to shell out more money than the car was worth just to pass a stupid test.  ESPECIALLY since MD has this waiver you can get once you cross over the $450 payment mark (so you don't do exactly that – spend more on the car than it's worth).  Of course, it should have been a clear warning sign when body shop #1 didn't even bring it to my attention!
So I hit up two other places – the shop my family uses a few hours away, and the shop my wife's family uses 45 mins away.  But instead of taking in the car to both places – wasting lots more hours and money to inspect it all over again – I just faxed over the paperwork from body shop #1 (sneaky sneaky!) and had them take a look and get back to me with pricing ;)  And here's what they said:
Mechanic #2:

$1,300 to fix everything

. That already cut down the price in half!  Wtf?  But even more impressively, they recommended just fixing 1 of the things first (an oxygen sensor) and some other tiny things like an air filter and something else I can't recall, so that I can make it over that $450 total cost in hopes I'd qualify for the Emissions Waiver :)  And then if I didn't, of course, I'd have to take it back and fix the other stuff.
Mechanic #3:

$1,000ish to fix everything

, and also brought up waiver information.  Only problem with this one was that they were hours away and would be a pain to get fixed there.
So what did I do? I used mechanic #2 and spent the additional $200 more to cross the waiver limit, and then took the ol' Caddy out for another inspection!  And you know what happened?  I freakin' passed!!!!  I didn't even have to go for the waiver! haha… man, talk about being in shock. I honestly thought I'd have to fight w/ the waiver people to make sure I was in the clear.  But that measly oxygen sensor did the trick!  And I didn't have to shell out $3,000 either.  Freakin' rip-offs.
So please, if you find yourself in a similar situation – either with car troubles or hospital stuff or dentist stuff, etc (basically anything big & expensive) – get a 2nd and/or 3rd opinion! It may take a little more time to do the research but it can literally save you hundreds or thousands of dollars. in the end.  Just because we're not experts in the field, doesn't mean we can't be experts at saving money ;)
(Visited 10 times, 1 visits today)
Get blog posts automatically emailed to you!