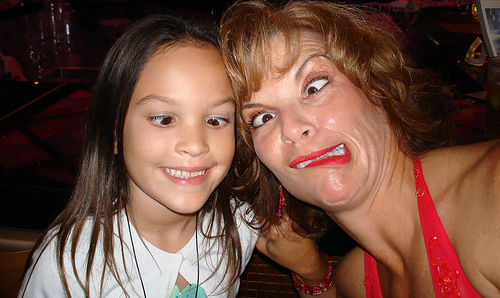 Kristina from Dinks Finance had a cool article the other day on the different financial personalities of her family, and it got me to stop and reflect a bit on my own darling little loved ones.
I thought I'd copy her and share the inner-most dark secrets of my family now too ;)  Only they're really not that dark, and really not that secretive.  But they ARE what helped me form my own financial habits over the years. I think when it comes to nature vs. nurture here, the nurturing most definitely won out.  Especially in my earlier years.  I was totally doing whatever my parents were. (I think they call that Momma's boy?)
Now that I'm grown up, though, I can see bits and pieces of all my family members' habits carrying with me. I'd probably say that I'm a good mixture of all them combined – give or take a little financial fanaticism ;) Meet my family:
My Mom: The queen of all frugal!  And without a doubt where I got my bargaining skills from.  Although unlike her I tend to veer off track sometimes and have to keep learning my lesson ;)  But ever since I've known her (over 31 years now, yikes!) she's been a huge influence on my habits and I love her dearly for it.
My Dad: A man who spends with purpose.  Not on clothes or doodads, but whatever "thing" he's into at the moment.  And he's not afraid to pay for quality ;)  Something I liked to remind my mother of in middle school when DAD was able to wear Nike Airs and $100 running shoes, and I had to be content with Payless.  Not the most exciting shoes to wear when you're trying to fit in with the "cool" guys.
My Brother: You know my brother.  The  jokester of the family who turned from financial black sheep to the come back kid!  He's by far made the biggest change over the years, and I'm so freakin' proud of him. He seems so much more confident and HAPPY lately – one of the side affects of gaining control of your money! ;)
My Sister: Pretty much exactly like my mom, with a little splash of my dad's expensive taste.  But usually in terms of travel and life experiences only.  Now that she's a proud mother of a cute little boy though, everything she does has to be for the better of the little one.  But her plan for moving across the globe with him is still in the works! Just needing more fine tuning now…
My Nephew: Hasn't realized that things cost money just yet (hes' 3), but Uncle J$ is working on that. One day he'll appreciate all those savings bonds and checks we've been storing in his college fund.
Our Cats: All they want is food.  And sleep.  You give them money and they'll eat it and then fall right to sleep.
Mrs BudgetsAreSexy: I guess we should talk about her, eh? ;)  She's brilliant.  Super frugal, but not to the point where it annoys you and you feel bad for blowing $100 on lottery tickets (although she surely didn't agree with that one). She keeps me in check and watches for any signs of our family falling into the deep end. And she's also a HUGE saver, although she can't stand having conversations about money.  The second you even *think* about bringing up a budget, her eyes glaze right over and it's an uphill battle. Haha…good thing she has me to  deal with all that boring awesome stuff ;)
That pretty much sums up the whole crew right there.  As you can tell, I grew up with a family of savers.  It would be cool to see how different I'd be had things been totally reversed, but since that's really not possible we'll have to hear about YOUR family's personalities instead ;)
Are they all good financial role models? Is there a nut job within the ranks?  Tell us all the juicy details, we promise not to judge (much).
(Photo by divemasterking2000 — not my family, but they seem fun don't they?)

(Visited 1 times, 1 visits today)
Get blog posts automatically emailed to you!