My wife: "Honey – I got hit on today!!"
Me: "Umm…. congrats?"
Wife: "That never happens anymore! He was upset that I rented, but he was definitely hitting on me."
*** At this point I start paying attention more ;) ***
Me: "How do you go from "hitting on me" to "renting?"" – I cautiously asked.
Her: "Oh, I was at this expo hall during my break. This guy sees me from afar and smiles, so I smile back, and then he comes up to me saying, "Hello hello hello! Are you a home owner, miss?" and I'm like, "Uhh no, we rent." And then he says the funniest thing – "You're killing me! You look good, but you're killing me!" He still doesn't stop flirting with me!"
Me: "This is the weirdest conversation I've ever had."
*****
I finally surmised that this guy was probably trying to sell her something home-related (not that he still didn't think my wife was beautiful – I mean, come on, she's married to a personal finance blogger!), but this was actually the 14th time since moving here that we've gotten flack for renting.
Apparently anyone in their 30's and/or with kids isn't allowed to not own a home. And especially if they're good looking ;)
The other day we were having another conversation with some people in our neighborhood, and at one point we got to talking about how long everyone has lived there for, and who lives where, and once the convo turned to us and we mentioned we're actually renting, one of them responds "Oh, you're just a renter?" and not in a complimentary way. I knew we moved to a pretty highbrow community, but the mohawk/renting combo isn't seeming to win us any new friends lately, haha… I don't even want to know what they'd think when they find out I write a diary for a living!
The funny thing is I couldn't care less if others own as I know for some people it makes sense, and others (like us) it does not. I don't think it's a good "investment"per se (check out this post to see why), but it's perfectly fine to own or not to own – whatever makes you happiest. And perhaps one day we'll even go back to it, nothing's ever permanent, right?
All I know is that renting still has a pretty negative connotation out there, and we're bumping into it a lot lately… It's not always "flushing your money down the toilet" though, or for vagabonds! Which I actually take a lot less offense over, haha… We are drifters! :)
But the judging doesn't stop with everyone else. It's within US too.
As much as we like to think we're perfect little humans, we're just as guilty at casting assumptions unto others as the next person. At least I am.
I caught myself doing just that last weekend when I met up with someone interested in buying my fireplace off Craigslist. I felt like Mark analyzing his "dumb-ass tenants" post we hosted from the other week! My brain wouldn't stop!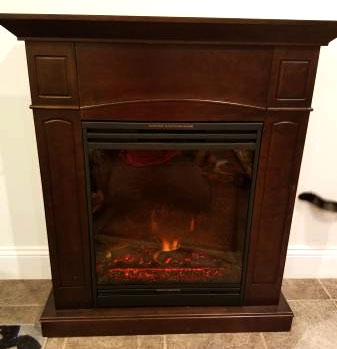 (The cat tail was not for sale)
Interaction #1: "Can I stop by this afternoon to check it out?" Me: "Sure!" (sets up a time) — 7 hours later — Him: "Sorry, I got caught up… can we meet another time?" Me (thinking): "Typical Craigslister – why are they so flaky??"
Interaction #2: "I'm here!" — Goes outside and sees a brand new Infiniti SUV parked — Automatically think his priorities are wrong, EVEN THOUGH I DRIVE A LEXUS MYSELF!!
Interaction #3: "Sorry again for not making it yesterday. I had to drop off my phone at Verizon and you know how that goes…" Me: "What do you mean? How does it go?" Him: "They take hours fixing it so you'll eventually be tempted to buy something! And I did! I picked up a tablet, ha ha…" Me (thinking): "What a dummy!! How can you drop hundreds of dollars so randomly like that?"
Interaction #4: "This is a beautiful fireplace – I'll take it!" Me: "Awesome! I think they go for like $300-$400 brand new, so you got a deal at $140. We bought it years ago, but then got another one and stopped using it." (If he was analyzing me: "Why would you need ANOTHER fireplace when you already had one? You're the dummy, dummy!" :)). What he really says, "Oh, nice. Yeah – I couldn't afford to buy one for $300." What I think: "YOU JUST BOUGHT A TABLET FOR HUNDREDS OF DOLLARS YESTERDAY??"
Interaction #5: I carry it outside to help load it into his car. "Sorry for the mess," he says. "No problem at all" I respond, pushing it all aside to get the unit in. What I then think: "Messy car = messy finances. Just like my golfer friend says!"
Interaction #6: "Thanks for giving me a discount, I really appreciate it." Me: "No problem – I'm glad it's going to be appreciated again!" What I think: "That was the smartest move he had made all day – asking me "what the lowest amount I'll take for it" is. Best 2 seconds of negotiating you can do – I almost always lower it when simply asked!"
So I wasn't totally a horrible person there, haha, but I def. need to stop judging as much as the next guy :) Nothing great ever comes from it, ya know? Maybe if you're saying something that can help them or save them from being harmed, but outside of that it rarely adds any value.
A Mission For Us This Weekend…
If you'll allow me, I'd like to offer up another challenge for the weekend:
Anytime you catch yourself judging someone, try to suppress it and count how often you do!
I bet we'll surprise ourselves just how fast we cast around our opinions. Whether out loud or internally (and hopefully more internally!). I'm going to work at this as well. And I'll even give you a free pass today if you want to rail against ME here in the comments first, haha…
But only for today! So get it while it's hot :)
Have a great weekend, everyone… Just another way to become a better person today than we were yesterday! It all adds up!
******
PS: As I was finishing up this post I overheard someone say, "How many days do you have left to take out the Corvette?" and like clockwork my mind started going… But I caught myself!! 1 for 1, baby! I then looked over and saw that it was an older gentleman in his 70's who's probably retired and enjoying the fruits of his labor… Boy would my assumptions have been wrong!
(Visited 219 times, 1 visits today)
Get blog posts automatically emailed to you!