The other week Sam from Financial Samurai stopped by my blog and left a comment in response to me selling those sites for $50k last month. He probably never thought it would inspire an entire blog post out of it, but I couldn't get it out of my head as I found it somewhat intriguing :)
Here's what he said:
"Baller. Nice to have $50K in hidden wealth. I totally subscribe to stealth wealth so nobody knows how big the iceberg really is haha."
The nice "baller" compliment aside (though I won't disagree with him ;)), it was that term of "stealth wealth" that really caused me to pause for a few to marinate. Stealth wealth… Was I hiding money this whole time from myself? Was I hiding it from you? Should it have been in my Net Worth all these years? If so, what *else* am I hiding from everyone right now?? Haha…
Now obviously I'd never intentionally hide any money on this site considering it's the entire purpose – and soul – of this blog and why we're all here, BUT the fact is there *are* indeed lots of things currently not being included in our net worth statements right now. And probably yours too! Does that really mean that they *should* be, though?
Here's a list of everything I could think of that's currently being omitted from our net worth:
My blogs — Budgets Are Sexy and Rockstar Finance, and all others present and in the future
All house stuff — Our TVs, furniture, artwork, lights, decorations, pots, pans, food, rugs, drugs (legal ones), stereos, computers, cups, santa paintings, etc ;)
Our jewelry – $7,000+ engagement ring, My $800 diamond earings (ballin'!), my Bulova watch…
All garage stuff — Tools, lawn mower, chain saws, shovels, rakes…
Our cars — Oops, those we're tracking ;)
My coin collection! Which includes not only hundreds of years old valuable coins, but ALSO those made of silver and gold bullion that could easily be turned into cash on any given day…
My baseball/basketball card collection — Which includes some Mickey Mantles, O.J. Simpsons (hah!), and old Michael Jordans. Along with a plethora of other somewhat-valuable cards from back in the day (you might remember me blogging about these before)
All our clothes (and makeup, says the wife) — All of which would net us a pretty penny if we ended up hawking one day. Or at least the wife's stuff since I'm down to only a handful of stuff right now (though you'd be happy to hear I went on a TJ Maxx run last weekend and picked up 3 new shirts and 1 new hoodie! Woohoo!)
And probably a lot more that I can't think of at the moment… But as you can see, there's a LOT that is currently not being included in our net worths. And probably rightfully so. I don't like putting "things" on there because it's mostly stuff we need to survive on a regular basis and won't ever sell anyways, and most other stuff is either too hard to reasonably value/sell too, or it just doesn't feel "right." Like a blog or makeup collection. And if you do happen to sell any of it, well, then it filters nicely right into your next month's worth update anyways! Which is exactly how I like it…
So yes, selling those sites of mine WAS technically "stealth", as Sam so smartly pointed out, however its all stuff that I don't feel belongs in a net worth valuation anyways. At least my own. You can certainly make the case that a "business" has assets and thus value so it SHOULD be included, just like our cars or even homes for that matter (which some people also don't believe should go in there since you need one to live in), but for me it's just too unstable to be accounted for on an ongoing basis. I prefer the nice surprise of an influx of cash when beautiful days like that happen anyways ;) Better to be more conservative than not when it comes to money in my mind…
As for purposely hiding wealth from people? Yes – I definitely do that outside of this blog :) As much as I love talking about money and helping others, when it comes to the "real world" I often find it's smarter to lay low and live your lives more modestly than spout out your good fortunes all over. No pun intended. The second someone perceives you as being rich (or poor) or anything else that will affect how they act around you, it all turns into a big pile of mess and it's *very* hard to undue.
In fact, there are some people probably reading this blog right now that I wish I hadn't let slip years ago that I now can't ever take back… My guess/hope is that they've long forgotten about it altogether – or better yet, got BORED with it! Haha… cuz Lord knows "normal" people don't enjoy reading about money :) – but the fact is I just don't know and now it bugs me whenever I stop and think about it.
The point to all this today?
Not everything needs to be included in your net worth except for stuff you WANT, or FEEL, needs to be in there. There's technically an answer to what "net worth" is: assets minus liabilities, but really what matters is how YOU want to use it in order to stay on track or motivated. It doesn't help anyone else but you, so track all the stuff that you feel makes sense in your given situation.
Be conscious of whom you share stuff with. Not everything needs to be on display 24/7 like we're so used to these days with Facebook and Twitter and Pinterest (read this post by Donna Freedman if you ever get a chance: Living in the quieter spots of life), because once stuff is out there it's hard to take back. It's possible, but hard.
So thanks again Sam for sparking my juices today (why does that sound so dirty???)!  And hopefully the rest of you got some good takeaways from this brain dump too :) Feel free to leave your own thoughts on what you feel does – or does not – belong in your net worth down below. And if you monitor your transparency around others in the "real world" too?
Thanks for reading :)
——-
Photo cred: 12me // Tweaked by J$
(Visited 89 times, 1 visits today)
**********
PS:
If you're just getting started in your journey, here are a few good resources to help track your money. Doesn't matter which route you go, just that it ends up sticking!
If you're not a spreadsheet guy like me and prefer something more automated (which is fine, whatever gets you to take action!), you can try your hand with a free Personal Capital account instead.
Personal Capital is a cool tool that connects with your bank & investment accounts to give you an automated way to track your net worth. You'll get a crystal clear picture of how your spending and investments affect your financial goals (early retirement?), and it's super easy to use.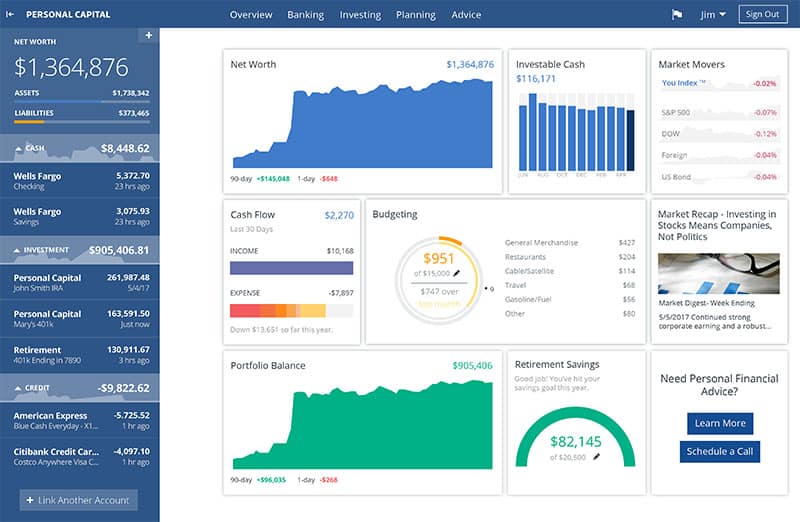 It only takes a couple minutes to set up and you can grab your free account here. They also do a lot of other cool stuff as well which my early retired friend Justin covers in our full review of Personal Capital - check it out here: Why I Use Personal Capital Almost Every Single Day.
(There's also Mint.com too btw which is also free and automated, but its more focused on day-to-day budgeting rather than long-term net worth building)
Get blog posts automatically emailed to you!