[Hey Guys! I'm excited to share this awesome review today of Simple bank from my friend Will Parker who's obsessed with them as much as I am with USAA ;) And is the only reason I don't have an account with them myself! If Simple sounds familiar, it's because they're really starting to blow up (ask your hipster friend about them – hah), and they're becoming known for doing one thing – and one thing only – exceptionally well: personal checking. Will gives us an in-depth look today along with actual snapshots of his own account for us to check out. I hope it helps!]
I used to suck at managing my money… it's even difficult to remember why. It was probably one part laziness, two parts… more laziness, one part immaturity and a pinch of LIFE: "Shaken, not stirred." Oh, and it didn't help that most personal budgeting tools on the market weren't really that great either. They still aren't.
But I can remember the day all that changed (not the immaturity part – I'm still pretty goofy). I was sitting on the bedroom floor with a few bank statements surrounding me like numbers on a watch dial. I was on speaker phone with my Big American Bank trying to dispute a debt I didn't think I owed. I couldn't make sense of it, and I was getting nowhere. Frustrated, I gave them my debit card number, paid the debt ($1,000+) and hung up the phone. I was fed up. I knew something had to change.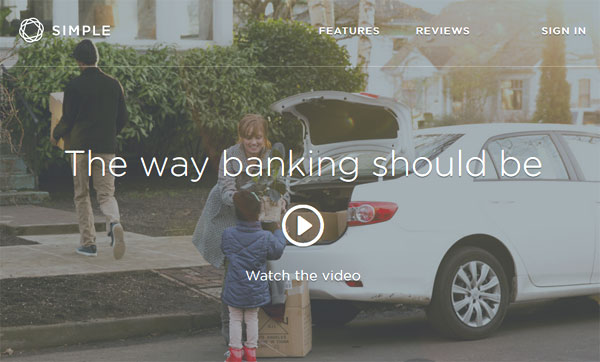 (I'm an early adopter, think: Amazon Echo and Casper and pretty much anything on Kickstarter… I'm the kind of guy who sleeps outside for new Apple products – if they sold canned air I'd probably buy it).
A friend of mine had shared an invite with me a little earlier (at the time it was an invite only bank, but not anymore!), so I signed up and started the process of transferring my money over. As fate would have it, I had also recently bought tickets to see Dave Ramsey, who was coming to my home town. I had just paid the bill to my Big American Bank, and feeling confused and discouraged, I knew It was time to kick this thing into gear.
From the moment I signed on to the site, I could tell I was going to like them. Compared to the other banks I'd had before, Simple made managing my money an experience. I liked that. You know what I mean?
I think this is a key point: Using a product or service should be an experience like any good website or walk-in store. Websites should delight, entertain as well as serve a purpose. Not frustrate you. There shouldn't be any barriers to using a product. Financial institutions don't get a pass on this concept. The way you use the product is just as important as the product. Simple understands that.
Simple Features
Personal finance boils down to a few key concepts (as I see it).
Here's how Simple addresses a few of them:
Safe-to-Spend — Most people know how much they get paid every paycheck and that's about it. There's money in their checking account and that's all that matters. That's where Safe-to-Spend comes in. Safe-to-Spend is the buffer of spendable money you have after you've told Simple what your Goals are for the month (bills, mortgage, rent, lights, water, food, etc).
Goals — You can think of Goals like digital envelopes. Like digital Dave Ramsey envelopes. You can either save for your monthly expenses (gas, food, cable, etc.) or you can save for something over time (saving for next year's Amazon Prime Membership, tires for my car, etc.) or both. It works best for both.
Activities — Activities are your day to day spending. Nothing too special on the surface. But look deeper. Simple automatically categorizes your spending like a BOSS. Take a look at the screenshot below. Underneath of each dollar amount spent is the category Simple thinks it belongs in… Now, I know other personal budgeting tools do this… think Mint, YNAB, etc. But Mint isn't a bank. It's linked to your bank. Two accounts. Not very Simple.
Spend From — In my opinion this is Simple's bread and butter. Scroll back up and take a look at the "Goals" screenshot, focusing on the Goal labeled "Gas". After you spend money with your Simple debit card you can assign that purchase to a previously defined goal (like grabbing cash from an envelope). I set aside $50 per month for gas (I have a company car and travel like 90% on airplanes for my job). On November 14th I spent $26.01 on gas. Simple automatically subtracted that money from my "Safe-to-Spend" (top left corner), but only temporarily. After the amount cleared the "pending" status I simply tapped (clicked) on the purchase and told Simple I wanted that transaction to be spent from my "Gas" goal, not my Safe-to-Spend. So, I started the month with $50 in my gas budget. I spent $26.01 and assigned it to the "Gas" category. They left me with $23.99 left in the month for gas. Boom. Budgeting.
Other Kick-Ass Features
Simple has a BUNCH of other kick-ass features too. There are too many to list all of them, but here are a few others I love:
Customer Service and "Reachability" — I've never been a fan of how difficult it is to "contact" traditional banks (or most big companies for that matter). Simple understands that frustration. Inside their UNBELIEVABLE App is a one-touch contact feature. You can either tap the phone to call or the pencil to write them. And here's something amazing. They almost ALWAYS answer on the first ring. No transferring to "other departments", or "press 1 to speak to…" or "press 9 to BLAH BLAH," etc. Just "Hello, and thanks for calling Simple. What can we do for you?".
Getting your debit card — You know the feeling when you open an account with a new Big American Bank? It goes something like this:
"Junk mail, junk mail, junk mai… oh wait… This nondescript envelope from Delaware feels different. It feels like it actually has a hard piece of plastic in it. GEEZ. It's actually my new card. Whew. Almost threw that one away."
Here's what it looks like with Simple:
Comes with a pocket-sized notepad they send and all (not pictured: a few really nice Simple logo stickers. They're on my MacBook).
"Snapshot" — Want a reality check? Take a look at your spending overview. You can select a daily, weekly, monthly, last 90, 180, 270, 360 day or all time snapshot. In the screen shot below I have "last 90 days" selected. Looks like I need to stop spending so much MONEY!Is Simple for everyone?
Other Perks
A killer app — For both iPhone and Android
There are no fees —  Simple doesn't charge anything to have an account. Though if you use an ATM out of their fee-free network the owner of the ATM may charge, as well as Visa if you use your debit card internationally.
All deposits are FDIC insured — Up to $250,000
Simple works with Mint.com and even Digit!
Is Simple for everyone?

Probably not. Here are a few cons:
No dual accounts – You and your significant other can't share an account (YET – THIS IS COMING SOON). It's probably the biggest drawback I hear from my friends and family. There are ways around it… Simple Instant for example… Simple Instant allows instant sharing of money between to Simple customers. So, in a way, you can share accounts and money. But it's not an official "shared" account.
No cash deposits – This one RARELY affects me… but it's still a thing. This may be a big deal for some folks.
No checks – There are no physical checks that you get when you sign up – You can still "write" a check from your phone (digitally) and submit it. Simple sends it… it just takes a few days for the process engine to… well, process it and send it to where you requested it to go.
You need a smart phone — You can access everything through a computer, but if you want to deposit paper checks and do other stuff a lot faster using the phone helps.

The interest rate isn't that high — It's comparable, but not high yield.
Only works in the U.S.
No reward plans — Which helps keep costs at zero.
No CDs, loans, savings accounts, or any other banking products — Simple just does one thing and one thing well: personal checking.
More FAQs can be found here: simple.com/faq
In Summary…
Long story short, I love Simple. To the point where I've taken a trip to go visit them (picture below) and even been featured on their blog for paying off my $24,000 of debt in 9 months and a day! Obviously this makes me biased, but I'm glad I could still share.
You can learn more or sign up to them here: Simple.com
If you would like some help getting your own finances in shape let me know. Seriously. Or, if you just want to chat I'd be happy to do that too. You can find me on Twitter: @willevanparker. Shoot me a message. I'd be happy to help in any way I can.
Thanks,
– Will
***********
PS: Picture below are the Simple folks. From left to right. Krista, Sarah, Josh, and me (guy in background is FOCUSED on some Greek food!). And special thanks to my good friend David Basinger (also in Greenville, SC)  for editing this article. I am better at budgeting now… but I am still TERRIBLE at writing. David is really good at reading and writing… and selling houses. He sold me mine.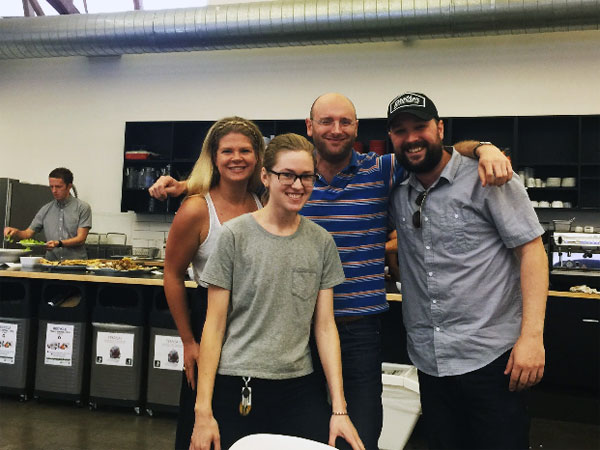 [Editor's Note: We did not receive compensation for this post, nor will we if you end up signing up to use them… Though we'll happily change that in the event they offer an affiliate program later as we love what they're about ;) UPDATE: They now have an affiliate program and we swapped in our referral links.  Meaning, if you end up signing up we'll now be compensated for it.]

(Visited 52 times, 1 visits today)
Get blog posts automatically emailed to you!