I just put this new site together because I couldn't get it off my mind: RockstarFinance.com

And, also, because I just want to promote the crap out of every GREAT FINANCE ARTICLE out there! Similar to our weekly roundups we do here, only in a much more fun and prettier set up :) (We'll still be doing the roundups here too). The goal of the whole thing is simple:
If it's awesome, it goes on the site.
That's it. A collection of my favorite clips/vids/quotes about money, all set up visually like nifty little bookmarks to tickle your membrane ;) I'll be sticking to the best, and filtering the rest! (That last line just took me 15 mins to come up with btw. And now after re-reading it again it looks lame! Haha…)
So. Now that I've gotten that excitement off my chest, NOW IT'S ONTO WHY YOU SHOULD CARE. And I'll give you three reasons for that:
Because it's all about AWESOME money stuff!
Because you want to meet and learn from other great finance bloggers/writers out there – not just from me. Even though we all know my opinions are gold ;)
Because one of you lucky bastards will win a kick-ass pair of shades for following it!
How you can get your hands on these money shades: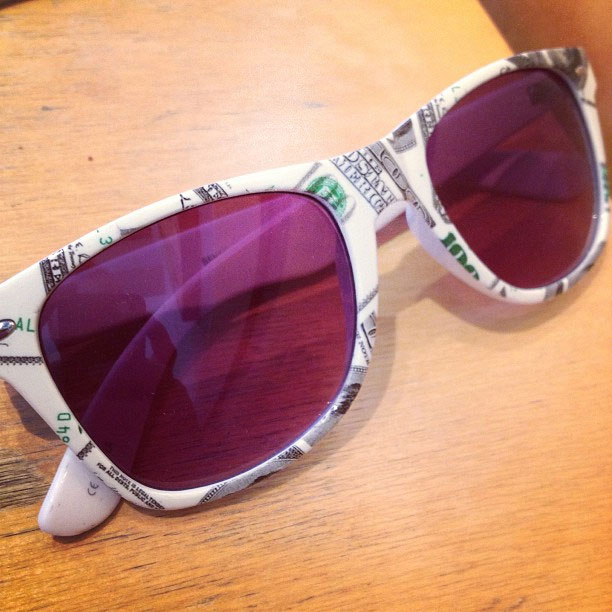 If you do one or all of the following, you'll have a chance to win a pair of these new glasses I just picked up.
And for the rest of our lives we'll be together as twins ridin' around in style and looking as dapper as we can. I don't know what's cooler than that? :)
So start following and learn from the best! I'll pick a winner for the shades in two weeks, but just be sure to let me know in the comments down below once you've entered. One comment for each entry, please – that way I know you'll be accounted for appropriately when I run Random.org later to select the winner. You can enter a total of 3 times max.
Here's the site again so you can judge if it's worthy enough to be followed: RockstarFinance.com
Good luck! And thanks so much for supporting me all these years! :)

—————
PS: If you're a *blogger* and want to submit your favorite/best articles from your site, you can most definitely do so by filling out this form. I won't be able to accept all of them of course, but I'll be sure to read each and every one sent over so everyone has a fair shot. If I happen to pass on yours, def. feel free to shoot over another :)
PPS: If you're a *reader* and want to submit any awesome articles/pics/etc you've come across in the finance world, I'd love to hear from you too! Some of the best stuff I read online is because y'all pass it over knowing I'm such a sucker for this stuff  ;) And it helps everyone else following along too.
Thanks again!
(Visited 48 times, 2 visits today)
Get blog posts automatically emailed to you!