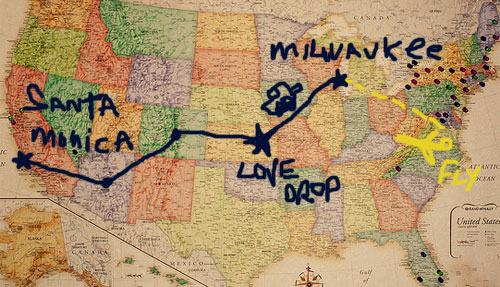 So I get this call the other day from my business partner in crime, Nate St. Pierre, and he asks me if I wanted to drive across the country with him. He just landed this KILLER job out in Santa Monica, and turns out he's packing up his stuff as we're talking on the phone planning out our next Love Drop (which is tomorrow btw – in Wichita, KS)
My first instinct was, "What the hell? No, I can't do that – I have work to do son!" But as he quickly pointed out, it was a "once in a lifetime experience" and I can do my work anywhere – especially on the road. Kinda true since we'd have like 40+ hours to kill;) And these days you can power your little work station right there out of your car's lighter anyways, with internet and everything. It's awesome.
But the thing that struck me here (ME! King of adventure and travel!!) was how quick I was to shoot it down before even thinking about it. It's like we get so set in our ways, and have everything planned out with our work and our lives, and relationships/etc, that it's easy to just overlook the potential for something BETTER right there in front of us. Like we can't even see 'opportunity' when it's staring us right in the eyes because we've got a slew of excuses going on before we even consider it.
Now, obviously we can't all just stop what we're doing and go drive across the country all willy nilly like that, BUT the point is that we should always be doing our BEST to keep our eyes open, and ready, to *ACCEPT* opportunities when they DO happen to cross our paths! Kinda like that story on those stranded people who keep refusing help when presented with it, because "God will come save them," even though THAT'S what He's doing by sending those people by their path this whole time! To hurry up and grab them before the flood swallows them whole! (I may have butchered that, but you get the point.  It's not always so black and white with things labeled as the "perfect opportunity" – you gotta just keep watching for it and be prepared for when it hits ya upside your head!)
There's never a "right time" to do anything in this life, but there are PLENTY of "almost good times" to certainly be cognizant of. And sometimes we have to take that leap of faith that it's helping us get from point A to B – whatever that happens to mean to you at that time.  Or in my case, literally means from Point A to Point B! Haha… Wisconsin to California, baby!
So as you're milling about this weekend, having fun w/ the kids or your friends/family/etc, just chillin' and trying to keep cool (no pun intended), try to get in the habit of keeping those minds of yours open, and releasing those automatic shut-off valves that tend to get stuck in our way.  Nothing's ever gonna pan out exactly like how you have it in your head, and that's perfectly okay! That's what makes life beautiful :)  And scary/frustrating/exciting at the very same time.
The way you're currently doing things may work just fine, but keep in mind there may be OTHER, better, ways to accomplish those dreams of yours even faster.  Whether it's saving more money, getting a promotion, knocking away debt, buying a house – whatever.  There's never ONE way of doing things, so if something comes along and grabs your attention, even just for a second, STOP and think about it for a bit before suddenly shooing it away.  Sometimes the best ideas are hidden right there under our nose :)
————————
PS:  While I'm gone, we *may* do some live-blogging action from the ride, but I'm not sure yet. It all depends on how motivated and sleep-achieved we are (like my made-up word?).  If we don't, I'll plop up some killer guest posts I've been saving up instead – which, honestly – are MUCH more interesting than a couple of dummies on the road causing trouble ;) I know I say it all the time, but THESE writers might be my all-time favorites I've had on the site over the years! Every one of them I wanted to post up ASAP 'cuz they're that GOOD. To the point of even making me jealous, haha…
So you may get them, or you may get me.  But either way, it'll be back to your regular scheduled programming come next weekend. You know I could never give y'all up for too long.
PPS: Live in between Kansas and California, and wanna meet up?  Shoot me an email and we'll see what we can muster: j (at) budgets are sexy (dot) com.  I can't promise anything, but we DO like to stop and take a lot of pictures/meet up with random strangers, so give us a shout and we'll see where we are when we read it :)
HAVE A SEXY WEEKEND EVERYONE!!!
(Photo by Alex Bellink, doodles by J$)
(Visited 5 times, 1 visits today)
Get blog posts automatically emailed to you!