Hi guys!
This month's feature is going to be different than the last one because you can't go out and consume it *just yet*, but I wanted to get it on your radar because it checks off everything I look for in recommendations and thought you'd enjoy a sneak peek of it ;)
It's a new full-length documentary called "Playing with FIRE", and it aims to capture the truths around financial independence, as well as to dispel all the myths surrounding the growing culture too – despite them mainly coming from haters. (*Ahem* Suze Orman *ahem*).
There are also a ton of $$$ bloggers in it, and I may or may not make a guest appearance in the trailer around minute mark 0.22 ;)
Here's a sneak peek below – check it out!!
[Here's the direct link to it too, fyi: youtube.com/watch?v=kD8uNm5ck0Q]
This film is going to be pretty epic when it comes out (early 2019), and the producers are hoping to get accepted to Sundance if things continue going well.
[UPDATE: It's now out! Buy/rent it from Amazon –> Playing With FIRE]
Which, so far so good! They released the trailer at FinCon the other week, and within 8 days of launching their Kickstarter campaign in conjunction, they already hit their $40,000 goal to finish up editing – and then some. In fact, at the time of this publishing they're now at a whopping $62,860 raised! Which says very clearly that the community wants (and needs!) to see this!
And again why I'm sharing it with you today :)
The more the word gets out, the more people can realize that THERE ARE OTHER WAYS TO LIVE!, and that each of us has the power to make it happen for ourselves.

After all, it's not about the *money* with this stuff, but what it can open up for you. Mr. Money Mustache summed it up brilliantly the other day:
Financial Independence does not mean the end of your working career. Instead it means, "Complete freedom to be the best, most powerful, energetic, happiest and most generous version of You that you can possibly be."
I can't think of anything better than that, can you?? Complete freedom to be the best, most powerful, energetic, happiest and most generous version of You that you can possibly be.
So so beautiful.
Here's more about the documentary below, followed by links where you can learn more and sign up to be notified as soon as it comes out.
"Playing with FIRE follows 35 year old Scott Rieckens, his wife Taylor, and their toddler Jovie as they embark on a year-long odyssey to understand the rules of this sub-culture and test their willingness to reject the standard narrative of adult life, which basically prescribes: "Go to college, take out tons of student loans, buy a new car, take on a mortgage, buy another car and all kinds of other things, then work for 40+ years to pay for it all. If you're lucky you might be able to retire at 65 and have a few years left to hit the golf course."…

We've spent the last year travelling the country, meeting the amazing characters who have illuminated the path to Financial Independence. From Vicki Robin to Mr. Money Mustache, we've done our best to find the most compelling and informative stories to help uncover the world of FIRE and try to make sense of the framework for a mainstream audience. The intention of this movie is to inspire people to take a look at their financial health and ask themselves if they can do better. It's to uncover this wild and wacky world of FIRE and present the soul of the community to the world…

We firmly believe there are too many people out there just like us, who had no idea how simple it was to get their financial world in order, and ultimately free ourselves from stress, shame and mandatory labor decades ahead of the prescribed schedule… This is an opportunity to pay it forward and give back, grab that life karma. Because FIRE is better when shared with others!"
Website and sign-up form to be notified once it's out (scroll to bottom): playingwithfire.co
Kickstarter campaign: kickstarter.com/projects/firedoc/playing-with-fire-the-documentary
Podcast with the director and executive producer: madfientist.com/travis-shakespeare-interview
List of all the bloggers and authors featured in it: Afford Anything, Mad Fientist, the boys from Choose FI, Mr. Money Mustache, JL Collins, The Minimalists, Vicki Robin of "Your Money Or Your Life", Frugalwoods, Ryan Holiday, Millennial Money, Rich & Regular, Mr. 1500, Our Next Life, PT Money, JD Roth, Jocelyn Peonita Pearsons, Chris Hutchins, Millennial Revoluion, Doug Nordman, and then the ever inspiring Go Curry Cracker.
"Playing with FIRE" Prize Pack Giveaway (x3)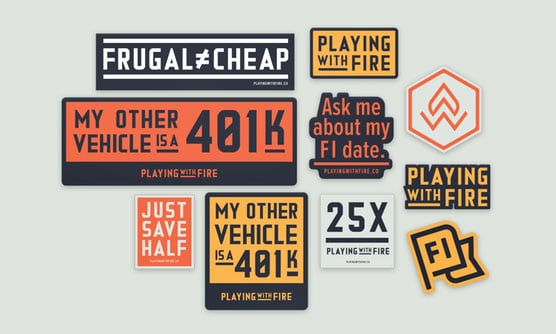 Then of course like we always do with our Resources of The Month (like how I say "always", even though this is literally only the 2nd one we've done? Haha…), here's a fun little bonus for anyone still reading this right now.
Answer this question below in the comments or via email, and you'll be entered to win one of THREE Playing with FIRE prize packs, which includes the following:
A pack of $$$ stickers (featured above)
Playing with FIRE coffee mug (featured above)
Free early digital download of the film once released (early 2019)
Here's the question:
What does a free and happy life look like to you?
We'll announce the 3 winners back on this same post come Monday afternoon, as well as on social media (follow me on Twitter here, and Facebook here), and it's open to all residents of the U.S. (Though fyi it may be awhile until all swag and movies are ready to be shipped out)
GOOD LUCK!! Don't forget to sign up to be notified when it comes out! –> playingwithfire.co (sign up box at the bottom of the page)
Yours in freedom,
UPDATE: Giveaway now over — Congrats to Natalie, Jacq, and Catherine G. for winning!
*****
This post was not sponsored in the least… outside of being sponsored with 🖤
To check out last month's Resource of The Month –> The ICE Binder
(Visited 167 times, 1 visits today)
Get blog posts automatically emailed to you!