Morning!
Here's a quick corona check-in over here:
# of days self-quarantined now: 13
# of people infected in our household: 0
# of days it took to feel "normal": 5 (amazing how fast you adapt!)
# of times I've screamed "OH HELL NO!" after hearing the news: 387
# of times I've shut down the news and promised to never look again: 387 ;)
# of times I've invested in the crashing market so far: 3
State of the kids happiness: Disneyland levels!!
State of the parents sanity: Ever seen a Yo-Yo on drugs? ;)
Other things I've come to realize over the past handful of days:
We're lucky as hell to have jobs we can do completely online. (And thank the inventors of the internet every single day for being the glue that holds this world together right now!)
We no longer try to keep our house tidy. We were good for about 3 days and then all chaos broke and lost all energy to stay on top of it, lol… (not like anyone coming to visit anyways!)
We've stopped trying to prevent our 1 y/o from drawing all over the walls (free art, right?)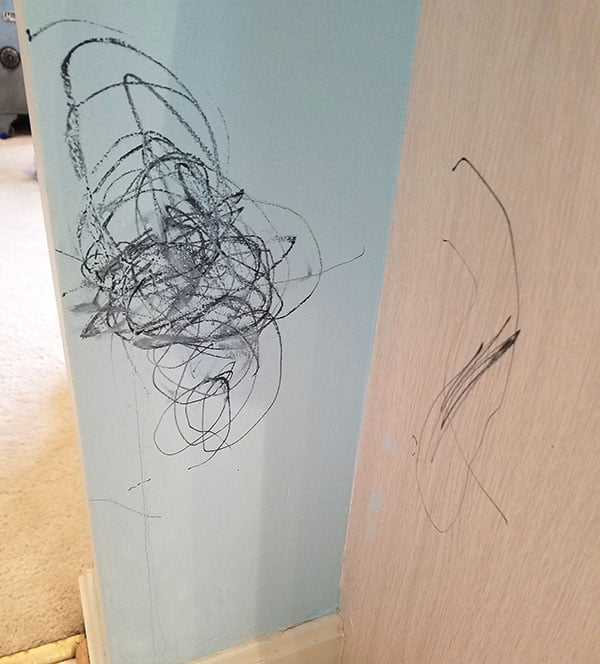 I'm APPRECIATIVE for once of our large ass lawn and decently-sized house! Two of the bigger areas that ironically gave me the most anxiety when buying last year! (Though sure to revert post-pandemic I'm sure ;))
I'm a lot more at peace with dying if it's my time to go… Not that I think that's coming anytime soon or wishing for it, but this has def. gotten me reflecting more and I catch myself telling the Mrs. almost every day that I'm happy and fulfilled shall my time expire! ;) And now you guys know it too! So only parties when I'm gone – no mourning!!
And then lastly, we'll incidentally be saving a good chunk of money through all this… Though of course I'd give it all back in a heartbeat to get this thing over with…
Here's a rough breakdown from the top of my head:
Daycare savings: $1,000'ish
Karate lessons: $100
Coffee shops: $80
Gas: $50 (?)
Entertainment: $100 (?)
Total savings: $1,330
We've been spending a little extra though too:
Extra food: $200'ish
Extra supplies: $100'ish (?)
New Chromebook for kids and e-learning/streaming/whatever we end up having to do since the school year is officially closed for the rest of the academic year (!!): $160
New (physical) subscription to local newspaper a few times a week: $20 (Funny story with this – the day after I signed up I got a call from a representative at the paper who literally asked me if this was a mistake, lol… No! Just trying to do my part supporting the industry and giving myself something new to do in isolation! :)
Total extra spending:

$480
Total real savings this first month: $850. And then approximately $1,000+ in each consecutive month since we'd no longer be acquiring Chromebooks or more back up supplies or anything… Though Lord knows what else will come up by then! I rarely get surprised anymore – every day seems like a MONTH during this thing, doesn't it?!
At any rate, that's the update in the Money household over here…
Oh, that, and we're no longer Millionaires, haha… The least of the world's concerns ;) I've gotten a few notes lately asking if that means we'll go back to posting up our net worths again, but sadly those days are gone though I applaud the creativity :)
How are things going on your end?! Calm and collected or at least pretending to be? ;) Anyone catch it yet or living in one of the super locked down areas?!
I know some people think this is all an overreaction and I would love for them to be right, but in the off chance they're not we're doing our best to heed the advice of the experts and do our part in helping slow down the spread…
Not sure when it's going to end, but we'll all get through it!! Sending my love to everyone!
******
Mona Lisa masterpiece by sumanley
(Visited 13 times, 1 visits today)
Get blog posts automatically emailed to you!