A couple of weekends ago I was at a barbeque and saw a friend lugging around this huge-ass bottle of water. I jokingly asked him why he had brought that from home since he knew there would be plenty of drinks at the party, and he told me he was on a mission to drink 8 cups a day, and that that silly water bottle was the only thing that got him to do it! He had tried a number of other tricks unsuccessfully over the years, but it was something about seeing that big honkin' thing everywhere he went that got him to accomplish his daily mission.
So of course I had to go out and pick one up for myself :)
[Update: Been going strong w/ bottle trigger for almost a year now! Here's my update with it, as well as a handful of other great triggers I've since come across: 20+ Triggers to Hack Your Life & Money]
As I alluded to last week, I too have failed numerous times to stay adequately hydrated over the years. And if all it took was a cheap $5.00 container to do the trick (I found it at my grocery store, but if you're lazy you can get one for $8.00'ish @ Amazon ;)) I was all about it! And after almost 8 days in a row of downing every last drop of that beautiful liquid (I slip a little on the weekend, but again I don't care cuz I'm doing the best I can, dummies!), I can confidently say this trick works. Every time I see it I'm reminded to pick it up and drink from it – it's as easy as that.
A few days after the bbq I had my yearly check-in with the brilliant James Clear – former blogger over at PassivePanda.com – and being a health that he is, I had to gush to him about my new found glory :) He loved hearing about it, and quickly chimed in with:
"You know what that's called, right? It's a "trigger." Every time your eyes lock in on that bottle it reminds you what you have to do and you don't even have to think about it. We should all have such triggers for our goals!"
He then went on to share the famous "Seinfeld Strategy" with me, in which a budding comedian, Brad Isaac, approached Jerry Seinfeld backstage one night and asked if he had any tips for a young comic. According to Isaac,
"He said the way to be a better comic was to create better jokes and the way to create better jokes was to write every day.

He told me to get a big wall calendar that has a whole year on one page and hang it on a prominent wall. The next step was to get a big red magic marker. He said for each day that I do my task of writing, I get to put a big red X over that day.

"After a few days you'll have a chain. Just keep at it and the chain will grow longer every day. You'll like seeing that chain, especially when you get a few weeks under your belt. Your only job is to not break the chain."
BOOM! Another visual trigger to keep you going – I knew that guy was more than just laughs ;) The whole article of Clear's is actually pretty good, you should check it out when you get a chance. Great tips on how to stop procrastinating…
Triggers, of course, apply to our personal finances too
You'll hear time and time again that successful people always attach something tangible to a goal in order to help them stay on track. For some it may come in the form of a picture of a dream house or vacation they're saving up for on their walls, while others could be credit cards on the dart board or a picture of their family to remind them of what's most important. It doesn't matter what the trigger or goal is, just that you have it set up and snuck into your normal daily lives so they work!
So step #1 is to figure out the item that motivates you to take the action, and step #2 is to place it in a prime location. Say, like around your desk at work or home, or in the kitchen or family room – wherever you spend a lot of time. I remember reading a different story of a guy who installed a pull-up bar at the bottom of his stairs to get himself to work out more. Every time he went downstairs to get to the kitchen, take a shower, go outdoors, whatev, he'd do a push-up or two on his way and habitually snuck in over 60 a day! Simply by adding a trigger in his natural environment.
Here are some others too, specifically relating to money :)
This one says, "SAVE YOUR MONEY!!!!!!"
(Also, "MY PIGGY BANK CAN BEAT UP YOUR PIGGY BANK!" :))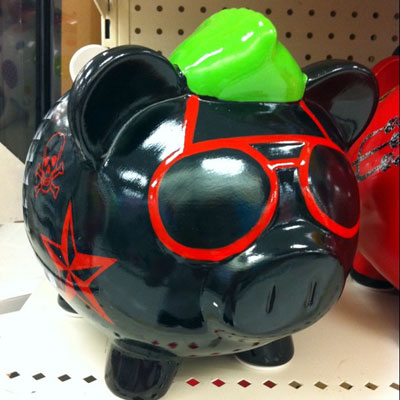 This is a financial trigger in its purest form. Every time you walk by it you can't help but check your pockets for change to fill it up! But it can also be a much bigger, broader, trigger as well – reminding you to keep saving for those bigger dreams of yours and never give up. You could even place one in random places to have some fun with it like on your car's dash, in your underwear drawer, or even the shower ;) All places I hope you at least wee once or twice a day! Haha…
Here's another… This one screams, "PAY OFF YOUR DEBT!!"
Actually, this one is an INCREDIBLE trigger to put in place, no matter how much you owe and to whom you owe it. Could be used for credit cards, car loans, student loans, or even mortgages (better be some sturdy links, haha…). The idea (and picture) comes from Alissa who was once in $30,000+ of debt and shared her story on Get Rich Slowly:
"To get the ball rolling, I decided that I needed a visual reminder of my debt, something I could look at every day. So I made myself a literal paper chain of debt. I made each link worth $100 and each color group a thousand. Each time I dipped below an amount on a link, I could reward myself by cutting it off. I was so psyched each month when I could cut off more than one link!"
That's pretty motivating stuff.
And these: "I'm Financially AWESOME!!"

These come from the beautiful, and talented Ree Klein from EscapingDodge.com:
"I keep visual cues (reminders) around me to keep me focused on my goal: financial freedom. I have done various things over the years but one consistent reminder for me has been a set of coasters I made eight or nine years ago… I looked at these every day because they were strategically placed where I spent the most time: desk, coffee table and, yep, the bathroom!"
For Ree it was more about staying positive and repeating affirmations to herself – both visually and in her head once she saw these coasters… So ART can be another way to evoke action/memory! My own painting reminds me that I'll become a millionaire one day ;)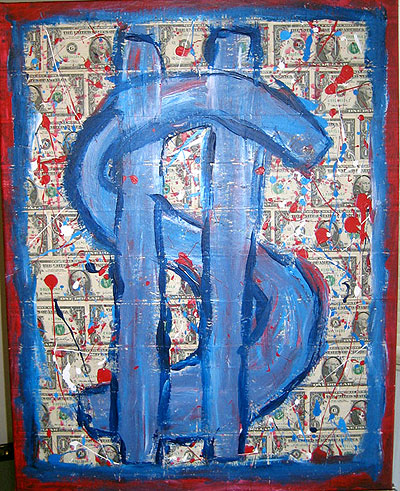 Lastly, good ol' sticky notes make for excellent (easy) triggers too
These are two of many I swap around my computer screen, each one triggering a different reminder each time I glance at them. Which is a lot, since my job is to sit in front of the dang thing every single day! The "slow down" note is to remind me to quit wishing for the next hour/day/week to come in order to get my work done faster (I'm a Workie – which is "workaholic" to the lame), and the "simplify" is to prompt me to keep de-cluttering with both physical items and financial items. Like, say, with my latest investing strategy.
You might also remember some of my others:
"More Doing, Less Thinking"
"No Mortgages, Max Roths, Max SEP, Max 529"
And "Wake Up and Do. Nothing." Which is about having your career/finances on lock and automated so everything's working while you're, umm….. waking up and doing nothing. If that's what you dream of doing, anyways :)
So there you have it. Implementing physical triggers to keep you motivated and on track! And with most of these it literally takes you no time to "be triggered" at all since you do the hard work in he beginning. Which is merely attaching the item to the goal, and then placing it somewhere you'll see every day. Not hard at all!
Now if I may, I still have 2/3rds of water left to drink today… AND I learn Spanish in the process (opah!).
——–
PS : You may have noticed a few things in the background of that pic up top. Let me explain:
UPDATE: Had to post this trigger Travis commented with below, absolutely hilarious! (And smart): "For some reason it ALWAYS seems like I remember something that has to be done just as I climb into bed and get comfy. So, I reach down, grab one of the bazillion extra pillows scattered around our bed and chuck it across the room. Vonnie will ask, "What are you doing?" My response: "Reminder pillow." The next morning when I get up, I'll stumble across the pillow in the doorway and think to myself, "Hey, why is there a pillow laying…..ooooooh yeah, right" and I instantly remember what it was I had forgotten to do the night before. :)"
UPDATE 2: We blogged again about triggers here: 20+ Triggers to Hack Your Life & Money
(Visited 196 times, 1 visits today)
Get blog posts automatically emailed to you!