There's a new finance book out called "The One-Page Financial Plan" by Carl Richards, and I was pleased to see three copies of it sitting in my P.O. Box when I checked it this week. (Shout out to Penguin Random House and the XY Planning Network! Y'all rock!)
If that name Carl Richards sounds familiar, it may be because you've read his first book, The Behavior Gap, or you follow his famous "Sketch Guy" column over at the New York Times. A column where yours truly was, *ahem*, once featured when he randomly came up with the critically acclaimed (I can say that now!) Lifetime Wealth Ratio™.
Here's what my new favorite journalist said ;)
One useful number in figuring out how well we're saving is something called the Lifetime Wealth Ratio. This concept was introduced by the budget blogger J. Money on his website, Budgets Are Sexy. To start, take your total net worth and divide it by the total amount of income you've earned over your entire life. You can get your total income from your Social Security statement. By adding up the value of your current assets (including all investments and retirement and other savings plus equity in your home), minus your debt, you'll have your total net worth…

This number represents one of the best ways I've seen to close the gap between our past and future selves.
If that doesn't make you like him I don't know what will!
Except for his new kick-ass book that just dropped (see what I did there?).
As much as I'd love this post to be about me, it's not… It's about Carl and how I'm giving two of you a free copy of The One-Page Financial Plan, of which one comes with his autograph! :) (I'm keeping the 3rd book for my own nerdy PF library, naturally).
And let me tell you this – this ain't your daddy's financial book.
The One-Page Financial Plan: A Simple Way to Be Smart About Your Money
The inside flap sums up the book perfectly:
The fact is, in a single page you can prioritize what you really want in life and figure out how to get there. That's because a great financial plan has nothing to do with what the markets are doing, what your real estate agent is pitching, or the hot stock your brother-in-law told you about. It has everything to do with what's most important to you.
I agree 100%, which is why I'm actually going to read it from front to back – making it the first book in years I've done so with! I'm hoping it's on par with Ramit's I Will Teach You To Be Rich, one of my all-time favorites.

Because Carl knows we all have A.D.D., and any $$ book must be entertaining as well as jam packed with informational nuggets for us to care.
So not only does he tell you what you need to pay attention to (he's spent the last 20 years and over 39,500 hours helping people with their money!!), but he also SHOWS you. In the form of 25-50 doodles included within to make sure you're still paying attention, haha…
And my favorite of these doodles look like this: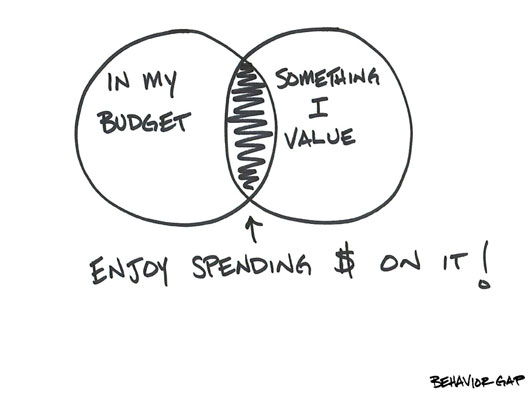 Here is what Seth Godin says about the book:
"This isn't a money book, it's a life book. And you'll remember reading it for the rest of your life."
Whether you win it or not, you should definitely check it out!
More about Carl Richards…
Carl Richards is a CERTIFIED FINANCIAL PLANNER™ and the director of investor education for the BAM ALLIANCE, a community of over 130 independent wealth management firms throughout the United States. He is the creator of the weekly Sketch Guy column in the The New York Times, and is a columnist for Morningstar Advisor. Carl has also become a frequent keynote speaker at financial planning conferences and visual learning events around the world.
(He'll be headlining our Financial Blogger Conference this year too – woot!)
Through his simple sketches, Carl makes complex financial concepts easy to understand. His sketches also serve as the foundation for his first book, The Behavior Gap: Simple Ways to Stop Doing Dumb Things with Money (Portfolio/Penguin). His commissioned work is on display in businesses and educational institutions across the country. He lives with his family in Park City, Utah.
Like what you see? Want a free copy?
Answer this question below in the comments and I'll randomly select two of you to win one:
Who would you give this book to, and why? (You can say yourself)
I'll keep this open until Sunday night (Easter, the 5th) @ midnight and then update this post with the two winners. Good luck! And U.S. only, I'm afraid… Can't go over my shipping budget now can I? ;)
You can learn more about this new book here: The One-Page Financial Plan
Or follow Carl on his site here: BehaviorGap.com
***Giveaway now over***

The two lucky winners are… Samantha (commenter #57) and Mary (commenter #162). Thanks for participating y'all! Highly recommend you picking this up for a few bucks on Amazon or hitting up your local library! It's a good one! :)
—–
Big thanks again to the XY Planning Network for hooking us up with the autographed copies. If you're looking for a (fee-only) financial advisor who is focused on Gen X and Gen Y clients, you'll want to check them out. I've met a lot of the advisors in this network – they're awesome.

(Visited 17 times, 1 visits today)
Get blog posts automatically emailed to you!