Happy November y'all! Have a fun Halloween? Anything juicy go down?
We hit up a wedding on Saturday which was kinda neat, though it wasn't a dress up one (booooo) so I just painted my nails black instead to have some fun :) And they had a pretty sweet candy bar too which was fantastic!

But wow – WHAT A RALLY this month, guys! This is the exact reason we say never to freak out and pull your money out of the market when The Crazy hits, as you would have missed out on some pretty epic gains here… Which in our case totaled over $30,000! Damn.
Check out the updated graph from my Vanguard account:
That's what you call a comeback… And speaking of Vanguard, I actually met someone at the wedding who WORKS THERE and our convo went a lot differently than I would have guessed :)
Her: So what do you, Jay?

Me: I'm a blogger, actually. I talk about money all day long if you can believe that.

Her: Oh, then you're gonna love my job – I work at Vanguard.

Me: SHUT UP! REALLY?? IS IT AWESOME? WHAT DO YOU DO THERE? TELL ME EVERYTHING, OMGGGGG!

Her: Well it's not that exciting. Just started there, but quite honestly they pay like $hit. How else do you think you get such low fees on the funds?

Me: Umm… *swigs some beer*… because they're awesome?

Her: No, because they pay their employees like crap. We're paid the least across the whole industry so you investors can earn more in the end.

Me: Umm… well… thanks? *swigs more beer* … Uhh… You ever get to meet Bogle? I bet he's pretty cool?

Her: He's alright. We've never talked but I've seen him in the halls before.

**Her's husband walks up to us and asks what we're talking about**

Me: I just learned your wife works at Vanguard! I love that place!

Her's husband: *Rolls eyes*… Did she tell you how much they pay???

Me: Yeah… umm… *finishes bottle of beer*… Anyone need anything from the bar?
How's that for an interesting conversation, haha… I can't say I've ever thought about how much Vanguard pays their employees, but I do know what a tight ship they run w/ expenses. Us bloggers are always trying to get them to do an affiliate program since we promote them so much, but so far no luck. I guess they figure we're pimping them out already for free so why pay for it? :)
Anyways, onto the numbers…
Here's how October broke down:
CASH SAVINGS (-$334.69): Whelp, we broke our 5 month savings streak… Had a few extra bills this month than normal, and biz income not up to par, so we took a little hit and hope to make up for it over the next month here… $hit happens, right?
DIGIT SAVINGS (+$297.59): On the plus side, our Digit account went up quite a bit and helps make up for it :) Looks like we're averaging about $180/mo now in savings since signing up in January – so easy.
CHALLENGE EVERYTHING (+$337.31): The Challenge keeps on going, baby! Month two into our next year already, and the hunt is on to beat out last year's $5,484.07 pot of free money… The Craigslist selling tends to dry up a bit over the winter, but in October I was able to land $100 in total sales (sold a jacket and old surfboard I was using as decoration – hah), and then also found $0.26 worth of change which I was pretty happy about (1 penny and 1 quarter) :) Eventually I'll run out of things to sell as I rarely bring home anything *new* anymore, but the more I challenge myself the better I'm getting at detaching myself from those things that normally wouldn't have been considered before. So my minimalism is getting stronger by the month!
ACORNS (BROKERAGE) (+$27.49): A nice increase of 10% this month! Some of which was put in myself (as a refresher – Acorns rounds up all your purchases to the nearest $1.00 and then drops the difference into a portfolio of funds for you), and the rest was a result of the markets going up this month. The account doesn't grow as fast as with Digit if you leave it all automated (you can xfer $$ into your Acorns account anytime you want though), but it's a nice side account that slowly grows without any effort on your part whatsoever. I highly advise it to anyone who sucks/is scared of investing and just *needs to get started*. You're literally investing every time you swipe your credit card! Even if it's just pennies!

MOTIF (BROKERAGE) (+$34.45): As I mentioned last month, I haven't touched this guy since the beginning of the year when I took on our blogging challenge to try my hand at dividend investing… The service itself is pretty interesting (you can check it out here), but I'm learning more and more that I don't care much for stock picking so at some point I'll be closing out the account and xfering my money back into Vanguard to tie up loose ends… Was fun to test it out for a while though.
IRA: ROTH(s) (+$6,846.17): Not even a dollar invested and we're up almost $7,000 – woo! A nice sight to see after losing thousands after thousands over the past couple of months…
IRA: SEP (+$25,779.17):  HUBBA HUBBA! Not a dollar dropped in here either and BAM! An entry-level salary added in within a month. Gotta love it… A great reminder that it's all for the long run and to keep shoveling it in no matter what the markets are doing. Sometimes it's on sale and sometimes not.
AUTOS WORTH (kbb) (+$16.00): I don't know how this went up, but regardless I'll take it as it's always more fun to see green than red in these reports :) Here's the worths of both our cars:
HOME VALUE (Realtor) ($0.00): Well, after much deliberating last month, we finally decided to pull the trigger and try to offload this thing! I'll have to write up something much more detailed later, but as of now we're prepping for a sale as our renter moves out and should have it on the market early this month. Which will then tell us how much it's REALLY worth when the offers start coming in (or not) haha… And in the worst case that we get no offers – or the offers that do come in blow – we'll go back to renting it out again and then hold off until later to give it another try. It's not the most ideal way (or season) to sell a property, but we feel it's worth giving it a solid shot as we really do think it's for our best interest in the long run. So wish us luck! And thanks for all your advice! :)
MORTGAGES (-$713.99): Another huge chunk taken out, though not as huge as when/if our place sells ;) It'll be amazing to be 100% debt-free without any qualifiers one day! I can't wait! Here's where are two mortgages stand right now:
Our Net Worth over the past year:
Inching closer to $500,000! And a new high too, barely beating out the previous record from July of $491,000. We'll see what the next two months bring…
Here's how our kids are fairing as well:

And that's October! How'd you do? Anyone cross over a new milestone?
As always, if you want further motivation or just feel like stalking, be sure to check out our Net Worth tracker over at Rockstar Finance to see how 180+ other financial bloggers are doing too. And you can find all 94 of my own updates throughout the years here as well.
Happy tracking!
(Visited 10 times, 1 visits today)
**********
PS:
If you're just getting started in your journey, here are a few good resources to help track your money. Doesn't matter which route you go, just that it ends up sticking!
If you're not a spreadsheet guy like me and prefer something more automated (which is fine, whatever gets you to take action!), you can try your hand with a free Personal Capital account instead.
Personal Capital is a cool tool that connects with your bank & investment accounts to give you an automated way to track your net worth. You'll get a crystal clear picture of how your spending and investments affect your financial goals (early retirement?), and it's super easy to use.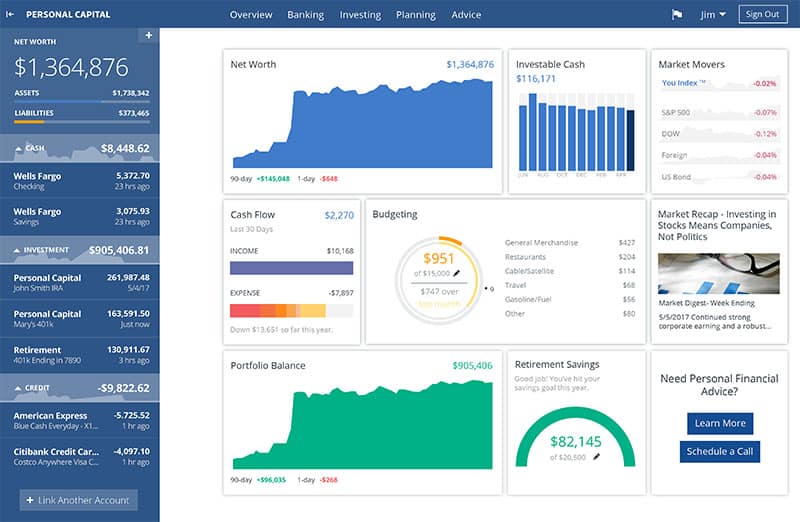 It only takes a couple minutes to set up and you can grab your free account here. They also do a lot of other cool stuff as well which my early retired friend Justin covers in our full review of Personal Capital - check it out here: Why I Use Personal Capital Almost Every Single Day.
(There's also Mint.com too btw which is also free and automated, but its more focused on day-to-day budgeting rather than long-term net worth building)
Get blog posts automatically emailed to you!