[Every month we share our raw numbers here to give you a real life snapshot of a family's finances. This was game changing for me when I first stumbled across the blogging world 9 years ago, so we've made it a consistent feature here on the blog in hopes it helps you along your journey as well. Enjoy!]
Hey $$$ Trackers!! Another month, another net worth update! And what an update this month has been, whew…
Part of that cash hit for my new partnership with Nate and Han here (my friends who are helping me manage the tech/behind the scenes of this blog in exchange for a minority stake in it) and for the first time in years our cash reserves are topped off again. Feels like a huge weight has been lifted off my wallet – not gonna lie!
To put in perspective how low I've let it go over the years, it was once at $94,642.15 back in October of 2012, and then gradually whittled down to a paltry $4,126.04 which it was hovering at last month. A $23,000 average loss a year, or almost $2,000 a month (yikes).
Now a lot of this was my own doing over the years (putting $$ into offloading our house, turning down too many side gigs, having multiple kids ;)) but the fact was I let it drain way more than I should have, and the past few months have been a blessing to get back to stable again. Even without this nice cash infusion here… (thanks for getting that new job, wifey!) Needless to say, we're finally out of panic mode, and now it's all about maintaining cash flow and not letting it happen again.
Oh, and speaking of that new partnership, we're moving to a dedicated server right now to handle larger loads on the site and help speed it up (woo!), so if the blog gets wonky at all the next few days, that's why! And should be back to normal again soon!
Here's a quick glance of how this entire year's gone net worth-wise:
And then here's a play-by-play look at it in chronological order ;)
Jan: $437,562.07

(-$51,000 – sold house + market crash)

Feb: $440,023.40

(+$2,500)

Mar: $488,217.20

(+$48,000 – market rebound + taxes + gift)

Apr: $496,016.17

(+$8,000)

May: $503,939.92

(+$8,000 – HALF-A-MILLIONAIRE STATUS!)

Jun: $494,758.25

(-$9,000 – bought a car)

Jul: $511,782.60

(+$17,000 – market growth)

Aug: $513,016.99

(+$1,000)

Sep: $512,820.73

(-$200)

Oct: $502,883.49

(-$10,000 – market down)

Nov: $524,910.47

(+$22,000 – markets up!)

Dec: $599,826.38

(+ $75,000 – new partnership)
Eight increases and four decreases, with an overall trend upwards. I'm sure there will be plenty of more wild swings to come in the new year/decade, but as long as it continues to go up we know the plan is working! And hopefully you're seeing the same results with your money too :)
Here's How The Month of December Broke Down:
CASH SAVINGS (+$63,911.03): A 1,548% increase, haha… that's wild. We already talked about where it all came from, but if you want to read more of the backstory on the new partnership, you can do so here. (Spoiler alert: it was to help me not burn out and to improve the blog at the same time)
BROKERAGE (+$24.25): A nice little bump here too! Always better than the opposite eh? ;) All this money here consists of solely our Acorns account which rounds up our daily transactions and drops the difference into an investment portfolio for me. Something I set up almost two years ago now (wow) and haven't touched since. It's not a life changing amount of money sitting there at $570, but it's all better than $0.00! So we continue on and use it as a nice back up in case we ever need it for anything.
THRIFT SAVINGS PLAN (TSP) (+$439.71): Another nice increase here as well! Just from my wife steadily siphoning away some of her paycheck every two weeks right into her sexy new retirement account. We'll probably increase this # as time goes on, but for now she's putting in enough to get all those FREE matches from the gov't, and the rest of her paycheck pretty much goes straight to childcare – hah. (Funny, but also NOT FUNNY). Thankfully we stumbled across the Dependent Care FSA which will save us a few thousand over the year, but man…
ROTH IRAs (+$2,058.13): Nothing new added here lately, but over the next few months I plan on using some of those cash reserves to help max it out again and continue growing the investment machine. I remember my brother-in-law once telling me that his one and only goal every year is to max out both his IRA and his 401(k), and as long as he does that he'll be set for life. And it's true! That's over $20,000 every single year compounding on top of each other which will grow well into the millions over time. Of course, not everyone can put this amount in during certain stages of their lives, but once you get going and can swing it, it's smart. The only reason our own net worth is as high as it is today is because I've been doing exactly that for the past almost decade! It works!
SEP IRA (+$7,990.28): Same goes for this guy too. Nothing new added, but shortly that will change once it's time to max this out after running our numbers for the year (the amount allowed is tied to what my business profit was for 2016).  Here's a cool screenshot from my Vanguard account though that shows how our investments have fared over the past couple of years (or, I should say – investment – since our money is literally all in one fund: VTSAX!)
CAR VALUES (+$33.00): How this goes UP I can't tell you, especially as they've been going down $600'ish total every month, but it is what KBB is telling me so we stick to the consistency and update it as so. Here's what they say both our rides are currently worth:
Lexus RX350: $12,891.00
Toyota Corolla: $3,957.00
CAR LOAN: (-$459.51): Down down down every month! I know half of you will say that we should just pay it off now that we've got a chunk of money again, but at the risk of going down that same cash dwindling path again, we will not be taking any drastic measures at the moment :) Plus, I actually don't mind holding a little debt to be honest with you at such low rates. You know that game we played when I asked you if you'd rather have a ton of cash with an equal amount of debt – OR – break even at $0.00? Well, you can probably guess the position I prefer. And it will of course be different for everyone… (The trick is knowing yourself well enough to choose the *right* one for you!)
And that's December!
Here's a look at how our ENTIRE journey has gone
since paying attention to this stuff in '08:
Just more proof that it's all worth it in the end! And really, it's not that detrimental to your lifestyle either, am I right? How many of you are hating life right now while saving away? I know some months and parts can blow, but overall it's amazing how little we need to actually *enjoy* our lives.
So even when we all DO become millionaires one day – and I can promise you, we will! – it's not like it'll actually change our lifestyles that much anyways. It just means we'll have way more peace of mind, and options! The best things money can buy :)
Speaking of the best things in life, here are the net worths of my babies as well. Who really aren't babies anymore at 2 and 4 – eek!
And that wraps up the year! Hope your money went well too! Keep tracking it and hustling… It's all about letting time do its magic and amplifying things FOR you. And it works like a charm!
You can see all 108 of our net worth reports over the years here, and once you're bored with those you can head over to my other site, Rockstar Finance, and check out the money of 250+ OTHER bloggers too. It now ranges from $4,156,344 all the way down to (-) $532,304. Different stages, different wallets!
See y'all in the comments :)
(Visited 57 times, 1 visits today)
**********
PS:
If you're just getting started in your journey, here are a few good resources to help track your money. Doesn't matter which route you go, just that it ends up sticking!
If you're not a spreadsheet guy like me and prefer something more automated (which is fine, whatever gets you to take action!), you can try your hand with a free Personal Capital account instead.
Personal Capital is a cool tool that connects with your bank & investment accounts to give you an automated way to track your net worth. You'll get a crystal clear picture of how your spending and investments affect your financial goals (early retirement?), and it's super easy to use.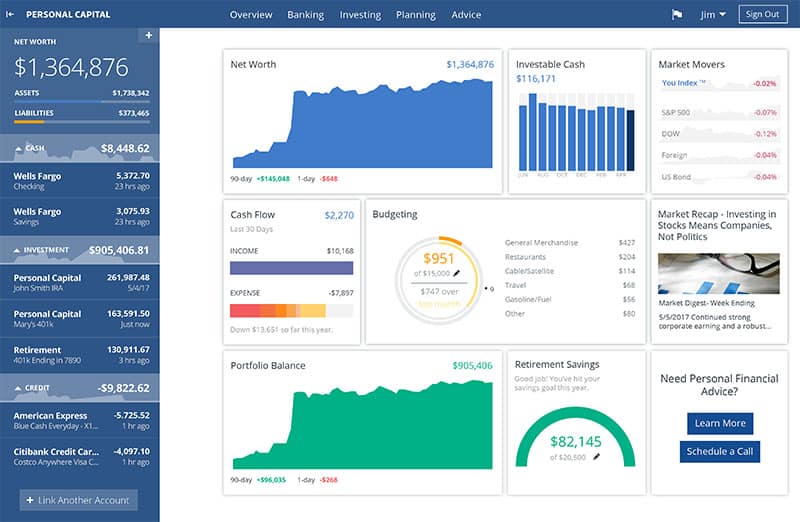 It only takes a couple minutes to set up and you can grab your free account here. They also do a lot of other cool stuff as well which my early retired friend Justin covers in our full review of Personal Capital - check it out here: Why I Use Personal Capital Almost Every Single Day.
(There's also Mint.com too btw which is also free and automated, but its more focused on day-to-day budgeting rather than long-term net worth building)
Get blog posts automatically emailed to you!