Wow.  That's a lot of red!  And a lot of stuff out of my control too – at least that's somewhat comforting ;)
Can't do much about the craziness of the market, can we?  Just gotta keep pushing through w/ the plan, and doing our best to keep our heads up and workin' toward that financial freedom!
And if you look at all those *green* areas in that pic (all 2 of them, haha…) you'll see we're actually aligned pretty well!  My goal of killing our mortgages is perfectly on track so far, and in the next couple of days I'll be shooting over our first $2,000 towards it :) Which, as you can see, we def. have laying around this month. One for one, baby!  Only 119 more months to go! Hahahaha…
Here's how September's Net Worth breaks down:
CASH SAVINGS (+$2,118.05): We had a good month over at Budgets Are Sexy and my other projects this month, and the Mrs. is now back at University getting her learn on and earning some side income again.  I can't even imagine the funds we'll have once she goes full-time! That will be all kinds of hot sauce.  But hot sauce we'll still have to wait on for another 1-2 years – harrumph.
EMERGENCY FUND ($0.00): Same ol' $10k here month after month!  We had a scare w/ Mr. Bob later on in the month, but so far we've been able to squeak by w/out having to dip into any of our E. Fund savings here… and hopefully it'll stay that way for a while!
TAX FUND (-$1,855.00): We actually shot off over $5,575.00 last month in taxes, but due to the timing of my net worths here, it always looks a little funky on pay-month.  I still admit this isn't the best way to track this little category here (every month we fill it up, and ever 3 we dump it out) but right now it'll have to do.
IRA: SEP (-$25.44): Meh.  Nothing really interesting to report here. I haven't added or taken anything out of this guy – it's just the market doing its thang.
IRA: ROTH(s) (-$2,224.69): Same with this guy.  Now that Operation Mortgage Payoff is in effect, we won't be seeing deposits here unless we get any influx of money.  I'm mainly focusing our efforts on knocking away all that ugly debt first – it's driving me bonkers!
401(k)s: No more!! The 401(k) madness has turned into an Ultimate IRA Game ;) With the total of all funds being shown below in our new Traditional IRA accounts. Be sure to pick your winner soon!
IRA: TRADITIONAL(s) (-$12,025.08): Boooooo… but really, who's surprised?  Since we're not adding anything more to these guys right now, the only chance we have of it growing is if the markets start behaving themselves.  And I'm not holding my breath at the moment ;)  I do believe that it's just a matter of time, though, until things start picking up again, and since I invest for the long time I have no doubts we'll be back on track once the phase passes… I'm not an expert in this arena, but I do think you have to have a lot of faith or you're liable to go insane.
AUTOS WORTH (kbb) (-$955.00): Nothing pretty here folks, keep on moving ;)  It's not like we expect these to be going UP in value though, eh?  It's a good thing we don't have brand new cars or I can't imagine the amounts that would be dropping every month – bleh.  Here are our current breakdowns:
Pimp Daddy Caddy: $2,470.00
Gas Ticklin' Toyota: $9,870.00
HOME VALUE (Realtor) ($0.00): Still at $300k our realtor set it at last year. I actually ran into him the other day at a coffee shop, and he had a pretty interesting take on the marketplace these days. Being in the game for over 20 years I'm sure he's seen it all!  I'll blog about it soon cuz I think y'all would enjoy it.  Pretty fascinating stuff.
MORTGAGES (-$446.44): Operation Refinance continues to do it's job! And now that Mortgage Payoff is in effect, these numbers are about to get a TON more sexier – you can bet your sweet ass on that.  I didn't get time to make my first payments on it yet, having been gone the past week w/ Love Drop and FINCON, but I look forward to hitting that "submit" button very very shortly!  This will be the last time you see small numbers in this category, it's gonna be fun! (well, as fun as fun can be when you throw away $2,000 towards debt every month, pshhh)
And that'll wrap up September for us.  Not the best monthly return, but it is what it is.  It'll take a lot more than that to rattle my financial bones, that's for sure ;)  As long as my income continues to come in so I can keep living the blog life, I'll be smiling all the way through the madness!  Can't do anything about the economy, but I sure can get my own finances in check.  And I have no doubt you all can do the same!
Anyone wanna share their net worth updates with us today? 


———————
PS: Did I mention how excited I am to kill our mortgages?
(Visited 14 times, 1 visits today)
**********
PS:
If you're just getting started in your journey, here are a few good resources to help track your money. Doesn't matter which route you go, just that it ends up sticking!
If you're not a spreadsheet guy like me and prefer something more automated (which is fine, whatever gets you to take action!), you can try your hand with a free Personal Capital account instead.
Personal Capital is a cool tool that connects with your bank & investment accounts to give you an automated way to track your net worth. You'll get a crystal clear picture of how your spending and investments affect your financial goals (early retirement?), and it's super easy to use.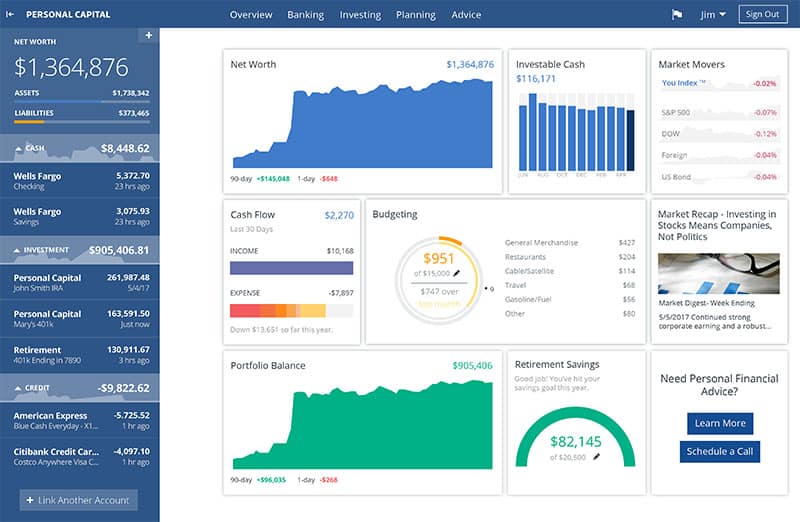 It only takes a couple minutes to set up and you can grab your free account here. They also do a lot of other cool stuff as well which my early retired friend Justin covers in our full review of Personal Capital - check it out here: Why I Use Personal Capital Almost Every Single Day.
(There's also Mint.com too btw which is also free and automated, but its more focused on day-to-day budgeting rather than long-term net worth building)
Get blog posts automatically emailed to you!