Another month, another net worth report!
This marks the 106th month straight* of tracking all this, so in honor of this memorial occasion I thought I'd list out 106 reasons you need to be tracking it too :) Ready for some fun????
(*Nifty fact: 106 months = 8.33 years, or almost 1/4 of my entire life!)
Okay okay, we'll only list out 9 for now, haha, but trust me when I say tracking your net worth is GAME CHANGING. If I could leave people with just one tip, it would certainly be that.
Here's why:
It helps you know exactly where all your money is at any given moment of time!
It changes the way you *think* about money as you're out there in the real world, knowing all your actions will be reflected in your wealth as time goes on.
It also helps you make (informed) decisions much faster!
You realize what's in your control, and what's not (cash flow vs stock returns)
You become REALLY comfortable talking and thinking about money (perhaps even *too* comfortable when you catch yourself throwing numbers out loud to friends and it's met with complete horror)
You become super confident over time, even if you're in debt or have a negative net worth (because you're *working on it* and have a plan vs just keeping your head in the sand)
You can track future performance better, based on all the months/years of records you've collected
You can easily see how well rounded your finances are or not (look at mine – wayyyy skewed in retirement funds, but super light in other areas #FAIL)
And lastly, it only takes a handful of minutes to track every month (the #'s always change, but the calculations don't: assets – liabilities.  It's just copying and pasting (and then reviewing!))
So for the love of all money – please be tracking it in some form or fashion! I'll be leaving my usual list of ways you can do so at the end of this post, but know you don't have to be as obsessive (or voyeuristic) as many of us bloggers are with it either. We just want you to track it the best you can and make it *a habit*. And if you have to share it with anyone, do so with your pets – they're always great at confirming how awesome you are ;)
Now to my own numbers from the month… A perfect example of stuff being in your control, and stuff that's not! (I can't even wait to see what the election does to it this next coming month…)
October Net Worth Changes:
CASH SAVINGS (+$906.27): A good month for the most troublesome part of our entire finances – our reserves! It's taken a hit over the years with major life and business changes, but with the wife now back to work and me finally putting back on my hustle pants, we should start coming out of the woods more here… Never have I realized just how easy I had it back in the bachelor days!
BROKERAGE (+$6.58): Another nice/boring/inconsequential improvement here too, haha… The only nice thing about having smaller accounts laying around is that it's always easy to see the improvements you make since you're always putting in more than it is returning/going down :) Such is the case here as we've invested over $20 but were left with a net of $6 and change after the market drop. (This account is exclusively powered by Acorns right now btw, which rounds up all our transactions and drops the spare change into a portfolio for us…  Been a year and a half so far and we're up $500+)
THRIFT SAVINGS PLAN (TSP) (+$395.09): Same with this sexy account too! Big percentage gains as we pour in the money from ground level and watch it fill on up… Soon it'll be taken over by the market fluctuations, but until then we just feed the machine and enjoy the positive territory as we go along :) (And not too bad having over $1,100 already after only a few months – way to go wifey!)
PS: She is fully funded into the Lifecycle 2040 fund which matches her personality/risk levels the best. But really all the TSP options are pretty killer – what's most important is making sure to get all those free matches if you work for the gov't too!
ROTH IRAs (-$2,190.56): Nothing too exciting going on here… Unless you have money to throw in and scoop up some funds on a bit of a discount! (Which we do not)
SEP IRA (-$8,956.35): Same with this guy… Although Vanguard just redesigned their dashboard portal so now we get fancier graphs :) Here's a look at how our $$$ has performed so far since moving it all over in 2014 (we're 100% in VTSAX – Vanguard's "Total Stock Market Index Fund" (Admiral shares))
CAR VALUES (-$437.00): Just the cars doing what they do best – losing value! But also transporting us around and making our lives MAGNIFICENT too – so it's a worthy trade off ;) Here's how both ours break down per KBB.com (don't even bring up FrankenCaddy or I'll start tearing up…)
Lexus: $13,593.00
Toyota: $3,898.00
CAR LOAN: (-$338.73): Still restraining myself and not paying off more that the monthly payments (to build back up our cash reserves), but hopefully soon we'll be back to chopping this down more… You can see how we got to picking up debt again here btw.
And now a look at how the past 12 months have fared! Relatively calm outside of that dip in January when we offloaded our house, haha… so glad THAT's over with.
And lastly, a glimpse into how our kids' money is going :)
And that's October! How did you guys do? Anyone cross any awesome milestones? Anyone just staring out tracking their money for the first time?

For a look at how we've gotten to this half-a-million status over the years, you can see my Net Worth Page here, or to REALLY get your voyeurism on, check out our Master Net Worth Tracker list going on at RockstarFinance.com… We track over 200 financial bloggers ranging from negative hundreds of thousands of wealth, to positive millions! Something for everyone there, haha…
Here's to a better November!
(Visited 20 times, 1 visits today)
**********
PS:
If you're just getting started in your journey, here are a few good resources to help track your money. Doesn't matter which route you go, just that it ends up sticking!
If you're not a spreadsheet guy like me and prefer something more automated (which is fine, whatever gets you to take action!), you can try your hand with a free Personal Capital account instead.
Personal Capital is a cool tool that connects with your bank & investment accounts to give you an automated way to track your net worth. You'll get a crystal clear picture of how your spending and investments affect your financial goals (early retirement?), and it's super easy to use.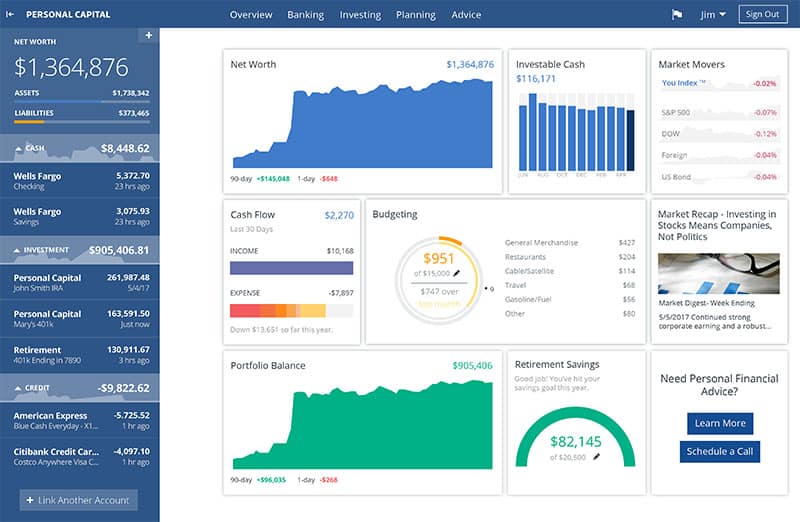 It only takes a couple minutes to set up and you can grab your free account here. They also do a lot of other cool stuff as well which my early retired friend Justin covers in our full review of Personal Capital - check it out here: Why I Use Personal Capital Almost Every Single Day.
(There's also Mint.com too btw which is also free and automated, but its more focused on day-to-day budgeting rather than long-term net worth building)
Get blog posts automatically emailed to you!