Happy October, hustlers! You ready for the pumpkins and beautiful fall leaves to start hitting ya?? And that perfect whether for jeans and hoodies??? (Mmmmmm….) My all-time favorite season, and what better way to bring it on w/ a little net worth update action :) I wish it were an *increase* to celebrate the turning of tides, here, but nonetheless it's fun as $hit to track – am I right?
In a nutshell the stock market was lower than usual this month, and thus most of our investments followed along the same way. Mainly because we're invested heavily in index funds. So when the market's high, our $$ is high! And when it's down, our $$ is down. But we're firm believers in the long term success of the markets, so we just ride the wave until we're old and gray one day and cash out. Or perhaps even when I'm young and gray if I can figure out early retirement quicker ;)
The only bright spot we had in September was in the cash reserves for once. But only because I offloaded my very last "non passion" site that netted us $8,000. We're still very much leaking money every month as I work on refocusing and balancing that work/life/happiness trifecta. Ever since having kids I've slowly diverted down the path of life and happiness which doesn't always equate to money ;)
Here's how September broke down:
CASH SAVINGS (+$3,442.36): A nice increase due to the sale of that last site I mentioned, and hopefully soon more permanent earnings! The master game plan we're working on is getting my wife back into the workforce once her dissertation is complete and she nabs that PHD status. Once that happens it's back to making it rain!
529 College Savings (-$105.29): No big change here – just the market doing it's thang…
IRA: ROTH(s) (-$1,093.59): Same with our Roths. We don't dump money in here until the end of the year once we know how much extra we have to invest (due to business income volatility).
IRA: SEP (-$5,517.91): Same here as well. This is the big boy we max out every year no matter what as we don't have 401(k)s or anything anymore, and I need to keep forcing myself to save for retirement regardless of business income… And by maxing out my SEP I get the mad savings with taxes every year too – a nice win-win!
Here's how our investments have faired since moving to Vanguard (love these graphs they show you!)
AUTOS WORTH (kbb) (-$185.00): My wife's Toyota continues to go down a little each month as is normal… And Frankencaddy, well, he's just bopping along as usual hoping to collect another free check the next time a car crashes into him again ;) His engine still purrs nicely, however recently his cup holders have broken off making it quite the ordeal when drinking hot coffee on the road (yikes).
Here are the values of both cars – the Toyota via Kbb.com and the Caddy via JMoney.com ;) Actually, I tried buying that domain before but they are asking a LOOOT of money. So instead I picked up JMoney.biz to reflect *ahem* all my business and blog endeavors. Check it out if you haven't before!
Pimp Daddy Caddy: $1,000.00
Gas Ticklin' Toyota: $6,177.00
HOME VALUE (Realtor) ($0.00): Haven't touched this since our realtor estimated it at $300,000. I don't bother with Zillow or Trulia/etc since the #'s always fluctuate so much. Though, I do sneak a peak at USAA's home monitoring service which pegged it at $305,000 last month which is pretty close!
MORTGAGES (-$674.80): I forgot to mention this bright spot up above :) Every month – no matter how much income we make or not – we always round up and pay extra towards our mortgages… It's been such a habit over the years that I don't even notice it anymore until we do these sexy updates. Give it a shot yourself if you haven't tried already!
Here's what's left on our dang (rental) house:
And that's it for September! Nothing too exciting, but nothing too upsetting either. Just another dot in the timeline of our money :) If you're interested in seeing how past net worth's have gone (in detail), here's a list of all 80+ of them over the years:  J's Million Dollar Journey. I don't play around!
How did you guys do this month? Anything new and juicy go down? I'll put in a good word for you the next time I meet w/ the money gods… Legend has it those who track their $$ have a much higher percentage of growing it though – so you might want to get on that if you haven't yet. All it takes is 15 minutes and a pad of paper/keyboard!
#BOOM
PS: Here's a list of almost 100 other bloggers who share their net worth too.
(Visited 12 times, 1 visits today)
**********
PS:
If you're just getting started in your journey, here are a few good resources to help track your money. Doesn't matter which route you go, just that it ends up sticking!
If you're not a spreadsheet guy like me and prefer something more automated (which is fine, whatever gets you to take action!), you can try your hand with a free Personal Capital account instead.
Personal Capital is a cool tool that connects with your bank & investment accounts to give you an automated way to track your net worth. You'll get a crystal clear picture of how your spending and investments affect your financial goals (early retirement?), and it's super easy to use.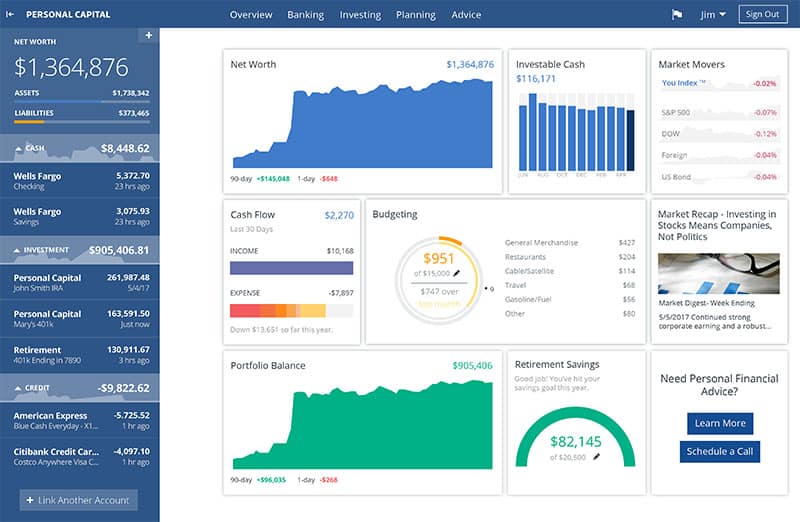 It only takes a couple minutes to set up and you can grab your free account here. They also do a lot of other cool stuff as well which my early retired friend Justin covers in our full review of Personal Capital - check it out here: Why I Use Personal Capital Almost Every Single Day.
(There's also Mint.com too btw which is also free and automated, but its more focused on day-to-day budgeting rather than long-term net worth building)
Get blog posts automatically emailed to you!