We now have monthly percentage changes in our net worth – woop woop! It only took a handful of you to speak up, and over 5 and 1/2 years for me to actually do something about it, haha… But I must admit it does add a touch of sexiness up there ;) Even though I still prefer looking at cold hard dollar numbers vs percentages… I like feeling the stings and gains!
An overall awesome month though. And exactly what we needed after getting slapped around so much over the past handful of months… I feel like we're right smack in the middle of the Perfect Storm's eye right now actually, and we have to stop and breathe in the serenity for a few before the $hit starts hitting the fan again. Not that I expect some major catastrophes brewing in the near future or anything, but I do know we're far from being out of the danger zone quite yet. We can talk about that once our cash flow finally stabilizes into the positive regions once more. I miss surplus money! ;)
Here's how the month broke down:
CASH SAVINGS (-$1,419.49): This may look like a major loss on the record book, but sadly enough this is the best we've managed to do in the past 3 or 4 monthly updates.. I'm not proud of that suck-ass number, but it is motivating me to keep on hustling hard and overcome the damn thing… And we only have a good 10 or so months left until the wife gets back in the work force too ;) So I'm trying to keep in mind that this is all just a phase right now…. it's all just a phase…
529 College Savings (+$186.47): Some extra free cash for el niño! I'll take it that all day long… And if you're wondering why we include Baby Money's 529 in these updates, you can read about it here.
IRA: SEP (+$3,075.69): A nice little bump here too for not adding anything new to the pot.
IRA: ROTH(s) (+$2,204.10): And here.
IRA: TRADITIONAL(s) (+$8,220.44): And here too :) Looks like our IRA Test lives on for another month too. Here's how it currently breaks down (All of this money btw is from my old 401(k) plans all merged into these three IRA accounts):
IRA #1 (NOT Managed): $73,659.42 **Leader for two years now

IRA #2 (Managed, USAA funds only): $68,912.97
IRA #3 (Managed, ALL different funds): $69,817.16

AUTOS WORTH (kbb) (-$217.00): I thought about marking down my Caddy an extra $500 or so due to all my recent accidents lately (two in 5 months!), but then I read the description of what Kelly Blue Book says for "fair" condition – the lowest of their rankings, and which I'm pulling these numbers off of: "The paint and bodywork may require refinishing and body repair," and "Needs servicing, but is still in reasonable running condition with a clean title history" – both of which my car most definitely has ;) So I'm pretty confident in these figures for now… I just don't know how much longer the car will last!
Here are the values of our two cars:
Pimp Daddy Caddy: $1,763.00
Gas Ticklin' Toyota: $6,633.00
HOME VALUE (Realtor) ($0.00): A nice and level "no change" here – just the way I like it… Our house has only gone up ONCE in the past 5+ years since owning it (back in July when my realtor appraised it at $300k ), and all the other tips it's been drop, drop, and more drop.
MORTGAGES (-$646.61): Slowly and steadily paying those bad boys off! Only $305,951.59 more to go! Haha… Man I hate home ownership… Here's how they break down:
And that's it for September… If you're curious about all my previous net worth updates, you can check them all out – dating back to January of 2008, here. The % difference from then to now is a staggering 627%! Or, more sexily, a jump of $309,848.51 ;)
Hope you guys did well too! Tell us about it in the comments, yeah?

———–
PS: If you're new to the site and wonder why I dislike home ownership, read this (hilarious) post by James Altucher. He does a much better job of capturing my feelings towards it all than I ever can – which is both weird, and slightly pathetic. But it's still very much the truth ;)
(Visited 16 times, 1 visits today)
**********
PS:
If you're just getting started in your journey, here are a few good resources to help track your money. Doesn't matter which route you go, just that it ends up sticking!
If you're not a spreadsheet guy like me and prefer something more automated (which is fine, whatever gets you to take action!), you can try your hand with a free Personal Capital account instead.
Personal Capital is a cool tool that connects with your bank & investment accounts to give you an automated way to track your net worth. You'll get a crystal clear picture of how your spending and investments affect your financial goals (early retirement?), and it's super easy to use.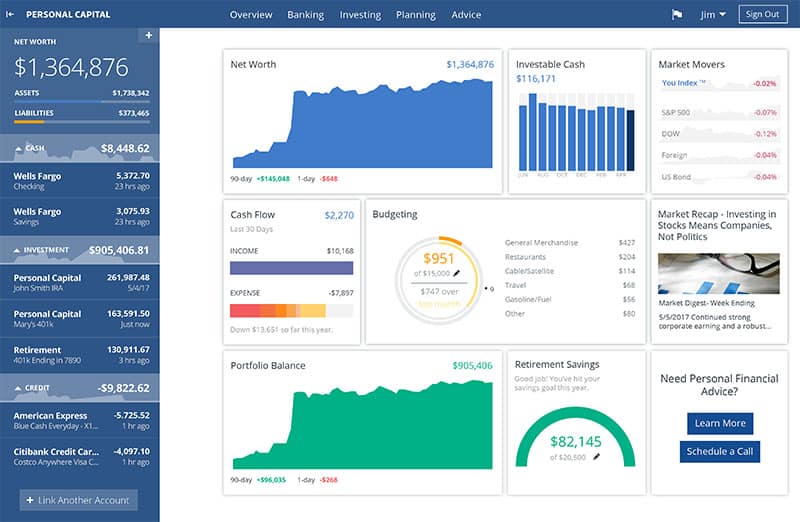 It only takes a couple minutes to set up and you can grab your free account here. They also do a lot of other cool stuff as well which my early retired friend Justin covers in our full review of Personal Capital - check it out here: Why I Use Personal Capital Almost Every Single Day.
(There's also Mint.com too btw which is also free and automated, but its more focused on day-to-day budgeting rather than long-term net worth building)
Get blog posts automatically emailed to you!