Holy $hit. Now THAT is a net worth update!  Haha… WOW.  I honestly didn't see that one coming.
Then again, it's been such a whirlwind this month that it's been hard to stop and really let everything soak in.
Between my grandmother sending me $20k from the Heavens above, some of my online projects making a bit more, and the stock market being all schizo these days, it happened to shape up into a great financial month. And did you notice that $2,400 knock-off of mortgage debt??  Ahhh yeahhhh!  The hard work is starting to pay off, baby!  Literally :)
Can't complain about anything this month, friends.  We're blessed to be on the right track and pushing forward.  Just gotta keep on paying attention and doing our best not to get side tracked or spend-happy!  If this were 10 years ago I'd be already at the bar buying rounds for everyone, haha…  money can go a lot faster than it's earned, that's for sure.  Always gotta have an eye on it!
Here's how October's Net Worth breaks down:
CASH SAVINGS (+$33,900.58): It doesn't get any better than that :) Though obviously I'd wish the bulk of it came from somewhere else than my grandparents passing on.  But for now we save it securely, and continue thinking about how to best use it in their honor.  Since last we talked about it, I'm swaying a bit more towards maxing out some of our retirement accounts for the year – namely my ROTH IRA and SEP IRA.  I still kinda want to invest it back into my businesses somehow, but with everything being online and not needing much capital to grow them bigger, I'm thinking that investing in our future-future may prove to be a better route.  We'll see though, not rushing in yet.
EMERGENCY FUND ($0.00): Same ol' $10,000 as been sitting there for a while now :)  No plans on digging in anytime soon… though who ever plans for an emergency to happen, right?
TAX FUND I finally had to take this out of the whole equation… after 6 or so months of including it, I realized it annoyed me more than it did help! Haha… and not because of the big amounts being taken out either ;)  I just didn't see a point in including money anymore that didn't really belong to me anyways.  So rather than include our $6k quarterly taxes in both the liabilities AND asset departments, we'll just exclude it altogether going forward.  As long as I keep accounting for them and paying 'em on time like I've been doing, it should be fine. Would you have kept it in here?
IRA: SEP (+$5,462.72): There we go!  The market's coming back!!  Or, at least pretending to come back! ;)  Every other day it seems to be the end of the world, and then right back to la la land again.  I'll continue playing and riding along though.
IRA: ROTH(s) (+$4,375.55): Same thing here.  We haven't added any money, or taken away any, ourselves for either of our three IRA vehicles yet.  It's all on standby until we get Operation Mortgage Payoff on lock.  Or we crack open the grandparents' fund.
IRA: TRADITIONAL(s) (+$18,655.36): Nothing added ourselves here either.  Though this month I'd thought it would be fun to start including the three ways these Traditional IRAs break down — all part of our Ultimate IRA Game!  Haha… this is so much more fun than our old dodgy 401(k) account (remember that madness?) We'll announce the winners each month as time goes on – enjoy!:
IRA #1 (NOT Managed): $57,917.70
IRA #2 (Managed, USAA funds): $57,417.97
IRA #3 (Managed, ALL funds): $57,926.23 **Barely winning!
AUTOS WORTH (kbb) (-$202.00): The wife's Toyota took a nosedive of $600, and my Caddy somehow came back in style jumping up $400. Go figure? Here's how those break down:
Pimp Daddy Caddy: $2,668.00
Gas Ticklin' Toyota: $9,470.00
HOME VALUE (Realtor) ($0.00): I came SO CLOSE to asking my realtor about this when I saw him earlier this month, but then changed my mind as I didn't want to waste his (or anyone else's) time :(  Every time I ask him to price it for us again, he think we're renting it out or selling it – which we have no plans on doing in the immediate future.  So I figured we'll wait until we get back to it before re-adjusting our value here.  Our realtor last set it at $300k a little over a year ago…
MORTGAGES (-$446.44): Month 1 of 120 now completed off our Mortgage Payoff Plan! Haha… and DAMN does that feel good.  Though as you saw in our recent post, it may not be as easy as I originally thought ;) Just gotta remember to keep those blinders on and push through all the distractions! Maybe if we schedule in some treats as some of y'all have mentioned, we'll be able to knock through those milestones even easier?  I could get excited for that new fridge or mattress!  $10,000 off = 1 house upgrade, perhaps?
A good good month, my friends.  I hope yours was a lot better too!  Anyone really just KILL IT this month?  Anyone take a dive?  If you ever need help with anything, or just wanna throw some ideas by us, be sure to drop them in the comments below.  We're all about hooking each other up with the knowledge! And I wanna be on the beach with you celebrating one day :)
Mad love, as always.


(Visited 35 times, 1 visits today)
**********
PS:
If you're just getting started in your journey, here are a few good resources to help track your money. Doesn't matter which route you go, just that it ends up sticking!
If you're not a spreadsheet guy like me and prefer something more automated (which is fine, whatever gets you to take action!), you can try your hand with a free Personal Capital account instead.
Personal Capital is a cool tool that connects with your bank & investment accounts to give you an automated way to track your net worth. You'll get a crystal clear picture of how your spending and investments affect your financial goals (early retirement?), and it's super easy to use.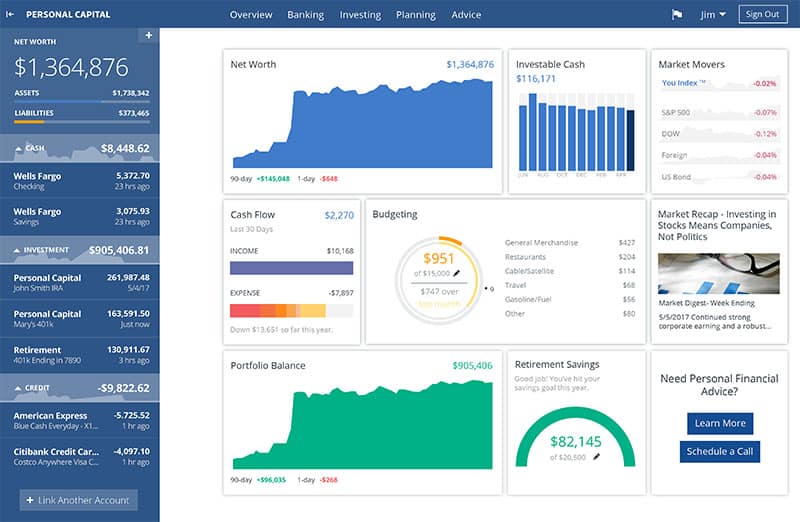 It only takes a couple minutes to set up and you can grab your free account here. They also do a lot of other cool stuff as well which my early retired friend Justin covers in our full review of Personal Capital - check it out here: Why I Use Personal Capital Almost Every Single Day.
(There's also Mint.com too btw which is also free and automated, but its more focused on day-to-day budgeting rather than long-term net worth building)
Get blog posts automatically emailed to you!