Welcome to December! How'd ya'll fair last month? Money go up? Down? All around?
Looks like we took a hit in the ol' cash department but nothing too sexy outside of that. Not that losing cash is sexy – hah – but at least it was our own doing vs being a surprise :) You don't often get too many good surprises with money, do you? Definitely not with managing rental properties.
"Yes, hello? Just wanted to call you and tell you HOW MUCH WE LOVE living in your house! Nothing is broken and we're so happy we'd love to send you an additional $100 for being such a great landlord!" – Said no renter ever
Of course, now that we no longer have a renter and our place is up for sale, we don't get any calls whatsoever. Even from our realtor because apparently no one wants to buy our house! (Goes to the corner and cries…)
Not all hope is lost however as it's still early in the game and we're under no illusion that it'll be fun, but it is the reason our reserves took such a hit this month. No rent check in + a few things that needed updated before launching it out there (paint, carpet, the usual).
We're bracing for good news this month, but please do send some positive vibes over if you can spare! I promise to put in a good word for you with Santa Claus ;)
Here's how all of November broke down:
CASH SAVINGS (-$5,834.56): Mostly due to freshening up our place for sale plus not getting a rent check. Not gonna lie – it stings.
DIGIT SAVINGS (+$408.84): On a positive note, our Digit account got some extra loving this month! It took advantage of the cash I was xferring into my checking account to pay for the above and siphoned some out when I wasn't looking, haha… But all fine by me. It knows I won't be touching it so it's forced savings for later :)
CHALLENGE EVERYTHING (+$317.66): Another great month here too! Though admittedly I'm not trying nearly as hard as last year with this challenge… Too many major balls in the air to focus on tweaking bills and decluttering right now. But fortunately most of this savings here doesn't require me to lift a finger as it's all automatic from previous me's doing – woop!
ACORNS (BROKERAGE) (+$28.17): A nice little bump here too, *tips hat*. Though all credit goes to Acorns for rounding up our transactions throughout the month and investing the pennies for us… I haven't opened up the app all year to do anything outside of check its balance really.
MOTIF (BROKERAGE) (-$7.31): This guy's gonna get the boot this month… Was kind of a fun challenge to take with some blogging friends back in January, but my non-attention to it since tells me it's not something to keep around anymore. So, not surprisingly, all money shall be xferred over to our Vanguard account to intermingle with their long lost friends.
IRA: ROTH(s) (+$443.77): Speaking of our Vanguard account, a tiny little bump here too. Nothing too exciting, but then again all free money for doing nothing :)
IRA: SEP (+$1,977.76): Same with this department… Nothing new added but we tack on another $2k of goodness! Here's the latest screenshot of how our funds have performed since switching over to Vanguard a year and a half ago:
AUTOS WORTH (kbb) (+$75.00): Not sure why this car keeps going up over the months (2nd month in a row! Haha…) but whatev. It only matters on the day we go to sell it (private party, of course). Here are the values per KBB, except for Frankencaddy who gets a lower amount due to its "uniqueness" ;)
HOME VALUE (Realtor) ($0.00): We'll hopefully know REAL SOON what the actual market value of our place is! Haha… And if not, well, we go back to renting it out and swallow the bitch of a pill it'll be. But at least we'd have given it a shot and did our best amongst the circumstances, so I'm okay with losing a little money in the process to find out.
MORTGAGES (-$717.81): In the meantime, we keep paying these things off and get closer to that epic goal of having no debt INCLUDING mortgages! Maybe it'll be tomorrow, or maybe in another 25 years, but at least we've gotten that front door paid off so far ;) Here's what's left on the two:
1st Mortgage: $262,759.55 (30 year conventional @ 5.5%)
2nd Mortgage: $25,421.64 (HELOC @ variable 2.8%)
The journey of our net worth this year:
And the journey of our two boys' so far:
$7,000 away from hitting our goal of $500,000 this year! It's a good thing we got another month left to see if we can pull through :)
How'd you guys do? Any big accomplishments for us to congratulate you on? Anyone hit early retirement outside of my mom? Say it loud and proud, baby. You know we love this stuff!
And if you want more net worth ogling, check out how 185 others are doing too.
(Visited 13 times, 1 visits today)
**********
PS:
If you're just getting started in your journey, here are a few good resources to help track your money. Doesn't matter which route you go, just that it ends up sticking!
If you're not a spreadsheet guy like me and prefer something more automated (which is fine, whatever gets you to take action!), you can try your hand with a free Personal Capital account instead.
Personal Capital is a cool tool that connects with your bank & investment accounts to give you an automated way to track your net worth. You'll get a crystal clear picture of how your spending and investments affect your financial goals (early retirement?), and it's super easy to use.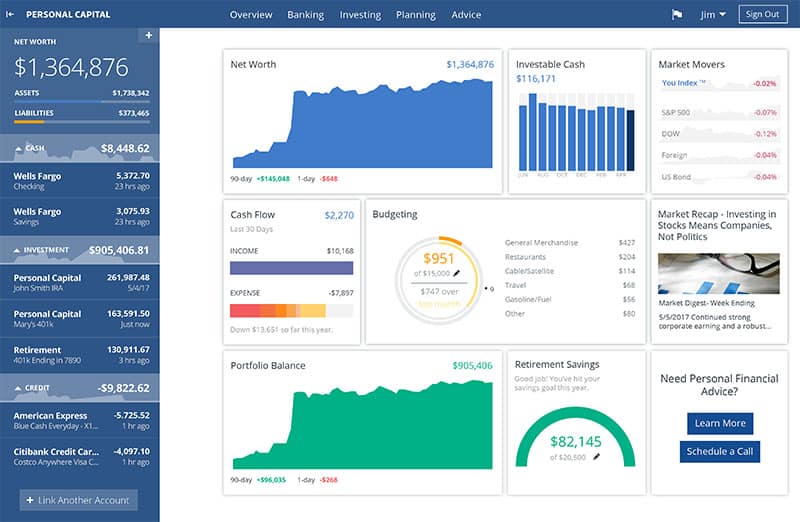 It only takes a couple minutes to set up and you can grab your free account here. They also do a lot of other cool stuff as well which my early retired friend Justin covers in our full review of Personal Capital - check it out here: Why I Use Personal Capital Almost Every Single Day.
(There's also Mint.com too btw which is also free and automated, but its more focused on day-to-day budgeting rather than long-term net worth building)
Get blog posts automatically emailed to you!