Whelp, it was fun being a half-a-millionaire while it lasted!
Unfortunately with some major changes coming about though, especially in the car department, we took a big hit this month and for the first time in quite a while I'm actually pretty embarrassed about it all… Not enough to stop sharing our net worth with the world, but it definitely doesn't help when you don't even want to see it yourself  :(
Still, it is what it is, and while we don't regret picking up the car itself (in fact, we're loving it! It's so freakin' comfortable!) I am starting to regret getting it from a dealer vs. private party and having to rush through it all. Especially after running the #'s and realizing just how big of a difference it's made! In fact, I've been reminded of a few things throughout the past week and I'll share them real quick before we get to the numbers here…
Maybe they'll help you avoid paying more than you need to in the future yourself?
#1. Not being in a rush matters A LOT when buying a car. This was the first time I ever bought a car on a time crunch (we needed one within weeks before packing up and moving), so we not only had to find the right car for our family, but also the best deal all in the limited time we had. And unfortunately without watching the market for a long time you're left with what's currently up for sale at the moment.
#2. Convenience costs! Because of the time crunch (and lack of the vehicles for sale by private party, or at least the vehicle *we wanted*) we focused our search at dealerships so we can get in and get out and accomplish the mission. We chose Carmax because of how easy and enjoyable it was, but because of this we also paid a premium over what the same car would have cost in private hands :(
#3. When calculating the value of your car – especially for net worth purposes – make sure you're looking at the right value! This has been the biggest shock so far for us, and mainly because I totally missed it the first time around! We knew going into it we'd owe more for our car than what it's worth per the above two reasons (and was okay with it), but the part I overlooked was checking the "private party" value of the car in addition to the "dealer" value which of course will always be more, but what we were using to see if Carmax had a fair deal or not. The dealer value was only $1,000 off which as posted about was expected with places like Carmax, but of course when running your net worth reports you don't calculate dealer values and instead use private party, or even trade-in values, depending on how you'd sell it if/when that time comes.
We plan on keeping it for life, but were quite surprised when we searched the "private party" value this week and saw it was actually $2,000 less than expected! Which is a huge difference! And probably definitely would have changed things, ugh…
#4. Buying even a used car costs a lot more than just the sticker price. Our Lexus itself was $18,000, but once you tack on the dealer fees ($299), taxes/titling ($900) and a warranty if you go that route (we did @ $1,859), you're looking at a lot more over the price tag. And that's not counting any insurance hikes you may get depending on the car you choose too ($30 for us) or even the financing fees if you go that route as well (we're paying 3.45% currently). All things we knew were a part of the deal, but still stings watching it reflected in your net worth.
And lastly, this is further proof that I'm no "expert" at everything money… The media/other bloggers are quick to label us so, but the reality is most of us (or at least me) are just regular people trying to talk openly about our finances in hopes it helps people as well as ourselves. Sometimes we get REALLY GOOD at it and everyone wins!, and other times we suck just as hard as the next person and do our best to learn from it. The key is to take a little here and there and then use it to make the best decisions in your own life as possible and hopefully come out better for it :)
Anyways, all this to say that while we're still very much enjoying our car and did our best under the circumstances, our best could have been a lot better and we'll now be paying for it – quite literally. Though I guess it could have been worse and we picked up a car that we hated and/or couldn't afford?  That would have been pretty horrible!
Alright, let's get down to the numbers now…
Here's How June's Net Worth Breaks Down:
CASH SAVINGS (-$5,136.90): Not *as* bad as it looks, but definitely not optimal. $2,000 of this was for a down payment on the car, but the other $2,300 was for the deposit on our new home. Which thankfully will be getting returned to us once we move out, as well as the $1,700 we put down on our old home three years ago. In general though we just need to be better about bringing home more income and the Mrs' new job will certainly help with that.
DIGIT & "CHALLENGE EVERYTHING" ACCOUNTS: I decided to simplify stuff more and just condense all our savings stashes into one main place for these updates going forward. We're still utilizing Digit and the Challenge Everything account for now (over $5,000 saved w/ Digit so far!) but the minimalist inside me didn't like seeing all the extra line items anymore :)
BROKERAGE (ACORNS) (+$34.64): Nothing new going on here other than Acorns doing its thing and investing increments of money for us every time we swipe our card! In theory it would be better to have $0.00 going in as it would mean we're not spending as much (hah), but hey – at least a few dollars gets put away in the process ;)
IRA: ROTH(s) (+$204.81): Same deal here – haven't touched it and it actually EARNED money this month despite the BREXIT madness – imagine that?! I feel bad for all the people who pulled out and then didn't put back in fast enough :( That's the problem with freaking out about this stuff – you can never time the market in either direction!
IRA: SEP (+$962.88): Same here as well… Here's a snapshot of our Vanguard account that shows its performance over the two+ years since moving over into strictly index funds… VTSAX, specifically.
(Up down, UP down UP down….UP!!!)
AUTO VALUES (+$13,832.00): Looks a lot sexier than it is of course, but technically yes – our car values indeed went up when we took on the Lexus. I already miss Frankencaddy, but at least she's continuing to bring smiles over at the National Veterans Services Fund where we donated her! It was nice not having car payments for 8+ years too!
Here's how our two cars break down via KBB:
Lexus: $14,811.00
Toyota: $4,124.00
AUTO LOAN: (-$19,079.10): The whopper of the year… I've already laid out most of my thoughts on this, but needless to say it's going to take some good hustling to knock it all out. A challenge we're def. up to though or else we wouldn't have taken it on to begin with (I make mistakes, but at least they're somewhat calculated! :))
And that wraps up June! What a crazy month…
Here's how the past twelve months have gone so far, for those graph lovers out there ;)
And here's our boys' net worths too:
That's the end of net worth update #92! How did you do this month?? Survive BREXIT and have the stocks to prove it? :) Anyone else buy a car or a house or anything else that changed up your net worth a bit?
If you like reading these, you can see all other 90+ net worth updates here, as well as our constantly growing Blogger Net Worth Tracker over at Rockstar Finance which now has a staggering 227 net worths being featured on it ranging from (-) $532,304 all the way up to (+)$2,305,563! A perfect feast for number lovers!
See ya back here on Friday, friends… I'm ready for the new month, you?
(Visited 9 times, 1 visits today)
**********
PS:
If you're just getting started in your journey, here are a few good resources to help track your money. Doesn't matter which route you go, just that it ends up sticking!
If you're not a spreadsheet guy like me and prefer something more automated (which is fine, whatever gets you to take action!), you can try your hand with a free Personal Capital account instead.
Personal Capital is a cool tool that connects with your bank & investment accounts to give you an automated way to track your net worth. You'll get a crystal clear picture of how your spending and investments affect your financial goals (early retirement?), and it's super easy to use.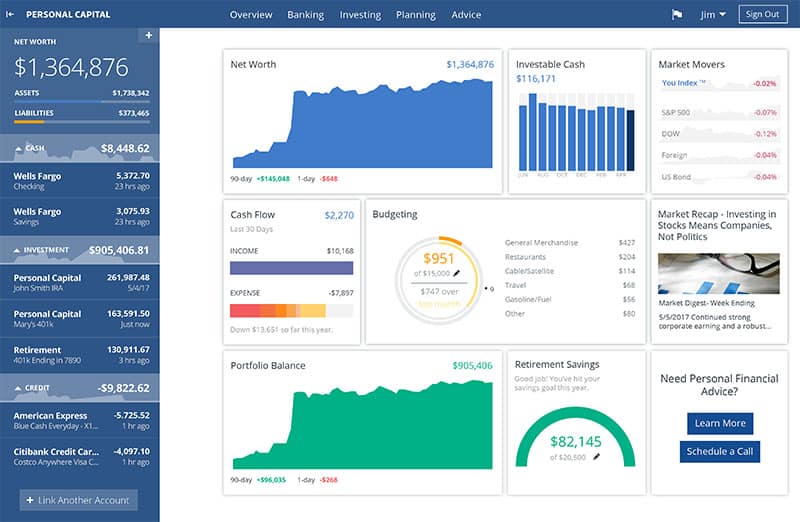 It only takes a couple minutes to set up and you can grab your free account here. They also do a lot of other cool stuff as well which my early retired friend Justin covers in our full review of Personal Capital - check it out here: Why I Use Personal Capital Almost Every Single Day.
(There's also Mint.com too btw which is also free and automated, but its more focused on day-to-day budgeting rather than long-term net worth building)
Get blog posts automatically emailed to you!