Time for another net worth update! I swear we do this like every month? ;)
But, unlike last month's $10,000 gain, this time around we drop a few thousand and I promptly keep my tail between my legs and move on. Nothing too horrible like last year's $40k drop (that was a spicy meatball!), but nothing really to get excited about either.
In fact, as I mentioned in previous net worth updates, we'll be slowly dripping some cash reserves until the Mrs. goes back to work full-time again. Or if I ever pull the trigger on some of those things I've been flirting with lately like taking freelance gigs or a part-time job. The way I see it though – I can live the life of an entrepreneur and keep pushing through for a while longer during this temporary phase (ie 1 household income), or I can work doubly hard to plug the leak but lose some quality time with the fam – and new baby coming on board – in its place.
Perhaps it's a dumb decision to chase life over money, but that's luckily the freedom you get when your finances are overall okay :) You can choose to go down different paths as life throws you curve balls. Or, in my case, babies. If we were deep in debt with dead-end jobs I'd be singing a different tune…
Anyways, that the current "plan" in case you were wondering. To be okay with losing some cash as the months tick on, knowing it's only temporary and things will be much MUCH better financially once the Mrs. takes on a full-time job again. Even a $20k job would make a drastic difference going from $0/year! Though she'd be upset if that's all a PHD got her in the end ;)
How March Played Out:
CASH SAVINGS (-$3,134.13): Bleh. See above.
529 College Savings (-$40.22): Double bleh. But as to be expected when it's riding the stock market and you don't put anything in to maximize gains! (Or losses in this case?)
IRA: SEP (-$503.64): Triple bleh. But next month will be the opposite of since it's TIME TO MAX THIS OUT AGAIN!!! Yayyyyy!!! I wait 12 months every year to do this to save on my taxes! And of course invest in my future!!! :) Stay tuned for a future post on it…
IRA: ROTH(s) (+$658.96): Now this is the one main shining area, before our mortgage payoff section below. For those who may not recall, my Roth is my "stock-picking playground" if you will, where I get to invest this money into anything I damn well please w/out it really affecting the overall investing game plan (i.e. the bulk of our retirement money). I'm a firm believer of siphoning off some "play around with" money when it comes to this stuff to keep things interesting and fun, so this is the area I pick up riskier stocks, or just single stocks in general vs more safer index or mutual funds. I leave all that to the bulk of our investments shown below, as well as the SEP Ira above.
IRA: TRADITIONAL(s) (-$829.86): Quadruple bleh. Though nothing's been added to this pot either over the years since going full-time for myself (it's my old 401k money). I did just find out that you can merge this w/ the SEP account though which will help cut down on accounts to manage which is good!! So I'll be (for real this time) merging the whole dang pot in the VERY  near future… Will post about that too when the magical day comes :)
In the meantime, here's how our ol' IRA Test is performing these days:
IRA #1 (NOT Managed): $79,141.43 **Leader for two years running

IRA #2 (Managed, USAA funds only): $73,199.26
IRA #3 (Managed, ALL different funds): $74,024.92

AUTOS WORTH (kbb) (-$91.00): A little loss on the Toyota side (wife's car), whereas my caddy is locked in at the $1,500 mark since it's now too old to track via KBB.com… Perhaps it' worth a little more or a little less, but we're keeping it at $1,500 for a ways to come…
Here's how both cars break down:
Pimp Daddy Caddy: $1,500.00
Gas Ticklin' Toyota: $6,518.00
HOME VALUE (Realtor) ($0.00): Nothing new to record here as usual since we don't use Zillow or Redfin/etc. Just the traditional realtor route where I ask his professional opinion every year or so for an update. It may be time to do so again here shortly though as we consider re-renting our place (it's almost been a year already???) or putting it on the market. More than likely we'll keep it as a rental.
MORTGAGES (-$660.31): Only $2,022.74 more to go until we're no longer underwater!! WOOHOO!! We're getting close, baby – watch out! Here's the breakdown of them now:
How did you guys do this month? Anyone just KILL it? Either way, hopefully y'all are at least tracking this stuff and making it a point to update it every once in a while. If not every month, every quarter or at least two times a year. It def. keeps your mind right and focused on the prize. During months of negatives AND positives! It's good to know where your money is at all times :)
Happy April,

PS: To see all previous net worths over the years, click here.
PPS: To see that list of all other bloggers' net worths, click here.
ALSO: Haven't dove into Personal Capital as much as I'd like still, but so far it is mimicking the same moves as I track in my Excel spreadsheet… Just with much cooler, and prettier, graphs :) Oh, and it's automated! Any of you now using them full-time?
(Visited 11 times, 1 visits today)
**********
PS:
If you're just getting started in your journey, here are a few good resources to help track your money. Doesn't matter which route you go, just that it ends up sticking!
If you're not a spreadsheet guy like me and prefer something more automated (which is fine, whatever gets you to take action!), you can try your hand with a free Personal Capital account instead.
Personal Capital is a cool tool that connects with your bank & investment accounts to give you an automated way to track your net worth. You'll get a crystal clear picture of how your spending and investments affect your financial goals (early retirement?), and it's super easy to use.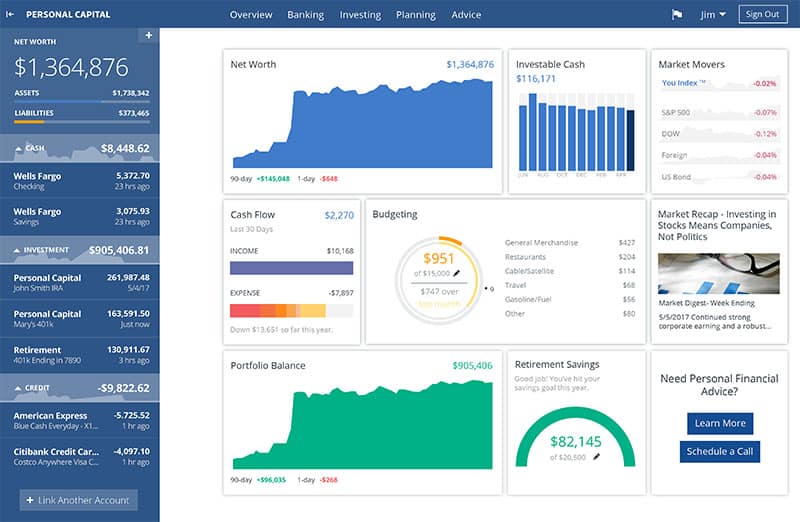 It only takes a couple minutes to set up and you can grab your free account here. They also do a lot of other cool stuff as well which my early retired friend Justin covers in our full review of Personal Capital - check it out here: Why I Use Personal Capital Almost Every Single Day.
(There's also Mint.com too btw which is also free and automated, but its more focused on day-to-day budgeting rather than long-term net worth building)
Get blog posts automatically emailed to you!