Net worth time again, baby! Y'all still updating yours every month too? :)
This month had a little bitter sweet action going on around town. Cash and cars went down pretty significantly, at least % wise, while our mortgages and investments (yeah Vanguard!) improved quite the oppositely. With one main changing of the guards…
OUR HOUSE IS NO LONGER UNDERWATER!!!! OMFG!!!!
I've only been waiting 7 long years to say that ;) But what a beautiful day it now is… The sun is shining, the birds are chirping, and the next step is to get rid of the mortgage *completely* – how hard can that be? (Hah!)
These are the times you live for though :) The small milestones along the journey to freedom… Some are more fun to hit than others, but we all have to pass the stages and continue pushing forward no matter how hard it is. If this $hit was easy none of us would be on this blog reading about it!
Here's How June Went Down…
CASH SAVINGS (-$4,738.49): This should be the last major dip for a while… I've restructured the way I'm tracking our cash for these net worths going forward (mainly in the rental check department), and soon I'll be getting some of my payments owed more normally on a recurring basis. This is one of the downsides of working for yourself – your cash flow can get messed up while waiting for people to pay you! And when you're having a less than stellar year of business, it only adds to the problem… But I ain't hatin'. Hard to be mad when you're chillin' at a coffee shop while typing this out to y'all ;) Just a part of the game…
529 College Savings (+$236.51): Nothing new to report here other than the markets doing their thang, BUT I was just notified that we may be inheriting a little money from my wife's late father, so depending on what that looks like we'll probably plug it into Baby #2′s account. To help him catch up with Baby #1's total funds which is stated here in these numbers above… I have a feeling it's gonna start getting weird deciding what money goes into who's account when trying to play the "be fair to each kid" game… But I guess all good problems to have!
IRA: SEP [now merged with my old Traditional IRAs!] (+$7,655.66): This is now merged with our three old Traditional IRAs! Which was so cool that I was able to do to help cut down on the accounts to own/manage every single month. The only reason I had these Traditionals to begin with, other than to play the Crazy IRA Game, was because I needed to move over my old 401(k) once I got let go from my old job back in the day… I never had plans to add anything to these Traditionals since I max out my SEP and ROTH Ira every year instead, so as soon as I found out I could merge 'em with my SEP I was 'bout it 'bout it! I went from 5 investment accounts to two over night once I made that move to Vanguard.com… And so damn happy I did :)
Check out this section they have when you log into your accounts:
You can see SO EASILY how your funds are performing as time goes on! Pretty damn sexy! (You'll see clearly the jump from when I cashed out of all my old funds and jumped all-in into Vanguard's VTSAX in May. Compounded with the fact that the markets went up as well :))
Here's the breakdown of what used to be in each account more or less to give you an idea… my Traditionals outweighed my SEP pretty heavily:
SEP Ira: $85,000'ish
Traditional Iras (old 401k): $235,000'ish
IRA: ROTH(s) (+$1,719.48): A nice uptick in the wife and I's Roths as well. Nothing new added in here for either of us (we pour money in at the end of each tax year), so always nice to see when you don't lift a finger :) I believe this is what they call "passive investing?"
IRA: TRADITIONAL(s) Sayonara! No longer around!
AUTOS WORTH (kbb) (-$903.00): This will probably come as no surprise to those who have been following the adventures of my latest side hustle: Franken-Car. Haha… All those $1,000 checks its been earning for me has been nice, but it's taken a beaten (quite literally!) in the form of overall worth. Though, for a car now over 20 years old, it can only drop so far ;)
The last few months we had it pegged at $1,500 flat since KBB.com no longer shows stats for it (booooo), but with its recent battle I dropped it down to $1,000 figuring I could at least get that if I tried to pawn it off one of these days… Physically it may be a tad ugly looking (I like to say it has character!), but the engine and mechanics are awfully good especially for its age (still hasn't hit 100,000 miles!). So I'm pretty confident I could sell her for a cool $1 G if I really wanted.
Here's how both cars stand presently:
Pimp Daddy Caddy: $1,000.00 (down from $1,500)
Gas Ticklin' Toyota: $6,751.00
HOME VALUE (Realtor) ($0.00): This one stays still at a solid $300,000. If you recall from last month's net worth update, our realtor pegged our house's present value for 2014 at "maybe $310,000." So we decided to conservatively keep 'er at $300k and just be pleasantly surprised if we get more when it comes time to actually sell it. Which will be at the earliest next Summer as our current renters just renewed for another 12 months (WOO!). I don't mind holding onto it and having someone else pay most of the mortgage off for us as long as it continues to run smoothly, knock on wood!
MORTGAGES (-$720.75): WE'RE NO LONGER UNDERWATER! WE'RE NO LONGER UNDERWATER!!! (I'll never get tired of saying that – beware ;)). Finally, after 7+ long years, our mortgages have been paid enough to get us back to the break-even point again. Dumb crash of 2008… It's still a pretty bad deal investment-wise when all is said and done, but we'll take the win and look forward to greener pastures ahead :) At the very least we learned a very valuable lesson which is – never buy a house on a whim! Within 48 hours of seeing it! (And when you meant to RENT a 2 bedroom apt instead!) Crazy old J….
Here's how our two mortgages break down:
Here's a snapshot of how our last 12 months have been going:
Nothing *too* sexy the last 8 months, but a steady increase is always better than a steady decrease ;) And it's all a part of the plan, as sucky as it may currently be (I've decided to not take on too much extra work to spend more time with the kids and only work on stuff I enjoy vs just for money. If we didn't have a good financial foundation, or if my wife decided never to go back to work again, the picture would be MUCH different, believe me ;))
If interested, you can see all 6+ years of my net worth here: J's net worth
How did you guys do last month? Still on track and crushin' it?
Keep your boy posted,
PS: Want to see *other* bloggers' net worths? Here you go: Blogger Net Worth Tracker
(Visited 7 times, 1 visits today)
**********
PS:
If you're just getting started in your journey, here are a few good resources to help track your money. Doesn't matter which route you go, just that it ends up sticking!
If you're not a spreadsheet guy like me and prefer something more automated (which is fine, whatever gets you to take action!), you can try your hand with a free Personal Capital account instead.
Personal Capital is a cool tool that connects with your bank & investment accounts to give you an automated way to track your net worth. You'll get a crystal clear picture of how your spending and investments affect your financial goals (early retirement?), and it's super easy to use.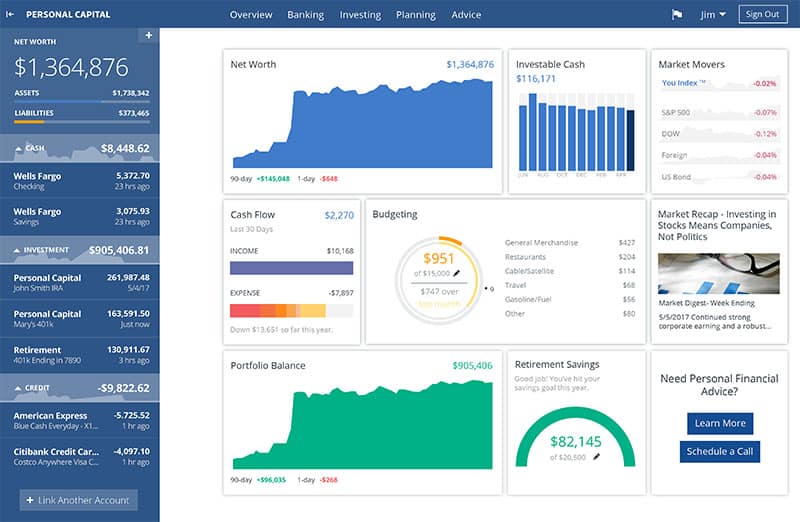 It only takes a couple minutes to set up and you can grab your free account here. They also do a lot of other cool stuff as well which my early retired friend Justin covers in our full review of Personal Capital - check it out here: Why I Use Personal Capital Almost Every Single Day.
(There's also Mint.com too btw which is also free and automated, but its more focused on day-to-day budgeting rather than long-term net worth building)
Get blog posts automatically emailed to you!