Now we're talkin'! It's been a while since we've seen a nice bump in stats here, and I'm soaking it in while I can ;)
It's not every day you get your long lost $17,000 back! Haha… Though I might add we did pretty good in the other departments too – namely our cash savings and our mortgage payments.
It's amazing how much BETTER conventional loans are vs. Interest-Only! Even without trying we pay off a few hundred dollars each month :) And the cash part is a plus too – we had a good month w/ some of my projects going on lately.  Summer tends to be hit or miss with everyone taking vacations and all, but July was a MUCH better one that June where I lost money… and the nice part here is that these numbers don't even reflect the other day's $5k repayment yet! So next month shall be a fun one too.  And I love how everyone's paying back their debts now!  I hope they are to you too, if you're owed some money still :)
Here's how July's Net Worth breaks down:
CASH SAVINGS (+$1,203.24): Less spending, and more earning this month.  Mostly on the "more earning" part (And the "being too busy to splurge even if I wanted to!" part as well ;))
EMERGENCY FUND ($0.00): Sitting pretty at $10,000 as it should be!  Though it's ready for any emergencies that may come too (bleh).
TAX FUND (+$1,860.00): Just the normal monthly amount being saved up for when quarterly taxes are due again… couple months to go.
IRA: SEP (+$373.12): This is the market's reflection from the past month – I haven't added anything new to it lately.  At least yet ;) I'd like to max out this account at the end of the year once I know more on how much I earned from blogging and what not.  You can only invest a % of your profit, and I'd rather use definite numbers than guesses and go over or anything like that.  It'll suck dumping a big chunk all at once of course, but if I keep stashing away the savings in the meantime, hopefully I'll have enough to just xfer it all over.  We'll see :)
IRA: ROTH(s) (-$1,025.53): Same thing here – haven't added or taken out a dime, it's just the way the markets been rolling lately.  Which is kinda weird cuz I earned a lot more in the SEP (an account that has 1/4th the funds in it) yet I lost a lot here.  Guess I picked better funds in the other one!
401(k)s: No more!  All the 401(k) madness is gone :) From now on, this money is in our new Traditional IRAs seen below.
IRA: TRADITIONAL(s) (+$16,908.95):  BEST INCREASE EVER!  Without having to do a thing! Haha… well, actually that's a pretty big lie considering I earned it months and months ago, but when there's a chance you may never see it again in your lifetime, it kinda feels like *free* money :)  I'm just freakin' excited to close out this chapter once and for all!!
AUTOS WORTH (kbb) (-$325.00): My AC decided to break down, and I think it dropped my Caddy's overall value by a couple hundy :)  I haven't taken it in to get checked out yet, but me thinks it'll be way more money than it's worth… I'm okay with riding ghetto fabulous as long as my hawk doesn't get crushed by the wind :)  But that's what they make hats for, right?
Pimp Daddy Caddy: $2,470.00
Gas Ticklin' Toyota: $11,405.00
HOME VALUE (Realtor) ($0.00): Still the same $300k our realtor set it at in mid-2010. I'd love another estimate done to keep it more accurate these days, but for now it's a good benchmark to keep in mind until it's time to start selling it or renting it out again like we always think about doing…
CREDIT CARDS: Yeah, I don't know why I even kept this in here since it's been at $0.00 for a while now.  If we start causing trouble again, I'll be sure to add this category back up :)
MORTGAGES (-$433.25): Operation Refinance continues to pay off!  Literally!  Every month I think we knock out $330 automatically via our monthly payments, and then we're continuing to round up and pay off $100ish altogether too (between the 2 mortgages).  But very VERY soon I'll unleash my new sexy game plan on killing this stupid mortgage debt once and for all!  I really can't stand it, and it's time to finally do something more aggressive toward it.  Stay tuned…
That's it!  A net worth recap that actually doesn't have me $hitting in my pants, haha…  not that I get *too* scared these days, but when you're self-employed your mind does seem to get a bit more jittery than normal.  Every month is a roller coaster up in here! All we can do is keep our head on straight, and do our best to keep building out those income streams of ours… no one said it would be easy ;)
How did you guys do this month?

(Visited 18 times, 1 visits today)
**********
PS:
If you're just getting started in your journey, here are a few good resources to help track your money. Doesn't matter which route you go, just that it ends up sticking!
If you're not a spreadsheet guy like me and prefer something more automated (which is fine, whatever gets you to take action!), you can try your hand with a free Personal Capital account instead.
Personal Capital is a cool tool that connects with your bank & investment accounts to give you an automated way to track your net worth. You'll get a crystal clear picture of how your spending and investments affect your financial goals (early retirement?), and it's super easy to use.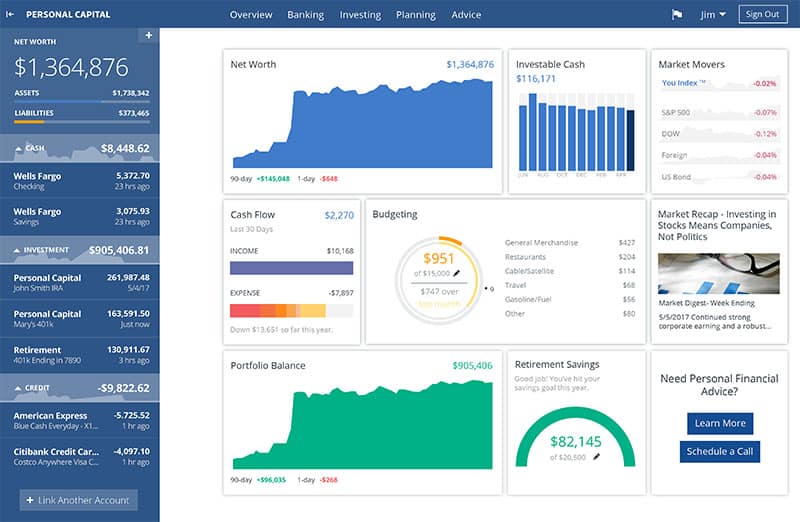 It only takes a couple minutes to set up and you can grab your free account here. They also do a lot of other cool stuff as well which my early retired friend Justin covers in our full review of Personal Capital - check it out here: Why I Use Personal Capital Almost Every Single Day.
(There's also Mint.com too btw which is also free and automated, but its more focused on day-to-day budgeting rather than long-term net worth building)
Get blog posts automatically emailed to you!