We're back in action, baby! :)

Still a good $20k away from our peak earlier in the year, but a nice change from the downhill spirals lately too, haha… Our first positive cash flow in months!
And as you can see, most of the other areas didn't do too shabby either. A couple quick notes before we break it all down here:
1)  We're in the process of streamlining our accounts more to better keep track of things now that we know how we (as a family) work.  No more "me me me" especially now that we have a babe! :) I'll be blogging about what all this means in a few…
2) We're back to paying down the house an extra $2,000 a month again.  Last month was our first break from it since we started last year (I think I only ended up paying off $1,000ish extra?), and it feels good to be chipping a lot more away gain :)  Though now I have my sights on a potential new project too, which I will also be blogging about here in the next week or so…
In case you haven't noticed, I've got a TON of new things I wanna blog about now that I'm back from paternity leave, and it feels SOOOO weird having it all in my head still! Haha… I'm so used to unleashing it all as soon as it comes up :) That's what blogging for over 4 and 1/2 years does to you – you can't keep anything internal anymore.
Okay, now on to the break down from last month…
CASH SAVINGS ($738.29): A nice change from the past few months of *losing* a grand after a grand, after a grand, that's for sure.  One thing that helped a lot was pretty much doing nothing except taking care of the baby last month :)  Plus having lots of food and gifts given to us to help out with the entire process too.  Also, business was pretty good last month and some of my other online projects should start bringing in more cash flow too now shortly. All good things to look forward to!
EMERGENCY FUND ($0.00): This is one of those areas we're gonna do away with now.  It made sense for us to keep it when we didn't have much savings and we had to make sure we had stuff stored away, but now that it's been a few years and our worlds are all kinds of different now (in a good way!), we're gonna start mashing all this up into one MAIN account going forward instead.  Which will still cover everything we need (like emergencies), but will be a lot more easier to stay on top of and not stress out a bit which is really the whole point here.  Look for more details on this in our future streamline post :)
PHYSICAL GOLD ($30.20): We're gonna change around this department too, and make it more of a "precious metals" or "commodities" category rather than just gold.  I realized I had some good ol' fashioned silver laying around too, as well as other semi-valuable coins, so I think I'll keep track of all this stuff in more of a "group" area instead going forward in these recaps…
IRA: SEP ($1,525.72): Nothing new added here, just the market taking the reigns as always.  And this month we go up! :)
IRA: ROTH(s) ($1,702.67): Same thing here – just a little bit more added to the pot due to the upticks in stocks lately.
IRA: TRADITIONAL(s) ($5,785.68): Can you believe it's already been a YEAR since we started this IRA Game thing?? Man… time goes CRAZY fast… and as you can see, we have a clear winner of the group too ;) I haven't decided *when*, exactly, I'll be merging them all back together into one pot again just as yet, but I do think the time is coming soon. I still need to talk to the fine folks at USAA and see what they think about all this first ;)  The ones they're managing seemed to have performed the worst! (Or perhaps the fees they've taken out has eaten away at the totals?) Here's how it currently breaks down:
IRA #1 (NOT Managed): $60,461.42 **Taken over the lead months ago

IRA #2 (Managed, USAA funds): $58,322.24
IRA #3 (Managed, ALL funds): $58,670.98

AUTOS WORTH (kbb) (-$241.00): All normal here, except my caddy went down exactly $1.00 this month, haha… so weird?? :)
Pimp Daddy Caddy: $2,114.00
Gas Ticklin' Toyota: $9,187.00
HOME VALUE (Realtor) ($0.00): Last month we dropped the value for the first time in years from $300,000 down to $285,000, and I think it'll remain pretty stagnant. At least until the market starts fluctuating a lot more again (or we decide to sell it or rent it out and see what the value is there from our Realtor).  It was a tough pill to swallow last month, but I feel like our numbers are a lot more accurate now which is really the whole point of me tracking all this stuff anyways – I don't wanna be fooling myself! :)
MORTGAGES (-$2,589.45): Our hardcore house payments are back! At least for now :) It's almost been a year since we've started that little challenge too, pretty wild stuff… So far we've paid out over $20,000 extra towards our mortgage, which means our plan of being done with it for good is still on track to being completed under 10  years from the point we started. It's not easy, but it's certainly do-able! Here's what we currently have left:
And that's all July wrote… Overall a MUCH better month than last, and we're heading into August a lot more confident and excited. Sometimes you gotta go through the nasty times in order to appreciate the good ones, right? And I couldn't be happier! Hopefully you guys are too :)
Who else had a nice growth in worth last month?  Anyone find anything surprising?


———————
PS: If there are any new readers to the site seeing this right now, I hope you're tracking your net worth too!!  It really is important stuff and easy to start doing! :)
(Visited 13 times, 1 visits today)
**********
PS:
If you're just getting started in your journey, here are a few good resources to help track your money. Doesn't matter which route you go, just that it ends up sticking!
If you're not a spreadsheet guy like me and prefer something more automated (which is fine, whatever gets you to take action!), you can try your hand with a free Personal Capital account instead.
Personal Capital is a cool tool that connects with your bank & investment accounts to give you an automated way to track your net worth. You'll get a crystal clear picture of how your spending and investments affect your financial goals (early retirement?), and it's super easy to use.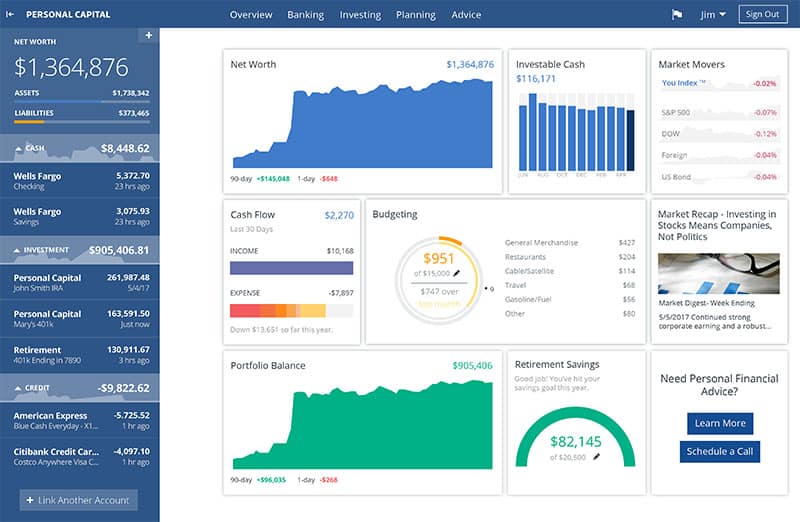 It only takes a couple minutes to set up and you can grab your free account here. They also do a lot of other cool stuff as well which my early retired friend Justin covers in our full review of Personal Capital - check it out here: Why I Use Personal Capital Almost Every Single Day.
(There's also Mint.com too btw which is also free and automated, but its more focused on day-to-day budgeting rather than long-term net worth building)
Get blog posts automatically emailed to you!