Welcome to August! Winter Fall is coming – woo! The best season on the planet!

Speaking of Game of Thrones, Verizon is trying to get back on our good side by randomly offering us an entire month's worth of HBO for free. It's as if they knew the *exact* time to give us something we couldn't resist before we kick them to the curb! And it's working!! Haha…We're now 5 episodes into this current season and enjoying every second of it (though WOW is it dark and gloomy so far??). My wife says I can't call them back now until we're finished with the season, d'oh… Those guys are good.
(Shout out to Goodnight Debt for this!)
Back to the fun stuff, though – net worth! Another month down and another month tracked, making this officially the 91st time we've done so! Pretty interesting to be able to look back through the years and see how far you've come… I've said it before (like a million times before) but it's seriously the #1 thing you can do to see exactly where you stand and to motivate you to do even better. When you know you'll be back in a month to check on things, you never want to let yourself down! It's addicting!
You can see a summary of all 90 months recorded here: Net Worth Tracker. We started at $58,769.65 in January of 2008! And if you're getting bored of my own net worths here, head over to my other site, Rockstar Finance, and check out the $$$ of 177 other bloggers @ The Ultimate Net Worth Tracker! Those range from (-)$123,446 to +$2,443,131 and everything in between. Pretty juicy.
As for my own wealth this month, well, we inched up by a thousand bones or so but don't have anything too terribly interesting to report. We'll probably be the only net worth post out there with a loss in investments this month, what with the market rallying compared to the end of last's, but fortunately that's only because of a technicality on my behalf when I decided to run our #'s a day early last month right before the $hit hit the fan :) So instead of "losing" $20,000 last month and then gaining it all back this month with a sexy increase, we're left with a boring tiny loss instead. But I digress…
Here's how July's numbers break down:
CASH SAVINGS (+$1,457.91): The beauty of pulling our kids from daycare continues! And while it may be contributing to my lack of efficient hustling these days (today's day #1 of copying Benjamin Franklin btw – pray for me!), it sure is paying dividends in the wallet. This marks the third month in a row of building back up our cash reserves :)
BROKERAGE (+$34.82): This category holds both the $$ from our Motif dividend stock test this year ($513.24), as well as my automatic micro-investments in Acorns ($235.83). Where most of the increase came from this month with another $30'ish dropped in. It's awesome never having to lift a finger!
IRA: ROTH(s) (-$58.32): Nothing super fascinating going on with this guy. It'll be a while until we max 'er on out again this year as I don't tend to do it until the end of the tax year to make sure I have the $$$ to do so (what with self-employment and all). I believe we're going into the 8th year in a row of having maxed it out though, so I don't intend on breaking that :)
IRA: SEP (-$678.54): Same here. Nothing new will be added until the end of the year. And all my $350,000+ sitting here is still invested into one Vanguard index fund: VTSAX. You can learn why here, if you're interested: My Lazy One-Fund Investing Strategy
(Performance since moving over last year)
AUTOS WORTH (kbb) (-$175.00): Just the cars doing what they're supposed to be doing over time – losing value! We came close to becoming a one car family this month when my car wouldn't start (again), but fortunately it was a battery problem (again) as I got a dud the last time I replaced it (3 months ago). Every time I think it's lights out for Frankencaddy, she rallies back and surprises me :) Though she has been slacking on her hustle too…
Here's the value of our two cars based on Kelly Blue Book:
Frankencaddy: $1,000.00
Plain Jane Toyota: $4,658.00
HOME VALUE (Realtor) ($0.00): We're still holding the value here at $300k (the value our realtor set for us) because nothing major has changed in the area it's located. I checked Zillow out of curiosity the other day, even though I don't trust their #'s, and it showed our house was hovering around the $315k zone. Then I checked what USAA thinks its worth as they have a "home monitoring" section in their site too when you log in, and they showed a number surprisingly close to ours!
I'll have to give them more credit than I used to  :) And look at that "tax value" there – good thing "market" value is a whole different thing! You actually want it to be down more so you don't have to pay so much in taxes, haha…
MORTGAGES (-$707.43): $700 more chipped away! All due to rounding up each payment and never thinking twice… It's amazing how it adds up over time :)
Here's the break down of them:
Here's how the past 12 months have gone:
And here's how our little nuggets are doing :) I xfered out $50.00 from each of their savings to go into their 529s, and they both got an amazing gift of $250 a piece too from one of our relatives out of the blue. In fact, the same one that had me value all her silver dimes the other month if you recall? She told me to cash them all in and use the proceeds for the kids' education – isn't that sweet? So I did! And their worths rose! :) Baby Penny also got a nice birthday gift of $50 too which also went in there… He turned freakin' THREE the other week, and I about died from shock. THREE!

And that's July! How did you guys do? Wealth continuing to rise because you're a rock star and you read this blog?? Find any good secrets that we should know about? Pay off all $50,000 of your debt like Even Steven and now living the good life?

Share your wins (and losses) with us below… You know we love this stuff :)
——–
PS: For those new on the scene, here are a few great ways to track your wealth:
It doesn't matter how you do it though, just that you're tracking it!

(Visited 20 times, 1 visits today)
**********
PS:
If you're just getting started in your journey, here are a few good resources to help track your money. Doesn't matter which route you go, just that it ends up sticking!
If you're not a spreadsheet guy like me and prefer something more automated (which is fine, whatever gets you to take action!), you can try your hand with a free Personal Capital account instead.
Personal Capital is a cool tool that connects with your bank & investment accounts to give you an automated way to track your net worth. You'll get a crystal clear picture of how your spending and investments affect your financial goals (early retirement?), and it's super easy to use.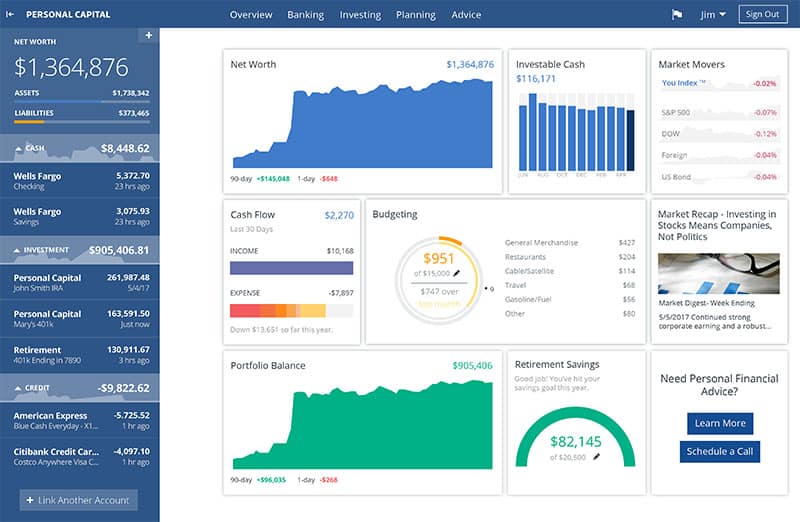 It only takes a couple minutes to set up and you can grab your free account here. They also do a lot of other cool stuff as well which my early retired friend Justin covers in our full review of Personal Capital - check it out here: Why I Use Personal Capital Almost Every Single Day.
(There's also Mint.com too btw which is also free and automated, but its more focused on day-to-day budgeting rather than long-term net worth building)
Get blog posts automatically emailed to you!