Back in action, baby! At least for now…

Had a great month in the stocks department (hard to take any credit for it since I didn't do anything, haha…), and between that and our house getting a re-evaluation (up $15k!) it was enough to give us a substantial boost – in both worth and encouragement :)
The one thing we still need to keep our eyes on, however, is our leaking cash flow. While it has been a whirlwind of spending lately, what with our recent move and renovations and wife no longer working anymore, we have to make sure we at least stop it from further going down, even if we just break even for a little while…
I'm hoping some new business ventures and my recent jump back into blog/social media consulting helps to get us there again, but we'll see. If it keeps up I really WILL have to get a 9-5 job again one day! For both change AND change! Haha… get it? ;) I miss having all those thousands of dollars extra every month. Feels so weird…
Here's how net worth for the month of July broke down:
MONSTER CASH (-$1,944.19): While it's better than last month's $30,000 drop, it's not really saying anything, haha… the one thing we have going for us though, is that we'll soon be getting those rent checks in the mail. If you remember we went through a property manager to find a renter and manage it all each month, so they take the first month's rent as their initial commission and then start passing the rest right over. And at the moment we're in that limbo stage paying for two homes which is pretty much the opposite of fun :( But at least we have a renter now!!
529 College Savings (+$186.47): A nice little bump directly from the markets. We don't plan on putting anymore in any time soon for reasons we talked about above.
IRA: SEP (+$2,498.74): Same here. Though I will need to figure out how to get my hands on a big chunk of money so we can pay into it at the end of the year in order to save a chunk in taxes again. Something I hope REALLY works out because it's the only time and place we invest our money now that I'm self-employed :( We don't have 401k's, etc. Though we do still have the ability to fund Roths.
IRA: ROTH(s) (+$2,688.55): Speak of the devil ;) All new investments here will depend on cash flow and what happens with our SEP above. We usually fund both to the max, but obviously I'm in no place to count on that any more… wha wha.
IRA: TRADITIONAL(s) (+$8,235.67): This is the beauty of the whole lot :) Up $8k without putting in a penny! All our money here are from old 401(k)s we've since moved over so I could have everything at USAA, as well as full control of all our funds. And then since I couldn't decide *which* investing route to go (managed vs un-managed/etc), I chose to divide them all equally amongst the three and see which one wins in the end ;) You'll see the results of our IRA Test below. With no cut off point yet, which I really should determine at some point…
IRA #1 (NOT Managed): $72,386.94 **Leader for over a year

IRA #2 (Managed, USAA funds): $67,745.79
IRA #3 (Managed, ALL funds): $68,182.33

AUTOS WORTH (kbb) (-$308.00): Lower lower lower as it should be. Even though I am debating on whether changing my car's state from "good" to "fair" really was smart or not :) It makes a $500 difference when running the numbers through KBB.com, but I suppose better to be more conservative than not. On the plus side, my dinged up beauty is still ridin' strong! Really glad I ended up keeping her in the end… very fun to blast music while creepin' in the city ;) Here's how our cars break down:
Pimp Daddy Caddy: $1,562.00
Gas Ticklin' Toyota: $6,888.00
HOME VALUE (Realtor) (+$15,000.00): Wahooooo! The prices in our old neighborhood are going up up up, and for the first time in the 5+ years of owning the course has actually been reversed. It's a miracle! :) You can read all about why/how we came to this extra $15k valuation here. It's no $75,000 to get it to what we originally paid, but I'll take $15Gs all day every day. I'm still in a little shock.
MORTGAGES (-$634.61): Nothing new to report here – just chipping away at our two mortgages bit by bit. It's a good thing we refinanced all those years ago when we did cuz it's now saving us a good $400/mo. (And on the flip side, it's good we didn't move forward with my 2nd "brilliant" refinancing plan from this year cuz my oh my have times changed!). So while we do still pay higher than normal rates these days, we're blessed to be able to afford them all no problemo. And soon our renter will be paying it for us anyways :) Here's how our mortgages break down:
And that wraps up our comeback edition! Quite a change from last month's $40k drop, eh? But we're still far from being out of the woods quite yet… Gotta get that cash flow plugged up and growing again! Time to tighten up the ship!
How did you guys do?



———————
PS: When do you think I'll be famous enough to get on here? :) CelebrityNetWorth.com

(Visited 9 times, 1 visits today)
**********
PS:
If you're just getting started in your journey, here are a few good resources to help track your money. Doesn't matter which route you go, just that it ends up sticking!
If you're not a spreadsheet guy like me and prefer something more automated (which is fine, whatever gets you to take action!), you can try your hand with a free Personal Capital account instead.
Personal Capital is a cool tool that connects with your bank & investment accounts to give you an automated way to track your net worth. You'll get a crystal clear picture of how your spending and investments affect your financial goals (early retirement?), and it's super easy to use.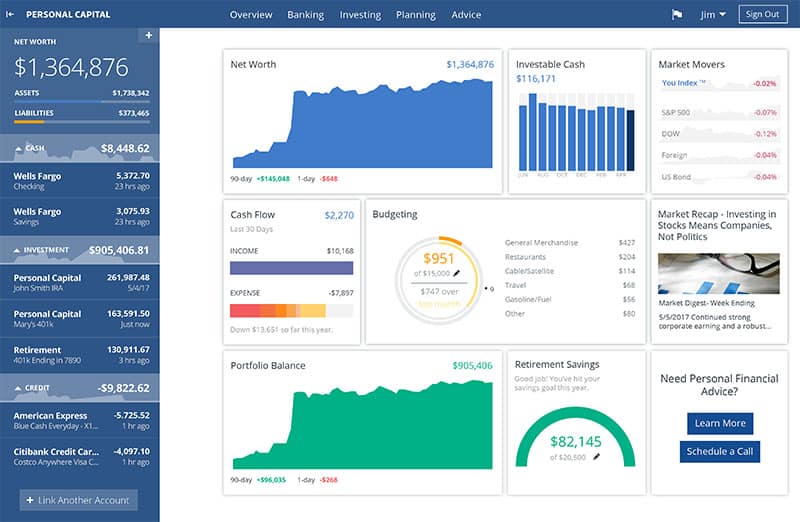 It only takes a couple minutes to set up and you can grab your free account here. They also do a lot of other cool stuff as well which my early retired friend Justin covers in our full review of Personal Capital - check it out here: Why I Use Personal Capital Almost Every Single Day.
(There's also Mint.com too btw which is also free and automated, but its more focused on day-to-day budgeting rather than long-term net worth building)
Get blog posts automatically emailed to you!