Dayuum… Market shut us down this month! Said – "Try again next time, beyotch!" Haha…
But that's the way the game's played, eh? Some months it's up, others it's down, down, down. What's important is that we stick to it for the long haul and do our best to pick up some shares on these off months to get better deals! Easily done too with automatic 401k contributions and the like – something I've missed for years now, boo hoo…
(I invest in a SEP IRA instead since I'm self-employed, but usually have to wait as I'm not sure the amount I'm able to invest each year until I know my overall profit.)
Unfortunately this also snaps our 4-month winning streak, but considering we're up a good $86,000 since September, I can't really cry too much :) Here's how the last four months went:
Here's How January Broke Down:
CASH SAVINGS (-$708.91): This area could have been a bit better last month, but between extra health care bills coming in and biz income still remaining semi-low, it is what it is and we work on improving this next round. Another reason to have hefty cash reserves laying around too!
529 College Savings (-$113.13): I don't think we've added anything extra into this account for a bout a year. When things started heading south and we were holding tight to all extra money coming in… Hopefully we can get back to this again, and then create *another* college account for baby #2- yikes!
IRA: SEP (-$2,435.24): Nothing new added here either, although the yearly Drop o' Cash is about to hit as soon as we finish our taxes! Gonna max this bad boy out as I do every single year since it's our main retirement vehicle now. If only my boss gave me a match! ;)
IRA: ROTH(s) (-$1,673.12): Same story with this guy – nothing new added so the changes are completely up to what the market is doing. Though, we are still considering maxing this out as well as the SEP this year, just can't tell if it's smart or not yet considering our cash flow problem lately… We'll see. I'd hate to break a maxing-out record here too after all these years!
IRA: TRADITIONAL(s) (-$6,355.75): And same story here too – nothing added in, and nothing that WILL be added in since all our retirement money hits the SEP first, and then the ROTH. Though after reading a lot of articles on why Traditionals can be better for early retirement, I will admit it's sort of intrigued me. Not that I'm anywhere close to retiring early, of course :)
Here's how our IRA Test is performing these days. Which, as always, still needs to be shut down.
IRA #1 (NOT Managed): $76,724.86 **Leader for two years now

IRA #2 (Managed, USAA funds only): $70,953.74
IRA #3 (Managed, ALL different funds): $71,636.37

AUTOS WORTH (kbb) (+$217.00): Don't ask me why this went up, ask KBB.com :) But you'll see my Caddy is still frozen there at $1,500 since it's now too old to be tracked via KBB, haha… So all future changes in this category will be based off the Toyota's value. Until we eventually get that minivan Escalade. Here's the value of the two presently:
Pimp Daddy Caddy: $1,500.00
Gas Ticklin' Toyota: $6,568.00
HOME VALUE (Realtor) ($0.00): Nothing touched here either, since I don't use places like Zillow or Redfin or whatever to track our values since they're too all over the place. Instead I ping my realtor every 6-12 months for a quick assessment which I find to be much more accurate. And he happily obliges since he knows he'll be making the sale one day in the (hopefully near) future! :)
MORTGAGES (-$657.32): We're getting sooooooo much closer to not being underwater anymore!!! Only $3,342.81 to go and we're Even Stephen! :) The power of time and paying a little extra towards it each and every month. So damn excited.
Here's how they both currently look:
And that wraps up the first month of 2014. Not the sexiest, but also not the worst either. And as you can see from that graph of the past 12 months up there, I can only be thankful and count my blessings over the years.
How did you guys fair? Anything juicy or exciting go down in your financial worlds last month? Either way, keep on tracking your net worth and paying attention to it all! You're future self is gonna love you for it!

(Visited 12 times, 1 visits today)
**********
PS:
If you're just getting started in your journey, here are a few good resources to help track your money. Doesn't matter which route you go, just that it ends up sticking!
If you're not a spreadsheet guy like me and prefer something more automated (which is fine, whatever gets you to take action!), you can try your hand with a free Personal Capital account instead.
Personal Capital is a cool tool that connects with your bank & investment accounts to give you an automated way to track your net worth. You'll get a crystal clear picture of how your spending and investments affect your financial goals (early retirement?), and it's super easy to use.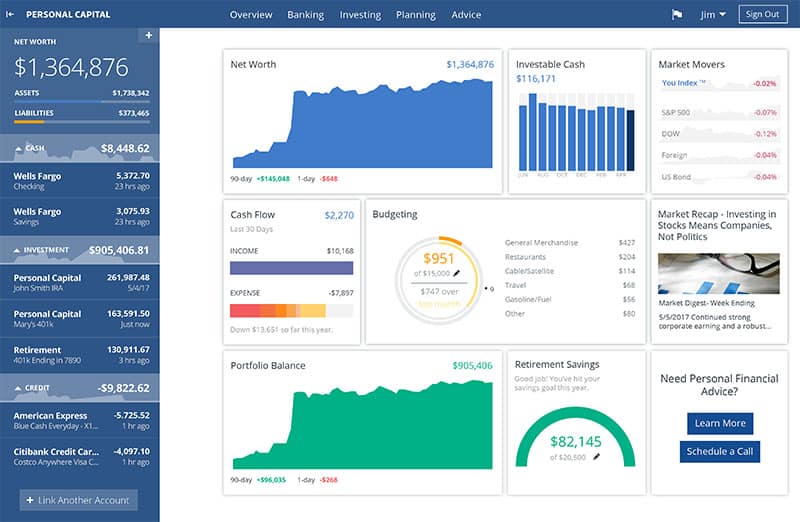 It only takes a couple minutes to set up and you can grab your free account here. They also do a lot of other cool stuff as well which my early retired friend Justin covers in our full review of Personal Capital - check it out here: Why I Use Personal Capital Almost Every Single Day.
(There's also Mint.com too btw which is also free and automated, but its more focused on day-to-day budgeting rather than long-term net worth building)
Get blog posts automatically emailed to you!