Well, that's a far cry from last month's $60,000 gain! Haha… But not like you can sustain something like that forever ;) (Or you get inheritances every month for that matter – thank goodness!)
But despite how awful the numbers this month are lookin', we're actually doing quite the opposite.  If you recall earlier this month I maxed out my Roth IRA @ $5,000 which caused us to lose a big chunk of savings (and as you can tell from that blip of green there, it didn't do much yet to increase our portfolio! haha…), and then, of course, we still have Operation Mortgage Pay Off in full effect now too.  Dragging out another $2,000 from the ol' sleep-well-at-night-pot. So really, we've earned a little over $6,000 EXTRA in cash this month.  Not bad!
Most of this cash is still coming from all my online projects, of course, but now we've also got the Mrs. back in Grad School and teaching again – adding in an additional thousand or two each month!  Something I'm crazy excited about ;)  I can't even imagine what it'll be like once she's back to FULL-TIME again, jeesh.  We're still plenty of years off for that though, so for now I'll keep hustlin' and doing whatever it takes to keep moving this financial ship forward…
It does bring up a pretty good nugget to think about though:  If you can get used to living off of 1 paycheck in a family, your options open up like CRAZY when it comes to the other person going back to work again!  You could continue working and banking even MORE money every month, invest in more stocks or real estate, decide to work less, or pretty much do whatever it is your heart desires.  Mastering your lifestyle on the cheap definitely has its perks.  It's financial freedom at its finest!
Here's November's Net Worth break down:
CASH SAVINGS (-$947.90): Again, not too bad considering we maxed out my Roth IRA ($5k) AND continued on with our goal of killing our mortgages once and for all (+$2k each month). I'll take the $1,000 loss for a $7,000 gain any day ;)
EMERGENCY FUND ($0.00): Same $10,000 in there as it's always been.  It does gain interest each month, but since we have other funds in that same account, I don't spend the time figuring out what % of the pennies are split up where ;)
TAX FUND If you recall from last month, we decided to nix this category since it was more trouble than it was worth.  I never found a good way to incorporate these quarterly taxes, and since it just goes right out the door anyways every few months, we're just zero'ing it out and getting back to our old way of tracking our net worth.
IRA: SEP (-$46.64): Nothing new here – the market just doing it's thang. I'm not gonna invest any more  here until the  year ends, and we see  how the mortgaging paying off stuff continues… more than luckily, though, when my accountant says I can invest $X,XXX and save $X,XXX in taxes, I'll probably cave in and do it ;)  I'm not good at saying no to "free" money.
IRA: ROTH(s) (+$2,299.62): Our maxed-out $5,000 is now in, and the market's already started nibbling at it! Haha… but it's a long-term plan here, of course, so always to be expected… just wish it wasn't so soon! ;)
IRA: TRADITIONAL(s) (-$12,072.95): Floating about on the market waves, just like most our other investments.  Only interesting part to report here is that IRA #1 has now taken the lead!!  The one that's just invested in static accounts, and no managed by USAA at all! Haha… granted it's only up by $100 or so, but still – just goes to show that paying someone to handle your money doesn't always mean they're gonna do better.  We're not gonna make any drastic changes yet though until at least a year or two (or three?) pass.  Gotta be fair and play the long-term goal here – I'm sure this will keep flip-flopping as the months go by…. kinda like the Republican candidates! (Ooooooohhhh)
Here's our our Ultimate IRA Game breaks down:
IRA #1 (NOT Managed): $53,959.45 **Took the lead this month!
IRA #2 (Managed, USAA funds): $53,358.16
IRA #3 (Managed, ALL funds): $53,871.34
AUTOS WORTH (kbb) (-$567.00): All normal  here… no plans on picking up a new car anytime soon, but I will say I'm starting to get tempted again ;)  I picked up a Volvo S60 Turbo the other day when I needed to rent a car, and sitting in that thing was fuuuuuuuun!  Boy… had bluetooth for holding convos through the speakers and everything.  Was pretty tight.  (And I'm sure the price tag pretty large too!)
Pimp Daddy Caddy: $2,464.00
Gas Ticklin' Toyota: $9,107.00
HOME VALUE (Realtor) ($0.00): Still set at the same $300,000 as it's been the entire year (appraised by my realtor).  Haven't looked much into adjusting yet as I have no plans of renting or selling it in the near future.  Once we get back to that, we'll ask him to re-appraise and I'll re-update!
MORTGAGES (-$2,454.57): TWO MONTHS DOWN and going strong!!  About to actually make my 3rd extra $2,000 payment soon too :)  Man time is flying, by… That's what I love about these kinds of plans — no matter what happens, life keeps moving on and every year the time seems to keep moving faster and faster along with it.  Which is all the reason MORE to get your projects/goals started ASAP!  Next month, and the month after that, and the month after that will be here before you know it!  Gotta get those balls moving, my friends. (Hah! I said "balls")
That's it for this month.  Lots of good things cookin' up, and lots of bad debt getting the axe!  (Notice how I said "bad" debt there — None of it is good!  Only slightly more tolerable than others ;)).  Hope you all are full force too!!  Tell us how you're doing in the comments below and start making TIME your bitch.  Each and every one of you has the power to kill it!
Love and Hugs,



———————
PS: When these net worths read $1,000,000 I'm buying beer for all of you.
(Visited 11 times, 1 visits today)
**********
PS:
If you're just getting started in your journey, here are a few good resources to help track your money. Doesn't matter which route you go, just that it ends up sticking!
If you're not a spreadsheet guy like me and prefer something more automated (which is fine, whatever gets you to take action!), you can try your hand with a free Personal Capital account instead.
Personal Capital is a cool tool that connects with your bank & investment accounts to give you an automated way to track your net worth. You'll get a crystal clear picture of how your spending and investments affect your financial goals (early retirement?), and it's super easy to use.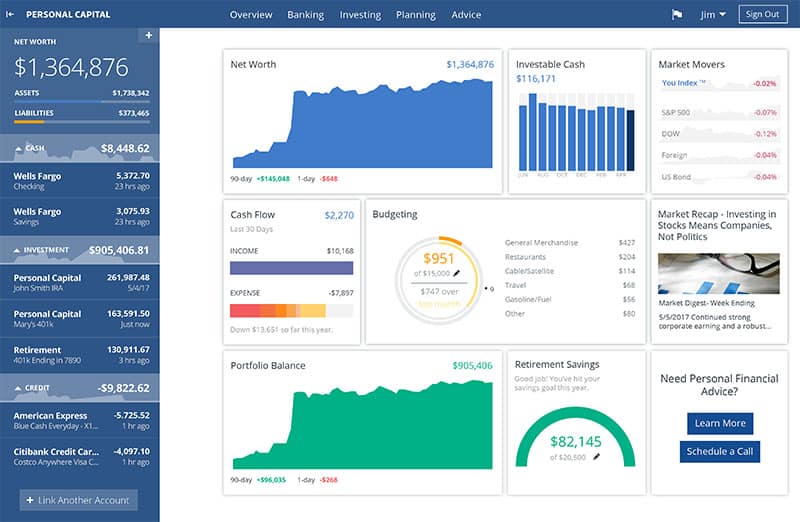 It only takes a couple minutes to set up and you can grab your free account here. They also do a lot of other cool stuff as well which my early retired friend Justin covers in our full review of Personal Capital - check it out here: Why I Use Personal Capital Almost Every Single Day.
(There's also Mint.com too btw which is also free and automated, but its more focused on day-to-day budgeting rather than long-term net worth building)
Get blog posts automatically emailed to you!