Another month, another update!  I can't believe it, but we've been doing these for over FOUR years now!  That's over 48 months and posts!
And as you can see, it's definitely kept me motivated ;)  Even when we DO  lose a lot and I'm force to share that with the world too, haha…
If you haven't started tracking your own net worth, I highly recommend it.  It's awesome to be able to go back and see how everything's moved over the months, and what you can probably expect in the future too.  It's a lot of baby steps all adding up to the bigger picture in the end: that of financial freedom!!
And speaking of which, if I don't stop leaking cash every month I'm not gonna be able to make it there either ;)  If you've noticed, the last few updates show us losing cash every month – even if it means we're gaining in other areas – and if it continues I'll have to stop pushing $2 Grand towards our mortgage payoff plan here.  Which would SUCK, and which is why I keep continuing with it cuz I don't want to break my momentum and then slack off!  I'm not *too* worried about it just yet, but if the trend continues and crap around the house keeps breaking, I'll have to start reconsidering our current game plan here… and of course you'll be the first to know ;)
Other than the cash issues though, it looks like the rest of the stuff is going pretty smoothly. Our investments are up overall, and our house debt continues to go down enough to keep our net worth growing another month – even if by just a sliver. Just means we gotta keep on fighting!
April's Net Worth Break Down:
CASH SAVINGS (-$1,018.29): Not the worst in the world, but it can certainly be curbed if we stop going all out in other areas of our plan (like our $2,000 extra mortgage payments or buying up new sites).  And then who knows how it'll be once Baby J comes out!  That's only two short months away now, crazy… gotta start a college fund soon too then!
EMERGENCY FUND (-$1,097.20): The first time in YEARS tapping it.  But $hit, that's what it's there for, eh?  And hopefully we get another 10-15 years out of our new water heater now too.  This house is gonna be the end of me!
PHYSICAL GOLD (-$1.10): If you recall, last month I picked up a 1 oz. gold coin from the treasury to add to my arsenal here, but sadly it's been going down ever since ;)  Or am I supposed to be glad since it means the rest of my investments should be UP? That's hedging for ya! (I'm calculating the value here by adding $50 to the "spot" (or value) of 1 oz. of gold at the time of this post – which is currently at $1,665.60, and what my cool coin collector told me to do ;))
IRA: SEP (+$746.45): Not too shabby for hand-picking them mostly myself ;)  It may be too early to call it, but so far my choosing of stocks I love seems to be doing well!
IRA: ROTH(s) (+$432.16): This account's also pumped up with individual stocks and funds more or less by me, which oddly beats out the next category which is completely handled by USAA or at least USAA funds… though of course they usually win out in the long term ;)  But I can still enjoy it none the less right now!
IRA: TRADITIONAL(s) (-$407.20): All under USAA's supervision and/or advice.  If you remember from earlier months, we have an IRA Game playing out which is broken into 3 different categories – one manually managed by me, but using their funds, another 100% managed by them using only their funds, and then the last one 100% managed by them but with all types of different funds.  You can tell pretty easily which has been in the lead most recently ;)
IRA #1 (NOT Managed): $61,578.77

IRA #2 (Managed, USAA funds): $59,902.44
IRA #3 (Managed, ALL funds): $60,454.43

AUTOS WORTH (kbb) (-$217.00): Same ol' stuff  here – slowly going down as cars naturally should be doing… if the Mrs. has her way though, we may be on the search for a new car to fit our new family here shortly ;) But I still REFUSE to get a van!!  I need to get excited when buying cars, so if we're def. upgrading then we gotta do it in style.  And I'll tell you what that means if we do indeed get there ;) Here's the cars and the values we have right now though:
Pimp Daddy Caddy: $2,240.00
Gas Ticklin' Toyota: $9,295.00
HOME VALUE (Realtor) ($0.00): Same same same.  Not changing till we get our realtor to come out and we're serious about selling/renting again.  I'm sure this number slightly moves throughout the months for sure, but since I don't trust Zillow we just let it be here and work towards paying it all off…
MORTGAGES (-$2,574.18): 6 months 7 months straight of paying an extra $2,000 off – woohoo! But as I mentioned above, this may start changing if we can't seem to get cash flow positive here in the next few months – something I will  *not* be happy about.  I want these dang things gone! They're the only things that hold us down :(
And that's it! Another update to add to the 4 dozen before it ;)  Gotta stay on this stuff so it doesn't slip away, right?  Hopefully you guys are doing the same too. Anyone just KILL it this month?  Or cross an awesome benchmark or two? I hope so!! I need some motivation just the same – so keep it up!  Here's to a positive month of May :)



———————
PS: As I was finishing up this post, the wife tells me she thinks there's mold in our main bathroom…. looks like we may be tapping that emergency fund again :(
(Visited 11 times, 1 visits today)
**********
PS:
If you're just getting started in your journey, here are a few good resources to help track your money. Doesn't matter which route you go, just that it ends up sticking!
If you're not a spreadsheet guy like me and prefer something more automated (which is fine, whatever gets you to take action!), you can try your hand with a free Personal Capital account instead.
Personal Capital is a cool tool that connects with your bank & investment accounts to give you an automated way to track your net worth. You'll get a crystal clear picture of how your spending and investments affect your financial goals (early retirement?), and it's super easy to use.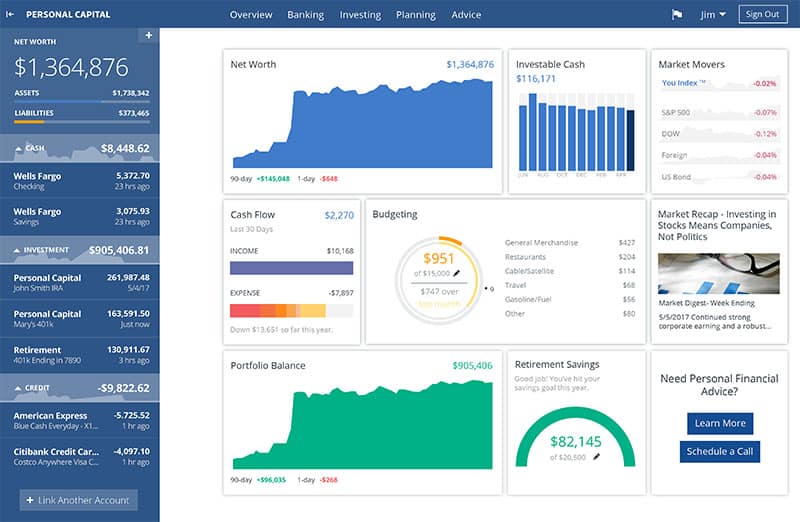 It only takes a couple minutes to set up and you can grab your free account here. They also do a lot of other cool stuff as well which my early retired friend Justin covers in our full review of Personal Capital - check it out here: Why I Use Personal Capital Almost Every Single Day.
(There's also Mint.com too btw which is also free and automated, but its more focused on day-to-day budgeting rather than long-term net worth building)
Get blog posts automatically emailed to you!