Ugh. What a perfect storm.
Between moving, renovating, losing my wife's income, and just having an overall crap month in the markets and with business, our net worth takes a major nose dive into the 10% mark and gives us our biggest drop we've quite possibly ever seen since tracking our worth.
What a bummer.
None of this out of the blue or anything, or towards any "nonsense" mind you, but it definitely has me hitting pause and muttering a few curse words under my breath. It's also the point where I have to triple ask myself if I *really* know what the hell I'm doing? Haha… I'm 99% certain I do, but a $40,000 drop is pretty scary either way you cut it :(
On the plus side, everything we did last month sets us up for a much better off future – something I'm holding on to tight right now while watching these numbers plummet :) Things like:
Finally living in a new place/state! (Have I mentioned this recently? :))
Having our house rental property updated and looking sharper than ever. (I'd show you pics, but my damn phone died and I lost everything since my last backup 3 months ago :( My phone literally started vibrating out of nowhere for 15 minutes straight, and then went completely black – wtf?)
Opening up my wife's schedule all week to work solely on her dissertation, which will then lead to a new job and salary next year. (We're currently on my income only right now.)
So lots of big changes here in the Money household lately, and I pray this is only a one-time drop. Regardless, I'll be blogging about all these ups and downs so you can follow along. At the very least, I hope these posts help you guys out! It's further proof that we *all* have to sort through the money poop regardless of what phase or position we're in.
Here's how June broke down:
MONSTER CASH (-$29,245.16): The was by far the biggest hit this month. Mainly because we paid all renovation costs and deposits and pretty much every thing else outright with cash (after putting it all on credit card, of course, so at least I got *SOME* good feeling out of it. Should be interesting to see how much cash back we get at the end.) This major drop pretty much puts our net worth back to where it was almost 6 months ago. And is also a far cry from the $70,000+ we had banked in cash too. Though, as I mentioned before, most all went back into some sort of investment or another.
529 College Savings (-$123.47): This pretty much wipes out last month's $125 gain. But to be expected with market fluctuation lately. Soon we'll have to either convert it all to a Virginia plan, or start a 2nd one to continue investing in – haven't looked into much yet.
IRA: SEP (-$996.04): The market was at work here too, along with the following IRA investments. We haven't put in anything extra ourselves lately.
IRA: ROTH(s) (-$1,633.76): Bleh.
IRA: TRADITIONAL(s) (-$7,500.87): Triple bleh. But a good time to invest if you have cash laying around! Unlike me :( Here's how our IRA Test is still going:
IRA #1 (NOT Managed): $69,522.23 **Leader for over a year

IRA #2 (Managed, USAA funds): $65,078.90
IRA #3 (Managed, ALL funds): $65,478.26

AUTOS WORTH (kbb) (-$619.00): While I did keep the Caddy as I blogged about yesterday, the one thing I changed in the valuation here was to downgrade it from "good" quality down to "fair" (I use kbb.com for this stuff) since it now has some additional "character" ;)  That alone dropped the value by a good $500, but since we now all of a sudden have our AC back in working condition (I'm still so shocked!), it added a hundred or so back into the calculations, haha… So at least there's that.
Here's how our cars break down:
Pimp Daddy Caddy: $1,793.00
Gas Ticklin' Toyota: $6,965.00
HOME VALUE (Realtor) ($0.00): Now this area – while still stagnant – may be changing here in the near future. Places in our (old) community have been moving around quite a lot, so I'm getting tempted to hit up our realtor and ask for an update on what he thinks it's now worth based on a fresh set of comps. The last time we did this was a couple of years ago which set it at $285,000, so there's a decent chance it's since moved up. Not that it matters until you actually go and find a buyer for it, of course, but still. If it's going to be in the calculations, you might as well get it as close as possible.
MORTGAGES (-$643.21): This is the shining light of the entire snapshot :) It continues to go down each and every month (albeit much slower than our original mortgage killing plan we had, and which is now paused), and I pray it remains a solid variable we can count on month in and month out.
Here's how our mortgages break down (they're both on the house we own and are in the process of renting out, btw. Our new home is a rental.)
And that wraps up the worst update since the start of this blog :( Again, nothing too surprising here which is at least good, but it still doesn't pad the sting very much. If only we could include all those house updates into its value!! THAT would be something sexy!! Oh well… We keep our heads down and continue to fight the good fight.
How did you all do this month? Everyone better than me, I take it? :)



———————
PS: This is one of those times I wish I didn't put my numbers out there for everyone to see, haha….

(Visited 217 times, 1 visits today)
**********
PS:
If you're just getting started in your journey, here are a few good resources to help track your money. Doesn't matter which route you go, just that it ends up sticking!
If you're not a spreadsheet guy like me and prefer something more automated (which is fine, whatever gets you to take action!), you can try your hand with a free Personal Capital account instead.
Personal Capital is a cool tool that connects with your bank & investment accounts to give you an automated way to track your net worth. You'll get a crystal clear picture of how your spending and investments affect your financial goals (early retirement?), and it's super easy to use.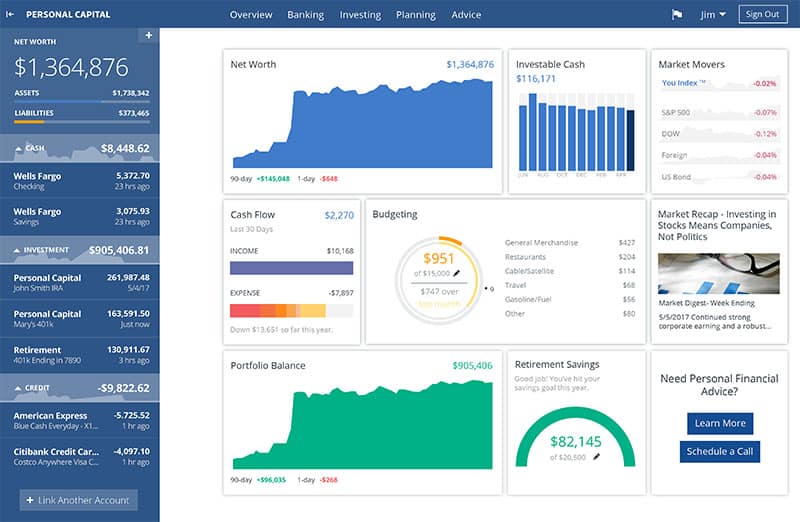 It only takes a couple minutes to set up and you can grab your free account here. They also do a lot of other cool stuff as well which my early retired friend Justin covers in our full review of Personal Capital - check it out here: Why I Use Personal Capital Almost Every Single Day.
(There's also Mint.com too btw which is also free and automated, but its more focused on day-to-day budgeting rather than long-term net worth building)
Get blog posts automatically emailed to you!