And just like that, we wrap up another 12 months of exciting net worth tracking… That was fast! (And shows that taking stuff bit by bit pays off in the end! Literally!). If you're not tracking your worth yet, I really recommend it. So in a year you can feel just as sexy as the rest of us do right now ;) The *habit* of it all is more important than the actual numbers starting out – that part takes time…
As for our December numbers, it was nice and steady just as it was in November. Which I'll take any month of the year. When you've got a solid system down (ie control of your expenses and tons of money invested in the market) you quite enjoy when nothing *major* happens ;) Shows you're def. on the right track, at the very least. And, oddly enough, we literally almost increased by the same % mark too! Last month we were up by 1.42%, and this one 1.40%. Another reason I'm glad y'all convinced me to track %'s now – it's another fun thing to compare!
I've also updated our chart for the entire year of 2013 too – it's at the bottom of this post. I highly encourage you to pump one out too so you can see (visually) how your year went – it's kinda neat.
Here's How December Broke Down:
CASH SAVINGS (+$5.90): We squeaked by on this one! A few lottery tickets, or a cup of Starbucks, and we would have gone into negative territory, haha… Probably the ONLY time I'll say I'm glad I didn't splurge on either ;)
529 College Savings (+$85.50): It's been a while since we've pumped this little guy up, and now w/ a 2nd bambino on its way, it'll be another long while to come too. At least until business picks up, or the wife lands a job, or I inherit millions from a long-lost cousin/etc. Basically, this isn't a priority right now (staying sane is).
IRA: SEP (+$652.52): Nothing new added to this pot either, but we're right around the corner of maxing this out again as soon as my accountant and I are done running the numbers for the year (yes, I use an accountant because she saves me sooooo much money! I would marry her if I could!!!). I'm guesstimating I'll be moving around $15,000 into it.
IRA: ROTH(s) (+$1,750.01): These have been put on pause as well, but as soon as we max out that SEP and I do a quick review, we'll decide if it's smart to then max out these bad boys too. One for me, and one for the Mrs. – both under the 2013 tax year. I'm currently leading towards it right now cuz I don't want to break my 5-year record of doing so!! But I gotta be smart and make sure our cash reserves are good first ;) Now that I'm old and a dad like that, ya know.
IRA: TRADITIONAL(s) (+$3,381.37): No changes here either, at least with amounts dropped in ($0.00), BUT, while I've been saying it for months now, I'm finally ready to pull the trigger and merge all this junk into one account and be done w/ this 2-year old IRA Test once and for all. It's time to get back to streamlined and *simpleness* again. I'm quite excited for this – and how I'll be doing it – and will post about it as soon as it's all in the works… All giddy just thinking about it!
Here's  how they currently break down, though:
IRA #1 (NOT Managed): $78,937.51 **Leader for two years now

IRA #2 (Managed, USAA funds only): $72,968.11
IRA #3 (Managed, ALL different funds): $73,765.10

AUTOS WORTH (kbb) (-$55.00): Now this one has a BIG change in terms of valuation. Namely, my car is TOO OLD to be tracked by KBB.com now! UGH!!!! I guess there's a 20 year limit, and we've now crossed it :( So, going forward I won't be able to track it on a monthly basis as we have been – harumph. That being said, I did venture out to a new site to see how others do it (Edmunds.com), and according to them my pimp mobile's worth exactly $1,244. $600 less from what KBB has been pegging it recently (WTF?). So, in an attempt to stay conservative and just lock in a value from this point forward, I'm taking the difference of the two and just calling it $1,500 flat. Which I think I can reasonably get if I were to try to sell it at any point in the future… So I'm cool with that.
Here's the value of both our cars now (for some reason the Toyota went UP $300?):
Pimp Daddy Caddy: $1,500.00
Gas Ticklin' Toyota: $6,351.00
HOME VALUE (Realtor) ($0.00): As for our house, we're still keeping it at the $300,000 we evaluated it at over the summer with our realtor. He thinks we might even be able to get $315,000 from it (at least back in July), but we'd prefer tracking the lower amount and being pleasantly surprised once/if the day comes where it does goes for more. After all, that's the only time when you can – for certain – put an exact price on the thing. And unfortunately for us this is still some ways away since we're very much under water, ugh…
MORTGAGES (-$652.46): House value aside, we sure chip away at the debt towards it every single month! I swear it feels like we magically pay an extra dollar more every month off the principal too, haha… To which I attribute to rounding up every time we pay our bills :) One is for $1,860-something, and the other $62. So we round up to $2,000 and then $200 – automatically paying off a good $280 extra on top of what's already paying paid off via the amortization schedule. It'll all add up to one sexy little pay off in the end! I can't wait!!
Here's what's left on 'em:
And there you have it! 2013 all wrapped up with a pretty little bow on it… That graph above tells the whole story: $105,000 increase in just one  year – I freakin' love it. I'm tired as $hit, but hey – it's not called hard work for nothing, right? And a few years from now all that money will be making its OWN little baby monies helping the pot grow faster and faster, all the while I'm on that beach sipping mojitos… I can take some pain in the mean time :)
Your turn. How did you do?? Are you better off than you were last January? What worked and what didn't?
Again, I put these updates out there not to boast, but to help motivate those who need a little kicking in the pants. And hopefully you get some good ideas too and at least understand the importance of *tracking* everything. I couldn't tell you what was in my checking account 6 years ago, nonetheless what my net worth was (or what net worth even meant), but now I can go back and revisit all the numbers over the months and use it to my advantage!! Even those dumb crap months – they all paint a picture, and it eventually leads to a Mona Lisa… Or, better yet, a painting like this. 
To a prosperous 2014 :)
(Visited 24 times, 1 visits today)
**********
PS:
If you're just getting started in your journey, here are a few good resources to help track your money. Doesn't matter which route you go, just that it ends up sticking!
If you're not a spreadsheet guy like me and prefer something more automated (which is fine, whatever gets you to take action!), you can try your hand with a free Personal Capital account instead.
Personal Capital is a cool tool that connects with your bank & investment accounts to give you an automated way to track your net worth. You'll get a crystal clear picture of how your spending and investments affect your financial goals (early retirement?), and it's super easy to use.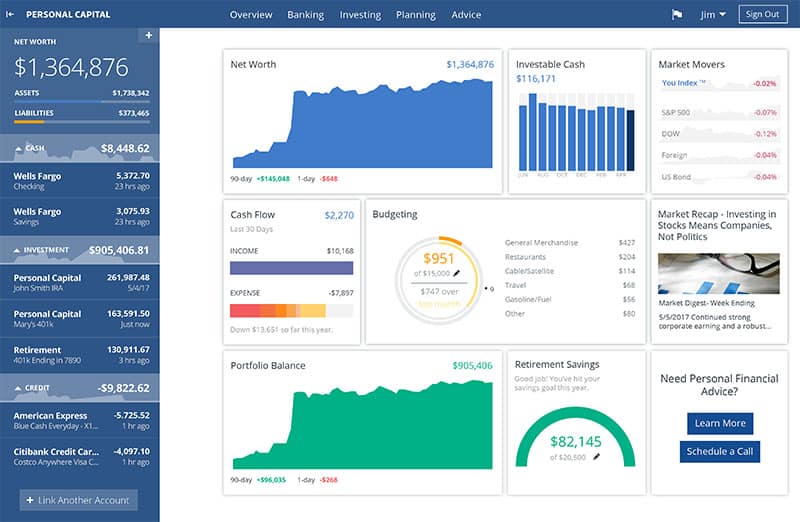 It only takes a couple minutes to set up and you can grab your free account here. They also do a lot of other cool stuff as well which my early retired friend Justin covers in our full review of Personal Capital - check it out here: Why I Use Personal Capital Almost Every Single Day.
(There's also Mint.com too btw which is also free and automated, but its more focused on day-to-day budgeting rather than long-term net worth building)
Get blog posts automatically emailed to you!