Up and away we go! Lots of good things happening behind the scenes here, esp. with all our investments and extra house payments going on.
It's hard to believe it's already been 5 months since our mortgage payoff plan went into effect!  Just goes to show time keeps on tickin' no matter what you try and do in this world :)
So if you've been putting off saving each month, or knocking back debt or anything else that you can really benefit from with TIME, ya better jump off the slacker train and get to it! Every day you wake up is another day your money could be working for you ;)
Another cool thing that happened this month was that I purchased a new snazzy website to add to my properties.  (Remember how I wanted to use my Grandma's money to expand my biz? Here I am starting it!) We'll see if I can turn around the profit like I've been able to with some other projects I've "invested" in over the years, but if things go the way I hope I should be able to recoup the $3,500 price tag in a handful of months.  And then any additional revenue will be pure profit :) Always gotta be diversifying those income streams, baby! It's my side-side hustle, Haha…
(Unfortunately I can't say which site I picked up yet due to contract stuff (sorry!), but I will say it has nothing to do with budgets and/or porn, haha… though you CAN make a lot of money in that too ;) And while I have your attention here, I'll quickly throw in a self-advert that if you, or anyone you know, has a site or company or anything else cool that you're considering selling or need a partner for, def. keep me in mind. I'm in super growth mode right now before the baby comes out, and I'd love to pick up another few properties if it makes sense for everyone involved.  Okay, end of advertisement.)
February, 2012 Net Worth Break Down
CASH SAVINGS (-$178.90): Not the best cash-wise this month, but also remember that I just shelled out $3,500 for that website I mentioned above. A one-time hit that zapped my earnings for the month, but which should increase future cash flow if all goes according to plan…
EMERGENCY FUND ($0.00): Still the same $10,000 as it's always been!  Though really our "emergency fund" captures all the other cash that's scattered around our accounts too.  But I still like separating this out as it's the place we'd hit first in case something really crazy happens all of a sudden (knock on wood). I should probably increase it to cover 6 months worth of living expenses too, now that I'm self-employed and have that J. Penny to look forward to soon :)
IRA: SEP (+$1,099.47): Nothing new added here, though in a few weeks there will be!!  I'll be meeting with our accountant this week to go over all the numbers finally (I'm sooooo over taxes this season!), and by the end of it I should have a good number as far as how much I can legally put into my SEP this year (it's a % based off of profit, unlike other kinds of IRAs).  Our guess is that it'll be in the $20,000 range, which is kinda exciting not only cuz it means I get to skirt paying MORE in taxes this year, but it also means I can pick up some of my favorite companies now and give that ol' theory a shot ;) At least with a good portion of the money this year.
IRA: ROTH(s) (+$1,411.30): Same story with this one too – nothing new added in lately, and nothing probably will until later in the year when I can tell if we have enough money leftover to invest more.  And I'd finally like to be able to max out the Mrs' Roth too if all the stars align (you gotta at least SHOOT for them, right?)
IRA: TRADITIONAL(s) (+$5,792.24): The only thing interesting here besides the nice increase this month, is that the non-managed account of the three IRAs here is back in the lead again for the billionth time this year ;)  It's too early to call it the official winner as it's only been about 7 or 8 months since we stated this whole game (and it's not winning by much, really) but I will say I'm secretly hoping for it to cross the line first whenever it's time to wrap it all up.  Which could be later this year, or whenever we end up getting bored – I'm not sure which will come first, exactly :) Here's how it all currently breaks down right now though:
IRA #1 (NOT Managed): $60,742.68 **In the lead
IRA #2 (Managed, USAA funds): $59,903.27
IRA #3 (Managed, ALL funds): $60,533.20

AUTOS WORTH (kbb) (-$143.00): Same ol' same ol' here too – just slowly losing value as these cars should over the months.  Here's how both are rides are shaping up these days:
Pimp Daddy Caddy: $2,410.00
Gas Ticklin' Toyota: $8,929.00
HOME VALUE (Realtor) ($0.00): Nothing  new with OUR house right now, but we have noticed quite a bit more signage going up throughout our neighborhood these days, which is GREAT!  And hopefully means the market's starting to pick back up again, and for once there won't be foreclosures like there use to be all around our places these past 3-4 years, bleh. It'll be interesting to see what kinda prices they're getting once they're sold off the market – maybe I'll adjust our $300k valuation it's been stuck on for the past 3 years, haha… fingers crossed!
MORTGAGES (-$2,571.69): Five months in a row now, and still pushing forward!  Only 9 years and 7 months to go! Haha… *face palm*  But as I mentioned above, that's 5 less months now from keeping us from our dream :)  So it's a damn good thing we got the ball rolling when we did, or who knows how many more months/years we'd have been pushing it off for… gotta start things when you can!
That's it for this month, how y'all doing on your end?  Anyone else getting some good increases in your finances?  Any big changes being implemented to help get you closer to your goals?
Hope so!  If I haven't said it already, it's REALLY really REALLY important to keep tabs on your progress, and check in on yourself every now and then to make sure everything's still going to plan.  You're your money's #1 fan, and if you don't pay attention to it no one else will ;) So keep it up!


———————
PS: I think I'm gonna buy my first real-life gold coin soon too… look out for a post on it if I do! :)
(Visited 14 times, 1 visits today)
**********
PS:
If you're just getting started in your journey, here are a few good resources to help track your money. Doesn't matter which route you go, just that it ends up sticking!
If you're not a spreadsheet guy like me and prefer something more automated (which is fine, whatever gets you to take action!), you can try your hand with a free Personal Capital account instead.
Personal Capital is a cool tool that connects with your bank & investment accounts to give you an automated way to track your net worth. You'll get a crystal clear picture of how your spending and investments affect your financial goals (early retirement?), and it's super easy to use.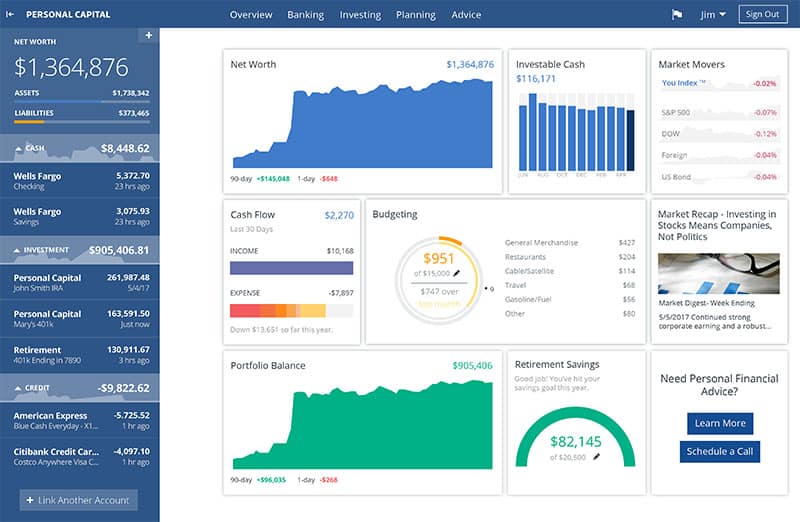 It only takes a couple minutes to set up and you can grab your free account here. They also do a lot of other cool stuff as well which my early retired friend Justin covers in our full review of Personal Capital - check it out here: Why I Use Personal Capital Almost Every Single Day.
(There's also Mint.com too btw which is also free and automated, but its more focused on day-to-day budgeting rather than long-term net worth building)
Get blog posts automatically emailed to you!